Lawton Ridge Winery
by
Kathy Sullivan
Summary: Enjoy a visit to Lawton Ridge Winery in Kalamazoo, Michigan where all wines produced are from the Lake Michigan Shore AVA. Wines to taste include red, white, late harvest, icewine and cherry.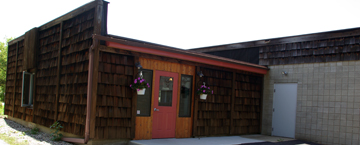 Lawton Ridge Winery opened its door to the public on August 1, 2008. Dean Bender and Crick Haltom own the winery. Prior to starting Lawton Ridge Winery, the owners had been making wine in a garage.
Most of the grapes are from Dean's vineyard in Lawton. Varietals include Riesling, Chardonnay, Pinot Meunier, Pinot Gris, Chambourcin, Seyval and Vignoles. All the grapes used at the winery are from the Lake Michigan Shore AVA.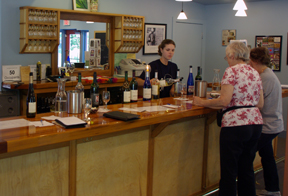 The tasting room and winery are located in a renovated building. The walls are light blue and the floor is carpeted. Wine accessories are also available including stemware, bottle stoppers, wine bottle holders and terra cotta wine chillers. A small assortment of foods is also available including Michigan maple syrup, crackers and sausage. An area is available for small events while the winery production facility is housed in another room.
Currently, Lawton Ridge Winery produces 2,000 plus cases of wine. These wines include Chardonnay, Pinot Gris, Riesling, Vignole, Chambourcin, Cabernet Franc, Cherry and Vidal Icewine. We tasted several wines while talking with Jessica Lencaster who maintains the tasting room and works in the winery where needed.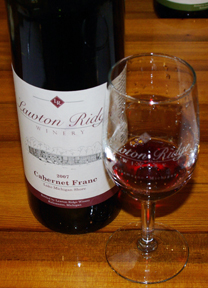 White Wine
Chardonnay 2007 was a light yellow color. The aroma and taste offered apple nuances while the taste also offered notes of caramel. The finish was crisp. Riesling 2007 had a straw color and a light aroma. The taste was very pleasant, light and fruity. The wine finished with fruit. Pinto Gris 2007 was smooth with a citrus aroma and taste. The finish was crisp with citrus notes.
Red Wine
Cabernet Franc 2007 was a ruby color. The aroma was of spices, particularly pepper. The taste was of black fruit and pepper. The crisp finish offered a pepper aftertaste. Two-Handed Red 2007 was a blend of Chambourcin and Cabernet Franc. The aroma and taste were of black fruit while the crisp finish was fruity with a hint of spice. The wine had mild tannins.
Dessert Wine
Late Harvest 2007 was made from Vignole. The fruity aroma and taste were complimented by the sweet finish. The sweetness was balanced with the acidity. Use this wine as a dessert.
Events
The tasting room area offers enough space for small events. Possible private events include bridal showers and bachelorette parties.
Lawton Ridge Winery
8456 Stadium Drive
Kalamazoo, Michigan 49007
GPS: N42º 15.134' W85º 42.877'
---