Chateau Chantal
by
K.L. Sullivan
September 2010 Update: Chateau Chantal will be opening a large addition to the winery in October 2010. The tasting room will increase by 1,700 square feet. A large patio will be included adjacent to the tasting room. On the lower floor the winery space is expanding. Expansion will allow the storage of wine cases currently stored at a nearby building. Visitors in the tasting room will have delightful views of the surrounding vineyards and Grand Traverse Bay.
---
Summary: Chateau Chantal is a delightful destination site. A visit to this winery, vineyards and inn will provide you with a delightful experience. When deciding when to schedule your visit, check out the various cooking classes and wine seminars offered for an additional fee.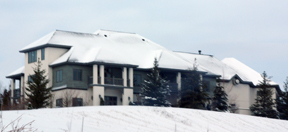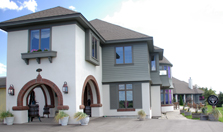 From the main road, Chateau Chantal is a picturesque castle set on a hill overlooking Grand Traverse Bay. A long and winding driveway takes visitors through the vineyards around to the entrance of the winery where a large parking lot is available. The winery is situated where views anytime of the year will be majestic. Take time to enjoy the view before entering for a tasting.
Chateau Chantal winery sits on what was once a cherry orchard. The current owners purchased the property in 1983 and the first vintage was 1990. The tasting room opened in 1993. Connected to the tasting room is an 11 room bed and breakfast. The owners purchased an Argentina winery in 2003. Robert Begin, owner, is a fan of big red wines and decided to buy a vineyard in the province of Mendoza, Argentina. The vineyard in Argentina is Chateau Chantal SA and grows Malbec and Bonarda. Bonarda is a widely planted grape variety in Argentina used to make red wines.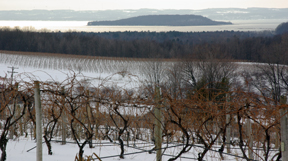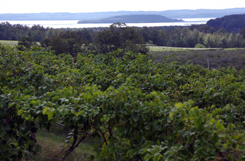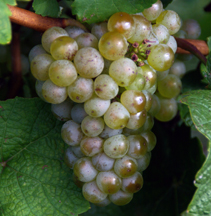 Today the Old Mission Peninsula winery has forty acres of grapes on the current property with an additional forty acres of grapes planted in other locations on Old Mission Peninsula. They also own 55 acres of grapes in Argentina. The on-site vineyards include Riesling, Chardonnay, Gewürztraminer, Pinot Blanc, Pinot Noir, Merlot, Cabernet Franc and Gamay Noir. Current wine production is 20,000 cases. It is difficult for the winery to increase the cases because wines produced on the Mission Peninsula need to be grown on the Mission Peninsula. Chateau Chantal is attempting to encourage small farmers to grow even one or two acres of grapes.
The vineyards face a problem with birds destroying the grapes. The vineyard manager uses different techniques to discourage the birds. Early in the day, if he chases away the scout birds, the other birds will not come to that area.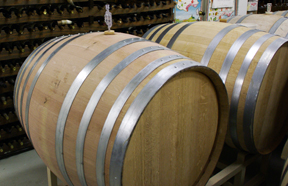 Brian Hosmer is the co-winemaker for Chateau Chantal and has an artistic background while relying on the science of winemaking. He likes to experiment with wines and the many variables in producing wine including deciding what barrels to use. However, Brian tries to match styles each year, as it is important for customers to be able to continue purchasing the same wines they like. He would like the wines for the winery to be focused. Brian works with co-winemaker Mark Johnson. Mark helped to establish the winery with owner Robert Begin. After a tour of the winery, we returned to the tasting room to taste several wines.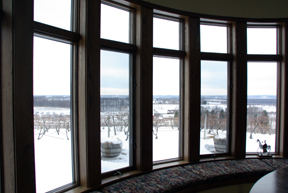 The tasting room is bright with large windows allowing beautiful views of the vineyards. Arches throughout the tasting room add a touch of elegance. A small seating area surrounds a fireplace. Another area highlights artisan handmade articles from Nadja's Line. These include dishtowels, runners, aprons and more. Other items available are cheese slicers, cherry salsa, books, ice wine wood boxes and jackets. While tasting wines there is no sense of rush, and you will find as you are talking with the wine attendants a sense of their being old friends. They obviously like what they do and want visitors to be comfortable.
Wines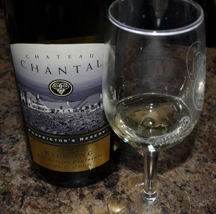 Several of the wines we tasted included Riesling 2004 that had a citrus and a bit of mineral on the nose with a citrus flavor. It was crisp on the aftertaste. Pinot Grigio 2006 was fruity, mellow and smooth on the aftertaste. Proprietor's Reserve Pinot Noir 2005 was a light translucent red with a red fruit and earthy nose. It had a fruit on the beginning taste and earthiness and crispness on the finish. Proprietor's Reserve Pinot Noir – Pontes Vineyard had a red fruit forward taste and fruit aftertaste. Reserve Malbec 2005 was produced with Malbec from the Argentina site. It had a dark purple opaque color with a red stone fruit, acid and tannins. Chantal Cerise was a blend of cherry wine with cherry brandy. It had a cherry flavor and sweetness that smoothes out the alcohol. Jazz at Sunset was a white wine produced with white grapes. It was light and effervescent. Naughty Red Wine was a light bodied, semi-dry ruby red wine with a medium aftertaste. It had a dark red fruit aroma. It was named Naughty Red because although it is red, it is versatile enough to pair with fish. Nice Red had a red/purple color, was semi-sweet with a medium body. Semi-Dry Gewürztraminer had a sweet aroma, with a semi-sweet taste and long aftertaste.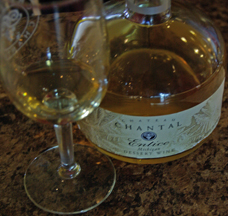 September 2010 Wine Update
Pinot Blanc 2009 offered citrus and apple nuances on the aroma and taste. The wine was crisp with a fruity finish and a touch of sweetness. Chardonnay 2009, unoaked, had apple and pear notes on the aroma and taste. This wine was crisp with a fruity finish. There was some sweetness on the finish. Reserve Pinot Noir 2008 was red with a Sienna hue. The aroma had spice with a slight hint of smoke. There were berry fruit notes on the taste. The finish was crisp and fruity with mild tannins. Malbec Reserve 2007 was produced from grapes in an Argentina vineyard. The wine was produced in Argentina but cellared and oaked at Chateau Chantal. There were plum nuances with a hint of raisins on the aroma. The taste had plum notes while the finish was fruity with medium tannins. Semi-Dry Riesling 2009 offered floral and peach nuances on the aroma while the taste had noticeable peach notes. The finish was crisp and fruity. Entice was a blend of ice wine and grape brandy aged in French oak. There were notes of alcohol and jammy stone fruit. It was extremely smooth with an ice wine taste.
Chateau Chantal is a delightful winery to visit. The tasting room staff and winemaker are friendly, knowledgeable and enjoy talking about the winery and wine. If you need a place to stay, check out the inn.
Chateau Chantal
15900 Rue de Vin

Traverse City, MI 49686
GPS N 44° 55.218' W 085° 30.119'
For more information about Chateau Chantel
---