Fenn Valley Vineyards Wine Cellar
by
Kathy Sullivan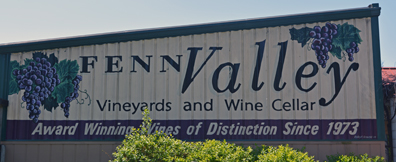 Summary: Fenn Valley Vineyards offers a unique experience for wine enthusiasts. Visitors will want to take time to meander through the large tasting/retail room where they can choose the wines they wish to enjoy at home. They will also see a large vineyard-related wall quilt, and an observation deck.
Travelers to Fenn Valley Vineyards will immediately discover a sense of excitement in the tasting room where the staff is enthusiastic about the wines and the story behind the winery.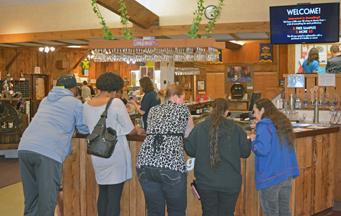 The tasting room offers plenty of counter space for tasting wines as well as numerous tables. Visitors can enjoy the ambiance, conversation with friends and Fenn Valley wines. Near the wines available for sale, there is a large area with numerous wine-related gift items. Don't miss the vintage press nearby.
The Cellar Observation Area is locate a few steps off the tasting room. Windows allow visitors to peer over the production area to watch the winemaking process or perhaps the wines contently sleeping until the next step in the winemaking process. The area also includes several small tables where one can enjoy a glass of Fenn Valley wine. Along the walls framed informational notes provided details of the winemaking steps.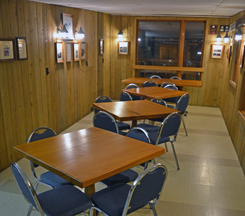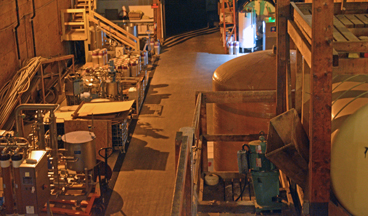 Fenn Valley Vineyards Wine Cellar was founded by Bill and Ruth Welsch in 1973. Bill and Ruth were originally from Illinois.Today the winery is owned by Gwen, third generation. The winery began with 50 acres of cherries with which Bill and Ruth made wine. This led to the discovery of producing cherry vinegar. Eventually the cherry trees were ripped out of the ground and replaced with grape varieties including Pinot Noir, Pinot Grigio and Chardonnay. Fenn Valley no longer makes the cherry vinegar.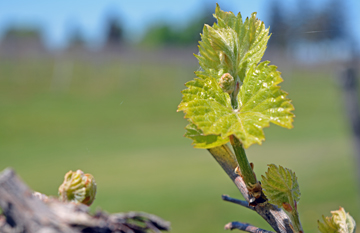 Today Fenn Valley Vineyards and Cellar has a 240-acre property of which 90 acres are planted with grapevines. The vineyards are located in the Fennville American Viticultural Area. The Bureau of Alcohol, Tobacco and Firearms recognized the Fennville AVA in 1981. This was Michigan's first viticultural area. Fenn Valley Vineyards and Wine Cellar has joined the Southwest Michigan Land Conservancy. According to a sign, the property is "Preserved in Perpetuity through the Southwest Michigan Land Conservancy." Fenn Valley has control of other vineyards in the region. Grape varieties include: Chardonnay, Muscat Ottonel, Pinot Gris, Riesling, Sauvignon Blanc, Traminette, Vidal Blanc, Chambourcin, Cabernet Franc, Cabernet Sauvignon, Merlot, and Zweigelt. Brian Lesperance is the winemaker. Currently Fenn Valley is producing 50,000 cases.
According to the staff at Fenn Valley, the wine is designed to be enjoyed right away. They are serious about making wine but want to make wine for many people to enjoy. The staff tries to create relationships with customers rather than just producing bottles of wine.
Fenn Valley Wines
Blanc de Noir was a sparkling wine produced with Pinot Noir. The yellow colored wine had small bubbles. The wine offered notes of mineral and some red berry fruit. This sparkling wine was dry and mouth cleansing.
Sauvignon Blanc 2016 was a light yellow color. The wine offered an aroma of flowers, lemon grass and lemon. The taste was of lemon, grapefruit, and a hint of pineapple. The finish was crisp with fruit yielding to mineral. Dry Traminette 2016 was a yellow color. This dry, crisp wine offered floral notes and a hint of citrus.The finish had hints of flowers. Pair this wine with food or a rocking chair.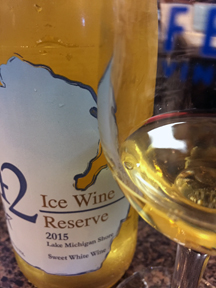 Moscato 2015 had 45 g/l of residual sugar. This pale yellow wine offered floral notes with hints of citrus, lemon grass and stone fruit. The finish had a slight hint of crispness. Ice Wine Reserve 2015 was a dark yellow color. The residual sugar was 203 g/l. This Ice Wine offered a floral aroma especially honeysuckle. The taste was full-bodied with notes of honeysuckle, pineapple and dried apricot. The finish was crisp, sweet and fruity.
Merlot 2015 was a translucent ruby color with an aroma of black fruits. The taste had notes of plum, black raspberries and black cherries. The wine was full-bodied with medium to full tannins. The finish offered fruit yielding to baking spices. Meritage 2015 was a blend of Merlot, Cabernet Sauvignon and Cabernet Franc. The color was a dark purple with a red hue. The wine offered notes of blackberries, plum and baking spices. The mouthfeel was smooth and there were tannins. The finish was long.
Michigan Awesome Cherry was produced with Michigan cherries. The cherry variety is Balaton. The wine offered delightful cherry notes from start to finish. For anyone who bakes Cherry Wine cakes, this cherry wine is perfect. If you like cherries, try this wine.
Dry Apple Cider is available by growler only. This dark yellow cider offered an aroma of apples and a taste reminding one of green apples. The cider is dry, crisp and food friendly.
When planning your visit to Fenn Valley Vineyards Wine Cellar, add extra time to your schedule to explore the large variety of wines and the Cellar Observation Area.
Fenn Valley Vineyards Wine Cellar
6130 122nd Ave
Fennville, Michigan 49408
GPS: N42º 34.7061' W86º 08.6462'
Article written June 2017.
---