Bowers Harbor Vineyards
by
K.L. Sullivan
Summary: Bowers Harbor Vineyards is an enjoyable boutique winery to visit. Here you will find a friendly, knowledgeable staff and a picturesque view of the Traverse Bay. If you are new to wine tasting, the staff will be delighted to assist you learning about wine. Try the Cherritage wine which is produced from fresh pressed cherries.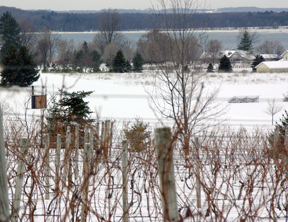 Originally, the property was used for raising quarter horses. Bowers Harbor Vineyards began with the planting of the vineyards in 1991. The owners renovated the horse barn into a tasting room in 1992. Today the property consists of 40 acres with 23 acres planted with grapevines. Each year Spencer Stegenga, Proprietor, adds more grapevines. Currently the winery purchases some grapes in order to produce 9000 cases of wine. Bowers Harbor Vineyards was the first to produce Pinot Grigio and now is the largest producer of Pinot Grigio in Michigan.
The vineyards have name designations, the most significant of which is named Erica Vineyard. It was here that Spencer proposed to his wife-to-be Erica in 2000, before the soil had been planted with grapevines. Soon after Erica said yes, the soil was prepared and grapevines planted. The vineyards are divided into blocks. Grapes planted include Chardonnay, Riesling, Gewurztraminer, Pinot Grigio, Merlot, Cabernet Franc, and Pinot Noir.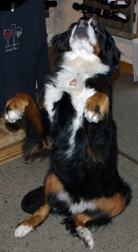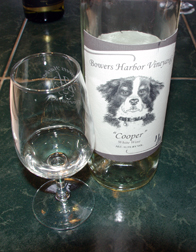 We met Kerry Maloney, Director of Retail Sales inside the tasting room. The tasting room is a warm and comfortable setting for tasting wine. Cooper, a Bernese Mountain dog and winery dog, hurried to greet us with a wave of his tail. The winery held a contest to decide Cooper's name. He is featured in the US wine dog book. Cooper is also featured on a wine made from a blend of 75 percent Riesling and 25 percent Chardonnay. It has floral nose and a sweet taste with a clean finish.
The Bowers Harbor Vineyards tasting sheet consists of 20 wines. Visitors are asked to limit their tastings to six samples. The list has 11 white wines, 7 red wines and 2 cherry wines.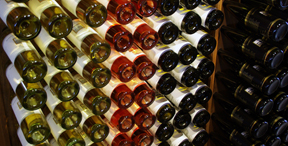 Wines tasted included Pinot Grigio 2006 that had a hay color and citrus nose. It was very fruity and dry but seemed sweet. It had a good balance between fruit and acid. The 2006 Riesling, Block II Vineyard had a fruit nose, was citrus fruity and dry with a medium body. There was a sweetness on the aftertaste. The 2006 Riesling, Montana Rusa had a citrus nose and was medium bodied. It had a perceived sweetness on finish. The 2896 was a Bordeaux style blend with 65 percent Merlot, 32 percent Cabernet Franc and 3 percent Cabernet Sauvignon. It had a red fruit nose. It was light bodied and dry with a good balance of fruit, acid and tannins.
Bowers Harbor Vineyards is a relaxing and enjoyable winery to visit. Visitors can enjoy a wonderful view of the vineyards and bay. The Pinot Grigio and six different Rieslings offer an enjoyable wine experience. Take the time to taste wines and learn about them from the knowledgeable staff.
Bowers Harbor Vineyards
2896 Bowers Harbor Road
Traverse City, Michigan 49686
GPS N 44° 53.502' W 085° 31.073'
---