McIntosh Apple Orchards & Winery
by
Kathy Sullivan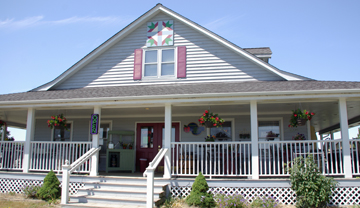 Summary: McIntosh Apple Orchards & Winery is a delightful winery and cidery to visit located in southwest Michigan. Bruce McIntosh, owner and cider/winemaker, is achieving his dreams of owning an orchard and producing cider in addition to making hard cider and wines. Cider can be purchased in large refillable containers.
McIntosh Apple Orchards & Winery is a destination for hard cider lovers. The winery produces hard ciders and fruit wines. Bruce said, "Come out, relax and see what we do. Enjoy." He added that they do not hurry anyone; they can stay as long as they want. Cider is available in "growlers." Purchase a growler and return with it to be refilled.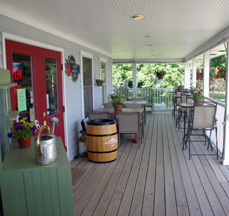 Visitors to McIntosh Apple Orchards & Winery will be delighted by their first view of the winery tasting room. The McIntosh facility is housed in a charming handcrafted house with a porch wrapping around the sides. Numerous regalia with beautiful flowers add to the ambiance. Small tables and chairs on the porch provide spots for visitors to enjoy a glass of McIntosh cider or wine. At the apex of the facility a large painted quilt adds colors of blue, green and deep pink. The tasting room with a wide porch feels as if it is inviting visitors by saying, "Come on in!"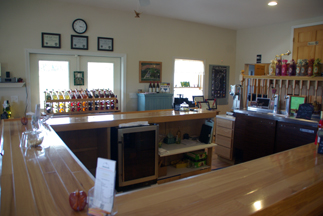 Inside the tasting room has a large U-shaped counter of hickory and the floor is maple. The light woods provide brightness to the room. On the right side of the room, visitors will see a stainless steel counter/window where cider donuts are made. In a corner is a fudge maker. Displays around the tasting room include a variety of products most of which are from local artisans. Look for jams, preserves, honey, maple syrup and more.
Memories Lead to Orchards and Cider
Bruce McIntosh remembers as a child riding his bike to an orchard where he paid 15 cents for a cup of cider. Donuts were also made there. For years he returned to the orchard and as a parent he made numerous trips to the orchard with his family. Always in the back of his mind there was an idea that some day he would own an orchard. By the time he moved to Chicago, he began looking for a farm. Eventually his attention was brought to this piece of property with an old established orchard. Today the 32 acres of orchards have apples and peaches with a few pears.
In the beginning Bruce's vision was to set up a farm market stand to sell cider. In 1998, Bruce decided to add hard cider. After spending several years building the tasting room and winery facility he opened McIntosh Apple Orchards & Winery in 2007.
However Bruce isn't ready to stop yet. He has more plans including enlarging an area behind the tasting room for more visitors and events.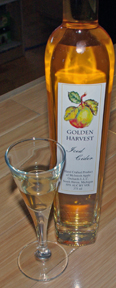 Hard Ciders
The hard cider was a light straw color with an aroma reminiscent of apple pie and spice. The taste was of apple. The finish was apple, crisp and cleansing. This apple cider had six percent alcohol. Iced Cider was a yellow gold. The aroma reminded one of floral blossoms. The taste was floral with apple. The finish was crisp with apple on the aftertaste. It takes ¾ gallon of fresh apple juice to make one 375 ml of ice cider. Golden Russet wine was a very light straw color. The wine had a floral aroma while the taste had floral notes with some apple. The finish was dry with apple and a slight citrus note. Peach was a light yellow. The aroma was of peach while the taste was soft with peach and floral notes. The finish was dry. Red and Black was red. This was a blend of red raspberry and blackberry. There was an aroma and taste of red raspberry. The finish had red raspberry notes.
When making plans to visit McIntosh Orchards & Winery, set aside enough time to enjoy this special place in the country with views of orchards and vineyards.
June 2012


McIntosh Apple Orchards & Winery
6431 107th Avenue
South Haven, Michigan 49090
GPS: N42º 28.174' W86º 10.232'
---