Cody Kresta Vineyard and Winery
by
Kathy Sullivan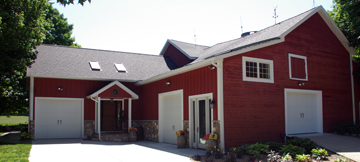 Summary: Enjoy a visit to Cody Kresta Vineyard and Winery in southwest Michigan where you will discover carefully handcrafted wines, a cozy tasting room and genuine hospitality. To enjoy Cody Kresta wines be sure to visit the winery tasting room location in Mattawan, Michigan.
Travel to Cody Kresta on a weekend where you will discover a cozy tasting room with a lovelyl patio created by a delightful and friendly couple, David and Mary Lou Butkovich. The owners want people to visit for the wines and to experience a boutique winery in Michigan's beautiful countryside. Plan to stay awhile to enjoy the patio with tables and chairs aside a bubbling waterfall and views of the countryside.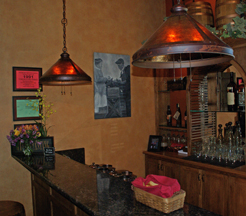 History
In the tasting room a painting of a photo of David's grandparents, Anna and Joseph, is displayed. His grandfather was originally from Croatia. Kresta is Croatian for crest or ridge. David's grandparents grew grapes in this area of Michigan. Cody was their beloved dog who would visit the vineyards with David. Cody was accidently injured by a car and did not survive. The Butkovichs have a new dog. Visitors are welcome to bring their dogs with them when they visit.
As a third generation winegrower, David was also a home winemaker for many years. He noted that originally the winemaking equipment was in the basement of his home and eventually things became very crowded. In 2009 David and Mary Lou opened the Cody Kresta Winery and tasting room.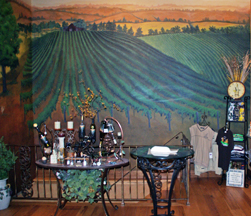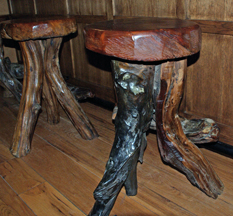 Tasting Room/Winery
The tasting room, barrel room, and bottling line are located in an old barn originally built in 1882. The red-sided barn is divided into parts and visitors will discover a decorative door in a cottage-like section. Opening the door, first time visitors will be sure to enjoy the sight. It is like opening a treasure box of jewels. Inside David, a construction builder, has added many details. Their tasting room manager spent 90 hours painting a vineyard scene with their home, barn and Cody in it. The scene covers one wall of the tasting from top to bottom. The room is tastefully furnished and wine related giftware is attractively arranged.
The tasting counter inside the tasting room is granite-style. Three unusual stools are available. These special stools are made of very thick wood and old thick grape trunks. The cozy tasting room has numerous items to browse while visiting.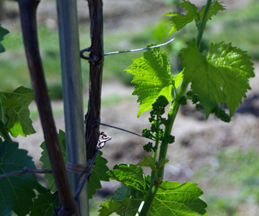 Vineyards
In 2012 Cody Kresta winery produces 1,000 cases per year. On their property the Butkovichs have planted 2.5 acres of grapes that include Cabernet Franc, Chardonnay, Vidal, Traminette and Marechal Foch. Other grapes are sourced from vineyards near Lake Michigan Shore. David said that there are "great people to work with in Michigan."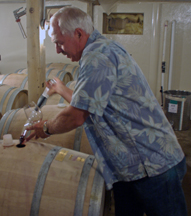 Barrel Tastings
While viewing the barrel room David provided us with several barrel tastings. He plans to bottle these wines in the summer of 2012. The Cabernet Franc 2010 was a light ruby color. The aroma was fruit forward and the taste was light and fruity. Merlot 2010 was light ruby. The aroma was earthy with black fruit nuances. The taste was of fruit and earthy with a hint of mushrooms. The Cabernet Sauvignon 2010 was light ruby with dark fruit with a touch of herbal notes. Chambourcin 2010 was fruity with a ruby color.

We also enjoyed a bottled Riesling. The wine was a light straw color with a floral aroma and a taste of roses ending with citrus.

The winery is open most weekends. Plan to visit and spend extra time at the tasting room. Enjoy perusing the wine related giftware available. When planning a visit for six or more people, call for an appointment.
June 2012
Cody Kresta Vineyard and Winery
45727 27th Street
Mattawan, Michigan 49071
GPS: N42º 15.161' W85º 48.847'
---