J. Trees Cellars
by
Kathy Sullivan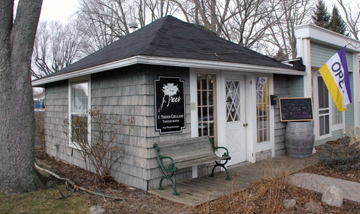 Summary: Jon Treloar is an ardent winemaker who while maintaining vineyards is focusing on creating hard ciders. Jon creates wines and ciders by working with the flavors from the fruit without adding other ingredients. J. Trees Cellars' tasting room is located in the quaint town of Blissfield, Michigan in an equally quaint building.
J. Trees Cellars tasting room is located in Blissfield, Michigan. The winery and vineyards are 10 to 12 miles from the tasting room.
The tasting room is located in a quiet, historical area of Blissfield. Old time streetlights add to the charm and sense of history. Across the street and around the corner is the historic Hathaway Restaurant originally built in the 1800s.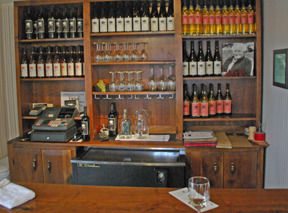 The petite tasting room, with French pane windows, has one table made with an oak barrel base. Four stools provide seating. The tasting counter comfortably has room for four to taste wines and ciders. One wall is a dark purple and three walls are wallpapered. Wines are displayed behind the tasting counter on walnut shelves. Several photos decorate the walls including two photos of frozen apples still clinging to the tree.
The J. Trees Cellars tasting room opened in April 2008. Jon Treloar, a local resident, studied botany and horticulture at Michigan State University. In addition, he taught winemaking and viticulture at MSU. Friends of Jon nicknamed him Jonny Trees so he decided to use a rendition of his nickname for the winery name. During our visit his staff noted that Jon is a perfectionist – meticulous. He "will work on something for months to get it right."
The vineyards for J. Trees Cellars are located in Petersburg on a family owned farm. Grape varieties include Norton, Chancellor and Marquette. Saline is sourced from three acres near Ann Arbor and Riesling is sourced from the Leelanau Peninsula. Apples for the ciders are sourced from Petersburg.
Wines
Riesling 2010 was a straw color. The wine with floral notes had a crisp finish that began with floral nuances yielding to citrus. Chardonnay 2011 with a yellow color offered aromas of pear and apple. The taste also with pear and apple had hints of citrus. The crisp, fruity finish yielded to vanilla and caramel notes. The wine had a long aftertaste. Late Harvest Riesling 2011 was a straw color. The aroma offered floral and citrus nuances. The taste was sweet with pear, apple and citrus notes. The finish was crisp and fruity.
House Red 2010 was a blend of Chancellor, Norton, and Marquette. This ruby wine had an aroma and taste of dark fruits and spice. The finish was fruity with mild tannins.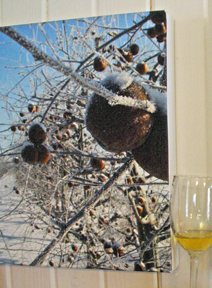 Ciders
In creating his first cider, Jon used 30 different apple varieties including cider and traditional apples. He plans to plant an acre of cider apples. His favorite apple for cider making is the Fuji apple. Vintage Cider with six percent alcohol was a light yellow. The aroma and taste reminded one of fresh apples off the tree. The finish was crisp and refreshing. Vintage Sweet Cider was yellow with seven percent alcohol. This yellow cider had an aroma and taste of apple. The crisp apple finish had a slight sweetness. Fuji Ice Cider had 12.5 percent alcohol. This light gold ice cider with apple throughout had a smooth taste and was sweet without being overly sweet.
When visiting J. Trees Cellars tasting room in Blissfield, be sure to enjoy learning about Jon Treloar and the history of the area.
J. Trees Cellars
115 N. Main St.
Blissfield, Michigan 49228
GPS: N41º 50.162' W83º 52.330'
Article written in February 2013
---