Burgdorf's Winery
by
Kathy Sullivan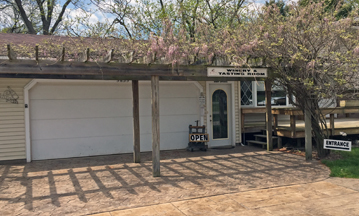 Summary: Burgdorf's Winery is located in Haslett, Michigan near Lansing, the capital of Michigan. The winery offers a variety of wines including red and white wines. They also produce an Ice Wine. The retail section has a plethora of wine related items.
Traveling through Michigan, we stopped by Burgdorf's Winery to discover the wines produced here by Dave and Deb Burgdorf. They have been producing wine for over 30 years, and opened the commercial winery in 2005. Deb has a degree in microbiology with over a decade of experience in fermentation. Dave's experience is in agriculture.
Winemaking began for the Burgdorfs as a result of a large crop of wild black raspberries. From there it mushroomed into a busy business. The first wine the Burgdorf's made was named "Perfection." We tasted the available Perfection made from black raspberries and cherries. The wine was a dark purple color with a light purple rim. The wine had a very black raspberry aroma and taste. Pair this wine with chocolate. The Burgdorf's used their professional experience to improve their wines over the years.
The tasting room was developed as part of their home. According to the tasting member staff, the Burgdorfs were not allowed to add an additional building to their property and so Dave converted a portion of their home into the tasting room.The parking area in front of the tasting room is large and paved with large flat stones that have been glazed.
On the Saturday before Mother's Day, the tasting room was busy with wine enthusiasts tasting wines along the tasting counter that extended from one room into another. Numerous gift items were also available for visitors to browse. One of the most unique items was a wood cheese tray that opened up like a baby grand piano. This might be an ideal gift for a music and wine lover. While visiting, amble among the many gift items.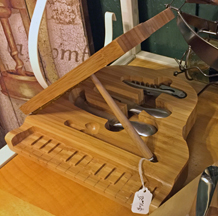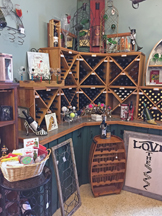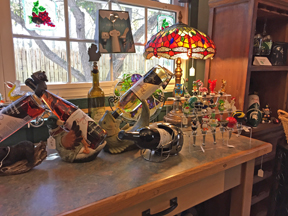 Burgdorf's Wines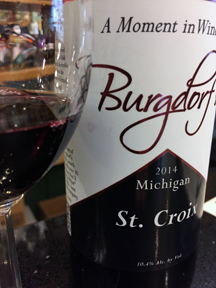 The 2013 Pink Blossom with 12.7% alcohol was a reddish orange color. This dry rosé was crafted from mostly Pinot Noir grapes. The medium/light-bodied wine offered notes of strawberries. The taste and finish were crisp. Spartan Blush 2013 was produced with a proprietary blend. This orange colored wine offered aroma and taste notes of floral and red berry fruit. It was sweet but dried on the aftertaste. This wine would be good paired with a rocking chair.
Traminette 2013 with 13.7% alcohol was a yellow color. The aroma and taste offered notes of mineral, citrus and honeysuckle. The finish had notes of flint and chalk.
St. Croix 2014 was a dark purple/black color. The wine had notes of light smoke, wild dark berries and fruit such as elderberry. The wine was medium-full bodied with chewy tannins.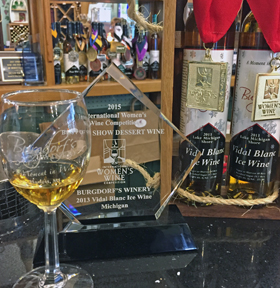 A small fee was charged to taste the Vidal Icewine. The 2013 Vidal Blanc Ice Wine was a gold color. The aroma was of honeysuckle. This dessert wine was full-bodied, sweet and delicious.
Wine bottle labels include, "Nestled away just east of Lansing, MI, Burgdorf's has crafted unique, award-winning wines with over 30 years of experience. You'll find "A Moment in Wine" within every bottle - best shared with good company."
When traveling near Lansing, Michigan, stop by Burgdorf's Winery for a wine tasting.
Burgdorf's Winery
5635 Shoeman Rd.
Haslett, Michigan 48840
Article written June 2017
---