Bene Vino Urban Winery
by
Kathy Sullivan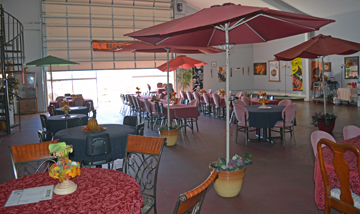 Summary: Bene Bucci, owner and winemaker of Bene Vino Urban Winery, wants visitors to know, "We're not fancy but we're comfortable." The tasting room offers a warm, friendly camaraderie. In addition to the wines, the tasting room offers "Benuvenuto's Grille" menu.
We visited Bene Bucci at his urban winery in Perry Village, Ohio. The town is small and Bene's winery is easy to locate. The winery and tasting room are located in a warehouse setting that Bene has refurbished to add a warm, friendly ambiance. The tasting room is large and Bene has added colorful table settings and umbrellas to create a welcoming atmosphere. One corner of the room holds a small stage for live music events.
The tasting room is decorated with an assortment of ornaments and signs. One sign reminds visitors, "A meal without wine is called breakfast!" A local craftsman designs Wood Spirits from driftwood found along the shore of Lake Erie. These one-of -a-kind Wood Spirits decorate the walls and are available for purchase (pictured at end of article).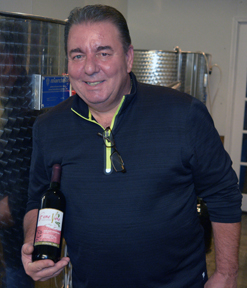 Bene's Wine Journey
Bene visited his brother in Napa, California and they went to a winery. Every year when he visited his brother, they visited wineries. Bene's family made wine. His grandfather brought his wine press and equipment with him when he immigrated to the United States. Bene's father made wine and when Bene was five years old, he helped his father. As Bene grew up, the extended family made wine. Bene took over the winemaking when he was 21. He sourced grapes from the Sierra Foothills in California. Today his family continues to make wine at home.
Eventually Bene decided to make wine commercially. To gain additional skills, for a time he worked at Debonne Vineyard as a cellar rat. He worked in this position for two years and then became winemaker for Thorncreek Winery.
Bene's future changed when he visited Seattle and learned about the urban wineries in the area. He was very impressed with the urban wineries. Eventually he found a space in an urban setting in Perry Village, Ohio and opened Bene Vino Urban Winery in 2010.
Today Bene says that he has a loyal customer base, customers who visit the winery every week.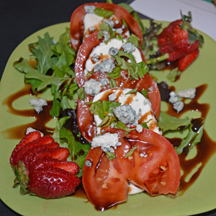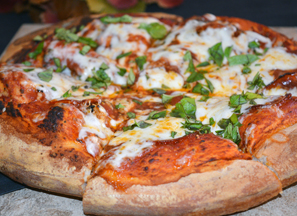 Food and Wine Connection
Food at Bene Vino Urban Winery is an additional attraction for wine lovers. We enjoyed one of the best pizzas we have ever enjoyed with a glass of wine while learning about Bene. In addition, there was a delightful salad of fresh mozzarella cheese, sliced tomatoes and strawberries. A cheese, meat and cracker plate was also awaiting our arrival. These items are on the menu. Other items on the menu included: buffalo chicken dip, a tomato Caprese Board, and chicken pesto.
Food is served every Friday and Saturday. During the summer food is also available on Wednesdays and Thursdays.
Events
Numerous events take place at Bene's Urban Winery. Public events include clam bakes, Chili Cook-off and Project Hope.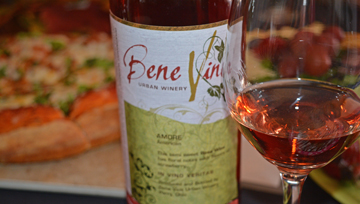 Wines at Bene Vino Urban Winery
Currently Bene is producing 3,000 gallons of wine with vinifera and Native American varieties. All wines are sold from the winery and tasting room. Bene noted that the wines he produces are consistent. Bene wants wine enthusiasts to know that he is producing quality wines and that the tasting room is a comfortable place to visit. "It's a fun place." At the time of our October visit, it was artfully decorated for Halloween.
Amore was a blend of Niagara and Concord fruit. The wine had 2.5% residual sugar. The wine had 11.5% alcohol. The wine was sweet with a hint of strawberry and floral. Bene also produces sweet wines including a 100 percent Concord with 5% residual sugar and a 100 percent Niagara wine with 6% residual sugar. Riesling 2014 was produced with Pennsylvania fruit. The wine was a light yellow color with an aroma of citrus. The taste was of citrus particularly with grapefruit notes. The finish was crisp. Pair this wine with food or enjoy as an aperitif on a warm summer day. Sauvignon Blanc 2013 was produced with 90 percent Sauvignon Blanc and 10 percent Chardonnay from 2014. The yellow colored wine offered an aroma and taste with notes of citrus and tropical fruits. The taste was smooth and the finish was crisp and fruity. Pair this wine with shellfish, sushi, sole or chicken.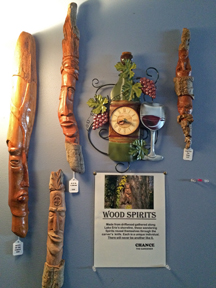 Malbec 2013 was produced with juice sourced from Chile. The wine was a translucent ruby color with an aroma of raspberries. The taste had notes of raspberries and licorice. Syrah 2014 was also produced with juice from Chile. The aroma was of raspberries. The taste offered raspberries with some leather notes. The wine was medium/full-bodied with mild tannins. The finish was fruity with very slight pepper notes on the aftertaste. Pair this wine with road game, hearty stews and spicy sausages such as pepperoni or salami.
Visit Bene Vino Urban Winery and enjoy the wines, food and ambiance. You are likely to continue returning for the great experience.
Benny Vino Urban Winery
4199 Main Street
Perry Village, Ohio 44081
GPS: N41º 45.494' W81º 08.148'
Article written October 2015
---
Visit these Ohio wineries and restaurants that partner with Wine Trail Traveler.