Breitenbach Wine Cellars
by
Terry Sullivan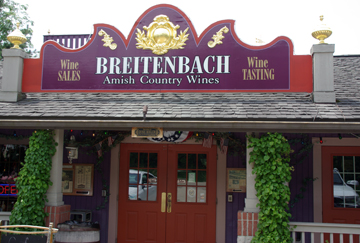 Summary: Travel to the most visited winery in Ohio. Breitenbach is the second largest producing winery in the state. Its location in the Amish country makes it a perfect stop for travelers.
While driving along Old Route 39 it is easy to pick out the purple and reddish-orange buildings that make up the Breitenbach Wine Cellars complex. This is one of Ohio's largest producing wineries.
Breitenbach Wine Cellars has been producing wine for thirty years. Although there is a small vineyard on site, most grapes are sourced from Ohio, Michigan, New York and California. Current production is about 62,500 cases. The name Breitenbach is German and refers to a bright stream. A stream called Bright Stream runs through the winery and farm property.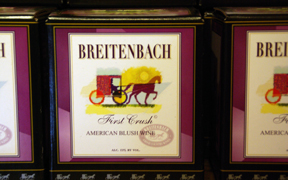 Entering the front door, travelers will find themselves in a large retail store. Amble amongst the racks of wine and shelves of wine related gifts. One item that may catch one's eye is boxed wine. Breitenbach has three wines in boxes. The boxes prove to be a convenience to hikers and campers and reduce the carbon footprint compared to glass bottles. In one corner of the retail room visitors can order food.
Wine enthusiasts enter the next room for wine tastings. Wines are encased in a backlit display under the tasting bar. This makes it easy for guests to see the wines and select what they would like to taste. All of the wines are available for tasting in small plastic cups. This area has a tendency to get busy, as many visitors like to stop by and taste the wines.
Beyond the tasting bar, a well-lit room with tables and chairs is available for customers who have purchased food. This room overlooks the winery buildings.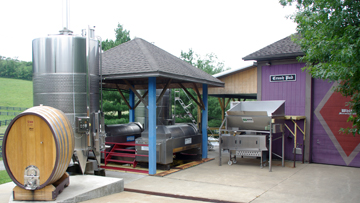 Anita Bixler-Davis took us on a short tour of the winery facility. Tours take visitors into some of the buildings starting with the crush pad. An oval wooden tank along with stainless steel tanks convey an old-world new-world atmosphere. The tour stopped by the laboratory, one of the cleanest observed in our travels. The cellar room houses wine for aging in French, Hungarian and American oak.
Wines
Back in the tasting room we sampled several wines.
The Chardonnay offered an apple aroma and taste. The crisp apple finish had a hint of citrus. The Gewürztraminer was made with grapes sourced from the Lake Erie region. It had a spicy nose and taste. This dry white had a good body and was reminiscent of this German grape. The Sangio Rosso was a blush wine that was like a fruit cocktail.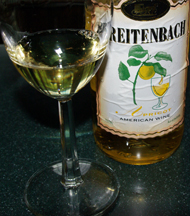 Merlot, produced with grapes from Alexander Valley in California, had a black cherry and blackberry aroma and taste. There were tannins on the crisp, fruity finish that had earthy nuances. Cabernet Sauvignon was also made with grapes from the Alexander Valley. There were blackberries on the aroma and taste and tannins on the crisp fruity finish.
Apricot had an apricot aroma and taste. Although sweet the wine began to dry on the aftertaste.
Breitenbach Wine Cellars offers many wines for wine enthusiasts to sample including a dandelion wine. Enjoy a tour or perhaps a lunch at this popular tourist stop.
Breitenbach Wine Cellars
5934 Old Route 39 NW
Dover, Ohio
GPS: N40º 30.589' W81º 34.338'
---
Visit these Ohio wineries and restaurants that partner with Wine Trail Traveler.