Silver Moon Winery
by
K.L. Sullivan

Summary: Silver Moon Winery is located in the Amish Valley of Ohio. The bright colored winery is inviting to visit. It offers numerous wines that are all available to taste. Visitors can purchase wine by the glass, bottle or case.
With its red exterior emphasized with bright white paint trim Silver Moon Winery is a winery that seems to call out to people to stop and see what they offer. The winery emphasizes a sweet portfolio but there all types of wine. Ken Eschbacher, owner, wants people to come by and spend some time and enjoy tasting his wines. According to Ken, Silver Moon Winery is located a short distance from the largest populated area of the Amish community in the United States. On weekends, visitors to the winery may discover olive oil tastings and bread/cheese plates available.
Silver Moon Winery is easily accessible from State Route 39 in Dover, Ohio. Travelers planning a visit to the Amish country may want to add Silver Moon Winery as an enjoyable stop to enjoy tasting wines as they meander through the tasting room.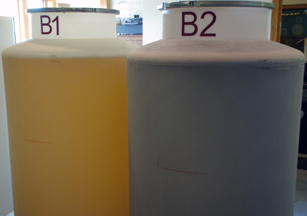 The Beginning
Ken had been in the retail clothing business for many years. His wife is a schoolteacher. Ken decided he wanted to start his own business. Once, while traveling, Ken was given a bottle of homemade wine for Christmas. Deciding that making wine was a good idea and desiring to start his own business, Ken started a wine shop in Dover in 2005. People could come in and make wine and Ken could make wine in the wine shop. These wines were made from kits. The idea for the name Silver Moon Winery came from Ken's daughter's wedding that had used a man and woman in the moon theme.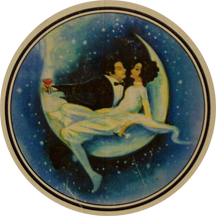 By 2007 the business had increased and Ken moved to the current location. Now he purchases juice from California and New York. Currently the Silver Moon Winery produces 3,000 cases of wine. A few clients come in to make their own wine but the winery concentrates on producing wine from juice. Ken also offers consulting services for anyone interested in opening a boutique winery.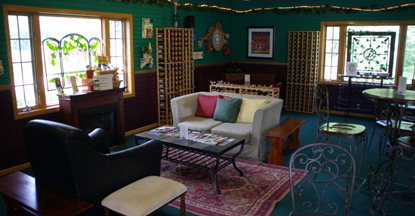 Tasting Room
The tasting room offers a comfortable and relaxing time for visitors. Small tables are placed around the room where people can enjoy a glass or bottle of wine. A number of items are available for sale. Most unique may be the grind your own peanut butter machine. Bulk olive oil and balsamic vinegar is also available. Discover gourmet sauces, dips and jellies from the Robert Rothschild Farm.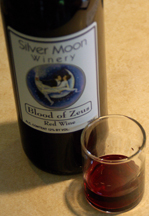 Wines
Luna Bianca was produced with Chardonnay. The aroma and taste had notes of apple. The finish was buttery. Blood of Zeus was made with Sangiovese grapes. The wine offered mild nuances of red cherries on the aroma and taste. The finish was crisp with mild tannins. The aftertaste had cherry notes. Blood of Zeus is used to make Blood of Zeus bread that is sold in the winery tasting room. Calypso White was produced with a Viognier base and the addition of pineapple and banana flavorings. The result was a wine with pineapple on the aroma. The taste offered notes of banana and pineapple. The finish was fruity. Watermelon Blush was produced with a white Merlot base and watermelon flavoring. The aroma and taste were of watermelon. The finish had a hint of soft watermelon. Razzle Dazzle is a popular wine. This wine offered strawberry nuances. Starry Night White had peach nuances throughout. Fire and Ice, a dessert wine, was produced with Riesling and Cabernet Franc. The result was a smooth, red wine with some floral notes.
Anyone visiting east central Ohio, may want to visit Silver Moon Winery. Try a variety of the wine styles they offer to discover the ones you enjoy.
Silver Moon Winery
4915 Old Route 39 NW
Dover, Ohio 44622
GPS: N40º 30.761' W81º 33.079'
For additional information
---
Visit these Ohio wineries and restaurants that partner with Wine Trail Traveler.