Deer's Leap Winery
by
Kathy Sullivan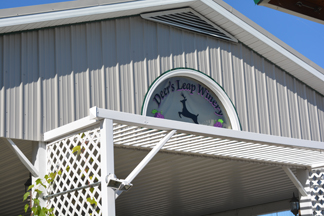 Summary: Deer's Leap Winery, in Geneva, Ohio offers an unusual combination of wines, a restaurant and an aviary. This may be the only winery that has an aviary where visitors can enjoy seeing colorful parrots. The owners are also involved in bird rescue.
We met Robert Bostwick almost immediately in the Deer's Leap Winery restaurant. We quickly discovered that he has been involved in the wine industry for decades and knows many of the winemaking giants on the East Coast. This is due to the fact that winemaking is a relatively new development on the East Coast. In the early years, it was easier for winemakers to gather together to share time, camaraderie and notes about winemaking. During our visit with Robert, we learned that he had established relationships with Dr. Konstantin Frank, Walter Taylor and many East Coast winemakers.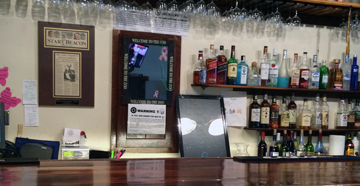 History
Robert Bostwick has been making wine for over 40 years. He founded Heritage Wine Cellars in Erie, Pennsylvania in 1973. Robert also owned a grape juice company and sold juice to other wineries. At one time Robert owned 500 acres of vineyards. He noted that in the 1960s and 1970s grapes were a prosperous business. Early harvesters cost $21,000 but today a grape harvester can run almost $200,000.
Robert recalled growing up on a farm. "You survived on a farm and were self-sufficient." Robert picked a lot of fruit including grapes. Over the years, grapes replaced many of the other fruit crops.
More recently Robert started Deer's Leap Winery under the Biscotti LLC after purchasing Biscotti winery. He noted that, "In the wine business location is everything." Originally the wines were produced in North East, Pennsylvania but today all bottling is done onsite. Currently Robert buys juice to produce wine. On the current property grape juice is fermented and bottling takes place here. Future plans include constructing a new facility that will allow the wines to age onsite.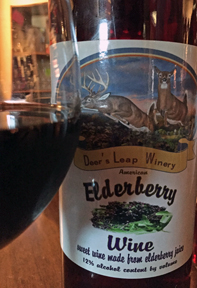 Wines
Under the Deer's Leap and Biscotti labels Robert produces 15,000 gallons. A variety of wines can be found at Deer's Leap including: red, blush, white, fruit and specialty wines. All fruit wines are produced with 100% fruit.
Merlot was an opaque very dark ruby to black colored wine. The aroma and taste were of black cherries, blackberries, leather and licorice. The wine was full-bodied with medium tannins. The finish was fruity. The Deer's Leap Pinot Noir was a translucent dark red color. The wine had raspberries on the aroma and taste. The taste also offered leather and vanilla notes. The medium to full-bodied wine had mild, soft tannins. The finish was fruity.
Elderberry wine was an opaque dark purple to black colored wine. The wine offered an elderberry aroma and taste. This full-bodied wine offered a crisp finish with notes of elderberry fruit. A taste reminds one of elderberry pie filling.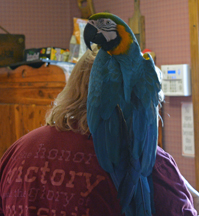 Aviary for Parrots
An area off of the restaurant houses an aviary with 12 parrots. Parrots are Gean Bostwick's passion. Robert and Gean firmly believe that parrots should be well-cared for during their long life spans. For Robert and Gean, the parrots are like family. The Bostwicks have created an endowment at the Pittsburgh Aviary. They also work with rescuing birds. At the end of our visit Gean proudly showed us a beautiful macaw.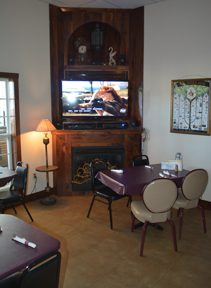 Deer's Leap Restaurant
The Deer's Leap Winery restaurant is laid-back with a long bar where visitors can purchase an array of beverages. There are plenty of tables and chairs for seating. A fireplace and a large screen television anchors one corner. The menu includes: appetizers, salads, sandwiches, burgers, entrées and desserts. Specials are available for children and those 60 and over. In addition to the indoor seating area, there is also a covered outdoor area.
When visiting Geneva, Ohio be sure to stop by Deer's Leap to taste wines, to enjoy a bite to eat for lunch or dinner and to see the beautiful, well cared for parrots.
Deer's Leap Winery
1520 Harpersfield Road
Geneva, OH 44041
GPS: N41º 45.910' W80º 56.755'
Article written November 2015
---
Visit these Ohio wineries and restaurants that partner with Wine Trail Traveler.