Buccia Vineyard
by
K.L. Sullivan
Summary: Buccia is a winery and bed & breakfast. The tasting room is laid back and has a relaxing atmosphere. Several tables were available inside and outside under grape arbors for enjoying a glass of wine. The tasting room is adjacent to the Bed and Breakfast, which has four rooms for lodging.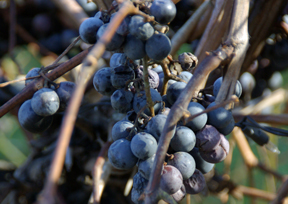 Buccia started as a result of Fred Bucci's frustration of traveling back and forth to Cleveland for work during snowstorms. It did not take long for him to desire another lifestyle. Having successfully produced wine as a home winemaker, Fred planted the current vineyard in 1975. The vineyard consists of 4½ acres and the winery produces 4000 gallons, (about 1700 cases). The vineyard grapes include Baco Noir, Seyval, Vignoles and Steuben as well as smaller quantities of other grape varieties. Eleven years after beginning the winery in 1975, the Buccias added the bed and breakfast. The result today is Buccia's Vineyard and Bed & Breakfast with four available rooms.
Outside of the dual-purpose facility, grape arbors are covered with Concord grape vines. Even on an early November day, grapes still clung to the vines. Seating is available for enjoying a glass of wine in a nice setting especially for an Indian summer day.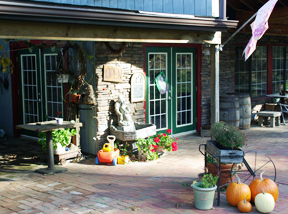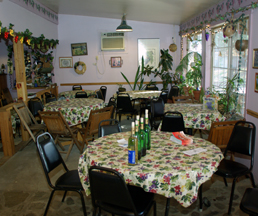 Fred delights in growing and producing unusual wines along with the traditional wines. The first wine he mentioned was Agawam. This was a hybrid developed in Massachusetts in the 1800's. Fred discussed other unusual grapes he has discovered in his travels around the world.
The tasting counter is small however there is plenty of seating at the tables. Visitors are instructed to buzz the intercom buttom if no one is in the tasting room. We did this and Fred quickly came from the winery. Rather than standing at the tasting counter to taste wines Fred brought bottles of wine to a table.
White Wines

Vignoles was a light yellow color with a fruity aroma. The taste offered pineapple and the aftertaste went from pineapple to grapefruit. Riesling had both fruit and floral aromas with a peach taste. It was crisp and fruity. The Reflections of Lake Erie produced at Buccia, is a blend of 25 percent Riesling, Seyval, Vignoles and Cayuga. The result is a wine with a golden yellow color. The taste was fruity and the finish was crisp and drying. Reflections of Lake Erie had an alcohol level of 11 percent.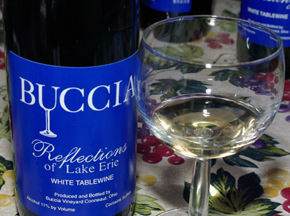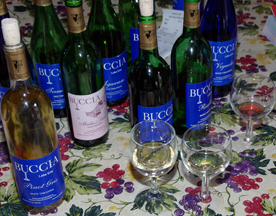 Red Wines
Agawam was a light golden color with a reddish tinge. With a residual sugar of 2.5, it offered a floral and fruity aroma with a fruity taste. The finish was crisp and fruity. Baco had a black cherry aroma with a fruity, black cherry taste. The wine had a crisp finish.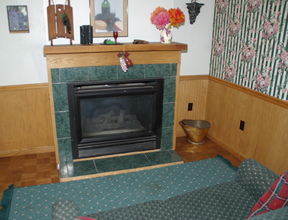 Bed & Breakfast
The four rooms available for rental are spacious and include unusual features. Each room has a six-person hot tub, patio and grape arbor as well as the usual amenities guests expect today. The four rooms are unique. The honeymoon suite has a den with a fireplace with the bedroom and bath located on the second floor.
If you want to get away from traffic, heavy congestion and city life for a few days, consider a visit to Buccia. Here you will find a reasonably priced bed and breakfast with an adjacent winery tasting room. If you have an opportunity to talk with Fred, be sure to ask him about some of the unusual grapes he has discovered.
Buccia Vineyard
518 Gore Road
Conneaut, OH 44030
GPS: N 41° 56.207' W 80° 37.296'
---
Visit these Ohio wineries and restaurants that partner with Wine Trail Traveler.