Quarry Hill Winery
by
Kathy Sullivan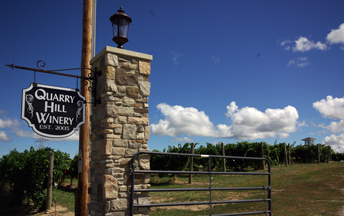 Summary: Quarry Hill Winery is an all estate-bottled winery located near Sandusky, Ohio. The winery is easy to reach off the Ohio Turnpike. A trip to the winery will give people a comfortable place to visit and enjoy tasting wines. Occasional weekend entertainment is available.
Quarry Hill Winery is located in Berlin Heights, Ohio about twenty miles from Sandusky. The tasting room is located in the midst of acres of vineyards and orchards. It is no wonder they offer red, white and fruit wines.
The orchard and vineyard property has a long history going back to the Depression when the Gammie family land was farmed for vegetables. Eventually orchards were added. These thrived because of the climate that is created due to nearby Lake Erie. Today visitors see vibrant fields of orchards and vineyards. On the way to the tasting room, one will pass the farm-owned fruit and vegetable market.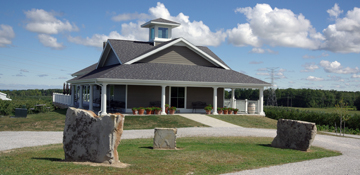 Mac McLelland and his wife moved from Ohio to Georgia. While in Georgia, Mac had become interested in winemaking. After moving back to Ohio Mac worked as an apprentice winemaker for a winery. In 2004 he went to the Gammies and struck a bargain to begin a winery. Mac McLelland and Bill Gammie co-own the vineyard and winery.
The winery was named Quarry Hill Winery for the quarries located on the farm property. Just outside of the tasting room three large stones have been decoratively placed. These huge rocks were from the quarries.
The new tasting room with winery below opened in Spring 2010. The tasting area offers a great feeling with large windows on three sides of the building. The angular tasting counter is of dark quartz with stools available. A wrap-around porch with white railing adds a dramatic flair. Off in the distance one can view a sliver of Lake Erie. Tables and chairs are available on the deck and in the tasting room. A stone fireplace adds to the ambiance of the room.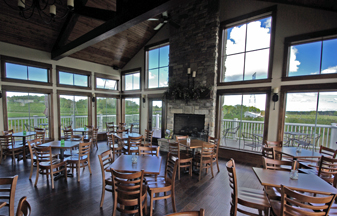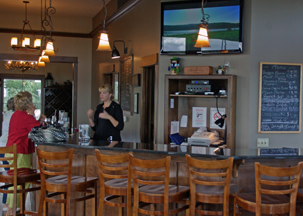 Small menu items are available on weekends. Options may include panini, cheese platters, Brie and Bread, Lobster Bisque and cheesecake.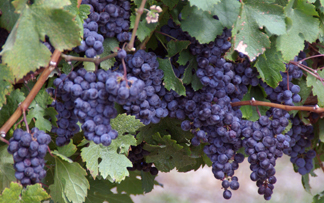 The three-acre vineyard consists of Pinot Noir, Cabernet Franc, Riesling, Pinot Grigio, Petit Syrah and Vidal Blanc. As winemaker, Mac wants to have control of his vineyards. He enjoys both the vineyard and winemaking because of the diversity that both aspects offer.
Quarry Hill Winery offers a variety of wines and wine styles. Wines are only available at the tasting room. Currently the winery is producing 3,000 cases of wine.
Red Wine
Cabernet Franc, Lake Erie 2008 was a light red with pink hues. There were spices on the nose. The taste offered dark fruit nuances. The finish was spicy with light tannins.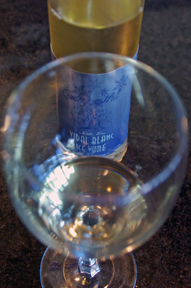 White Wines
Pinot Grigio, Lake Erie 2008 was a light yellow. The aroma offered citrus while the taste focused on citrus especially lemon. The finish was crisp. Riesling, Lake Erie 2009 had a very floral with peach nuances aroma. The taste was of peaches with hints of rose. The crisp, fruity finish yielded to floral notes on the aftertaste.
Dessert Wine
Vidal Blanc Ice Wine Lake Erie was yellow. With a brix of 40 and 18 percent alcohol this wine was delightfully sweet and smooth. This would be a great dessert wine.
Fruit Wines
Apple Frizzante was a bubbly apple wine with an aroma of apple. This carried through to the taste that was dry. This wine tends to linger on the finish. This is a popular wine that beer drinkers enjoy, too. The Apple wine was similar without the bubbles. The aroma had a bit of mineral. There were definite apple nuances on the taste. Blueberry wine with 12 percent alcohol was a light purple with a light pink rim. The aroma was very blueberry while the taste, which was dry and sweet, offered nuances of blueberry. The finish was sweet and drying. Red Raspberry offered raspberry notes throughout the taste.
Mac would like people to know that this estate grown winery offers a beautiful and comfortable environment with a distant view of Lake Erie. Plan a trip to Quarry Hill Winery and enjoy a tasting.
Quarry Hill Winery
8403 Mason Rd.
Berlin Heights, Ohio 44814 
GPS: N41º 20.076' W82º 28.478'
---
Visit these Ohio wineries and restaurants that partner with Wine Trail Traveler.