Terra Cotta Vineyards
by
Kathy Sullivan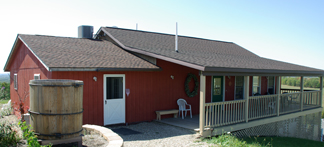 Summary: Terra Cotta Vineyards is a friendly winery to visit in New Concord, Ohio. Visit and enjoy delicious wines and wonderful views of the bucolic countryside. Visitors to the vineyard will want to use the directions to the winery that are available on the website.
As we drove along Rix Mills Road in Ohio, we began seeing grapevines sporadically placed and knew we were near Terra Cotta Vineyards. Soon we were at the long driveway that runs past a larger vineyard to the tasting room. Paul Roberts, the owner, mentioned that the vineyards were planted depending on the lay of the land. Some areas are planted north/south and others are east/west. With three acres of vineyards, the primary grapes are Seyval, Vidal, Chambourcin, Baco Noir and De Chaunac. Recent plantings include Cabernet Franc, Riesling and Frontenac. Paul also purchases grapes from other Ohio vineyards to supplement grapes from his harvest.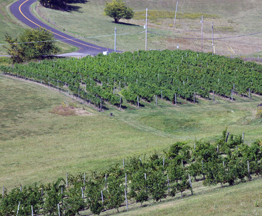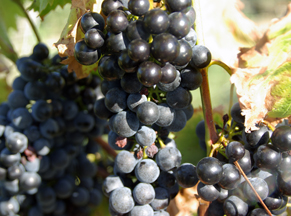 Paul's interest in vineyards began when he was making wine as a hobby. As he became more involved in winemaking he toured wineries and became more attached to the idea of one day owning his own vineyards and winery. That dream became fact when he started the vineyards in1996. The tasting room opened to the public in 1999. In 2009, the winery is producing 1,400 to 1,500 cases.
The name, Terra Cotta, is fitting as the county is known for its pottery. Drilling for wells has exposed red clay.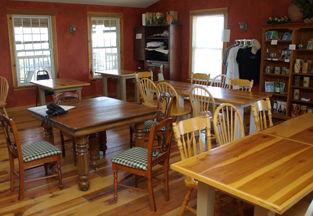 The red-sided tasting room has a deck on the front and back where visitors can enjoy a glass of wine. To the side of the tasting room are picnic tables and up several steps past a rock garden, is a pavilion with more tables.
Inside, the tasting room offers numerous tables with comfortable chairs that offer visitors an opportunity to come and stay awhile. Enjoy a glass of wine and conversation with friends and family.
Terra Cotta Events
Events include once a month Chef in the Vineyard Dinners. According to Paul, Bill Bird, the Chef, is renowned for providing great dinners. Bill is personable and talks with guests about the meal he has created. Each meal offers an appetizer and two entrees. Terra Cotta wines are part of the meals. This event is so popular that it frequently is sold out, so be sure to reserve a spot early.
Terra Cotta also offers special Cookouts. Marinated pork and strip steak is provided by the winery but guests do the grilling. Reservations are required for this event.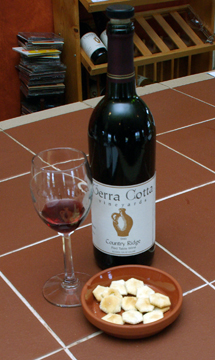 Terra Cotta Wines
The wines produced at Terra Cotta Vineyards are delicious. Several of the wines have received the Ohio Quality Wine label granted by the Ohio Department of Agriculture.
Red Wines
The wine tasting began with Country Ridge. This red wine was produced with two-thirds Chambourcin and one-third Cabernet Franc. The result was a wine with a dark fruit aroma with an earthy, blackberry and cherry taste. The finish was earthy and fruity. Chambourcin 2007 with its ruby red color offered an aroma and taste of dark fruit. The finish also had dark fruit nunaces and was earthy. There was spice on the aftertaste.
Rosé Wine
Chambourcin Rosé was a beautiful, bright reddish-pink with an aroma of light cherry nuances. The taste and finish offered cherry notes while the finish had sweetness yielding to tartness and dryness.
White Wines
Seyval offered an aroma of stone fruit. The taste was reminiscent of a fruit salad while the finish was drying. Vidal Blanc was a light yellow with a peach and floral aroma. The taste was smooth with peach notes. The peach finish yielded to apricot. Terra White, a Gold Medal AWS winner, was produced with the Niagara grape. This sweet wine tasted like fresh picked grapes from the aroma through to the finish. This wine will bring back memories of Grandmother's house.
When you have the opportunity be sure to visit Terra Cotta Vineyards. Sip award winning wines while relaxing and viewing Ohio's beautiful countryside.
Terra Cotta Vineyards
2285 Rix Mills Road
New Concord, Ohio 43762
---
Visit these Ohio wineries and restaurants that partner with Wine Trail Traveler.