Laurello Vineyards
by
K. L. Sullivan
Summary: : Laurello is a family-owned winery. Their hope is that when people visit the winery, they will "feel like family." Kim and Larry Laurello focus on creating quality wine and believe that to "teach and educate" is part of their mission. Be sure to consider pairing your wine with items from the menu provided by Kim. The tasting room is comfortable and a large fireplace adds to the ambiance. Weekly music entertainment is available.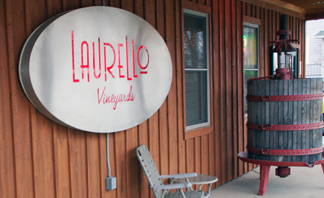 The owners, Kim and Larry Laurello, purchased the farm location of Laurello Vineyards in 1991. How did Larry know he could be a winemaker? Before he purchased the property, he made a batch of wine. Wanting to know if it was good, he visited with Arnie Esterer owner and winemaker from Markko Vineyard. Arnie, a man of few words, tasted the wine and commented, "You're a winemaker." Today Larry believes that it is a "badge of honor when you can make a good wine without covering it up with adding oak."
The property had a farm market building that Larry and Kim transformed into a tasting room. Good use of yellow and sage colors convey a warm and friendly feeling. A fireplace enhances the wine experience. Outdoor seating is available at the front of the tasting room. Laurello is a great place to visit for a relaxing evening with friends and family. The Laurellos want their visitors to know about wine but they added that it is a "challenge to teach what wine really is."
The tasting building is divided into three areas for tastings and events. Tables and chairs encourage people to stay for a while and enjoy the atmosphere and wine. Add to this the trays of appetizers and other menu items and one needs no more than wine, food and friends for a great time. The menu includes appetizers, sandwiches, cheese trays, desserts, and pizza. Occasionally the Red Hat Society, Lion's Club and other organizations meet here. If you are planning an event, consider renting space in the tasting room. Currently the Laurellos are renovating a barn that is just a few feet from the tasting room. This will be available for larger events.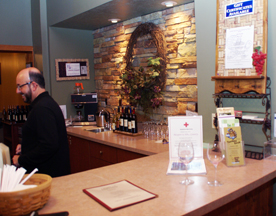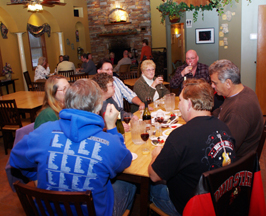 In 1991, many of the grapes were Concord. Now Larry and Kim have eight acres of vinifera grapes. The vinifera grow well in this area. Larry purchased wind machines to use in the event of a severe cold period. Most of the grapes the winery sources are from area farms. They produced their first wine in 2002 with a yield of 2,500 gallons. They now produce 16,000 gallons (about 6,700 cases). As we learned more about the experience at Laurello from Kim and Larry, we tasted several of their wines.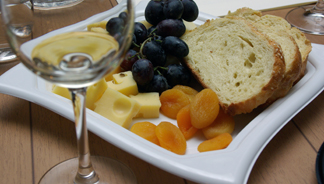 White Wines
Josephine 2007, a blend of Chardonnay and Viognier, offered a citrus aroma with a grapefruit taste. The wine had a crisp finish with a fruit aftertaste. Chardonnay 2007 Lake Erie had an apple aroma. The taste was smooth with apple and a very light oak. The finish was crisp and fruity and we noticed butter on the aftertaste. Riesling 2006 offered a complex aroma of apple, citrus and mineral. The taste was a combination of apple, pear, peaches and apricot nuances. The finish was crisp.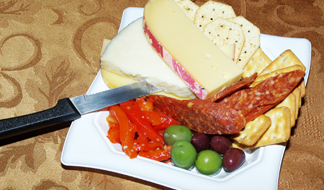 Red Wines
The non-vintage Cabernet Sauvignon offered an aroma of black fruit i.e. blackberries. The taste was very fruity. The finish was crisp with fruit. The Cabernet Franc had an aroma of black fruit and light pepper. The taste was of black fruit. The finish was crisp. There were noticeable tannins, fruity nuances and a slight pepper on the aftertaste.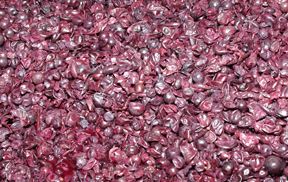 As we toured the facility with Larry, he indicated that he likes to work with the grapes including blending two vintages together to get the quality of wine he wants. Tanks were filled with this year's juice and bins were filled with grapes extracting color. Larry spoke of the importance to develop a good relationship with the growers. He mentioned his friend Tim Frania who had supplied grapes for years. Tim also made wine from three rows from his vineyard. He passed away this summer. In tribute Larry made the wine for Tim and called it Last Three Rows.
Be sure to visit Laurello Vineyards for good wines, good food, good friends and a good time. Check the entertainment schedule for the music dates.
Laurello Vineyards
4573 Route 307 East
Geneva, Ohio 44041
GPS N 41° 45.879' W 80° 55.075'
---
Visit these Ohio wineries and restaurants that partner with Wine Trail Traveler.