Tarsitano Winery & Café
by
K. L. Sullivan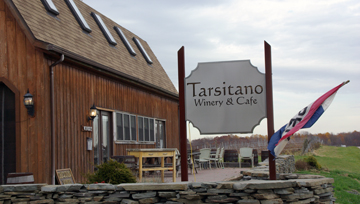 Summary: Tarsitano Winery & Café is an up and coming winery and restaurant owned by a young couple with a passion for good wine and food. Currently this is a totally family run operation. Ken is the winemaker and chef and his wife, Kelly, works at his side while caring for their children. The winery and café are a hands-on operation.
We met Ken and Kelly Tarsitano in their large one-room facility that combines a dining area, tasting counter and kitchen. While we were speaking with Ken, winemaker and chef, he had rolls and bread rising over a hot stove. Steam from a large kettle was adding humidity to the air that according to Ken helped the bread to rise. Before we left, Ken had baked the bread to a golden brown. Meanwhile, Kelly greeted visitors as they entered and conducted the tastings while taking care of their children, Isabella and Brant.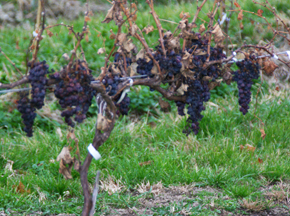 Ken purchased the property, originally a dairy farm, from his grandparents in 1996. In 1998 and 1999, he planted the vineyard and the winery opened in 2001. Originally, he learned how to make wine from his grandfather. The vineyard consists of 17 acres that are certified organic. Ken believes that this is the largest certified organic vineyard east of the Mississippi. The main varieties of grapes planted include Cabernet Sauvignon, Cabernet Franc, Petite Verdot, Chardonnay, Pinot Noir and Pinot Gris.
Currently the winery produces 5,000 to 6,000 gallons (about 2300 cases) of wine. Ken sources some grapes for his production. The wines are barrel aged for three years. As winemaker, Ken does not fine the wines; there is some racking and a little filtering.
In 2004, Ken opened the café. Ken's love of good food came from his heritage that is Italian and Finnish. Much of the menu is Italian fare. With any question Ken was asked regarding food, he referred to his grandparents.
The building used for the winery and restaurant was ioriginally used for family gatherings. Now the tasting room, kitchen and dining area maintain the family gathering place theme. The kitchen area is separated from the dining area by a tasting counter providing openness and friendliness.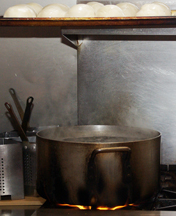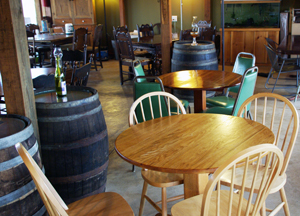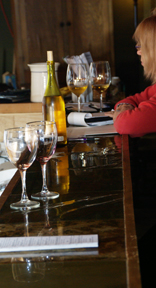 White Wines
As we learned the story behind the winery, we tasted wines. Chardonnay 2003 had an apple aroma with a citrus taste. The finish had citrus with a bit of oak. Chardonnay 2005 offered a smooth apple taste that was sweet with a residual sugar of three percent. The finish changed from honey and apple to oak. Riesling 2006 had a smooth, fruity taste. There was a crisp finish with a long aftertaste. Gewürztraminer offered a spice taste with a finish that was crisp and refreshing.
Red Wines
Cabernet Franc 2004 had a red translucent color and an aroma of black fruit and pepper. The taste was fruity with black fruit nuances. The finish was smooth and peppery. Cabernet Franc 2005 was a reddish purple opaque color with a pepper aroma. The taste had nuances of blackberries. Fruit, pepper and some tannins were on the finish. Bear Creek Red 2005 was a blend of Corot, Norait, Cabernet Sauvignon, Cabernet Franc, Lemberger and Pinot Noir. The result was cedar and spice aromas with a cedar and black pepper taste. There were bold tannins.
As you talk with Ken, you will realize that despite his long working hours, he has found his dream. As Ken says, "Sometimes the dream finds you, rather than you finding the dream."
Consider stopping at the winery for a tasting or perhaps dinner paired with a Tarsitano wine.
Tarsitano Winery
4871 Hatches Corners Rd.
Conneaut, Ohio 44030
GPS: N 41° 53.060' W 80° 36.583'
---
Visit these Ohio wineries and restaurants that partner with Wine Trail Traveler.