Meier's Wine Cellars, Inc.
by
K.L. Sullivan
Summary: Meier's Wine Cellars is the oldest and largest winery in Ohio. The tasting room offers an assortment of wines, juices, sparkling wines and sherry to tempt visitors. Families are most welcome and visitors of all ages will enjoy the variety of juices available. The winery is located about ten minutes north of Cincinnati, Ohio.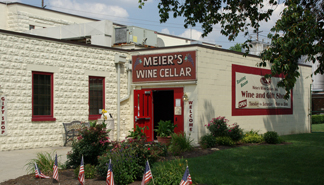 Today, Meier's Wine Cellars concentrates on producing wines, juices and sherry. Outside the tasting room, the sign reads Meier's Wine Cellars, Inc. Tasting Room and Gift Shop. To the right of the building, numerous large tanks rise high in the landscape. Upon entering the visitors' area, the gift shop is to the left and the tasting room is to the right. An event room is available at the back of the building. The gift shop has a large selection of wines and juices to purchase while the tasting room has a long counter with several long tables Visitors have an the opportunity to view a 10-minute video about the history of Meier's Wine Cellars.
Meier's Wine Cellars has a long history. In the mid 1800's, John Michael Meier traveled to the United States where he received a land grant in Ohio. The discovery of Catawba grapevines growing wild on the property led to the establishment of Catawba vineyards.
By the late 1800's, his son, John Conrad Meier, developed a technique for pressing juice without spoilage or fermentation. This was the beginning of the John C. Meier Grape Juice Company. Following this development, Meier's began producing wine. The winery survived Prohibition by making sacramental wine and producing juice. After Prohibition ended, the Meier family decided to restore pre-prohibition wine production at the facility.
Today the winery produces 45 varieties of wine, sherry and non-alcoholic juice. Meier's Wine Cellars produces 300,000 to 400,000 cases of wine and juice. The winemaker sources grapes from northeast Ohio and Pennsylvania.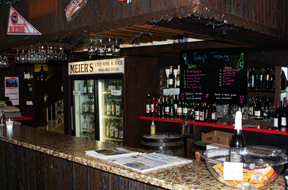 Visitors just stopping by may choose from one of two trays of alcoholic or non-alcoholic samples to taste for two dollars or choose any other wine or juice not offered at fifty cents each. All wines are served in small plastic cups. If you are interested in a comprehensive-type tasting, contact the winery three weeks in advance. These tastings have a four-dollar fee per person. With this type of tasting, glass stemware is used. These special tastings may be accompanied by catering for an extra charge, if requested in advance.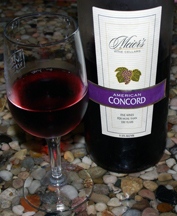 We met the winemaker, Bob Dustler, and he guided us through a wine tasting. White Catawba offered a grape nose (reminding us of Welch's grape juice), sweet grapy taste and aftertaste. Meghan, a writer for Wine Trail Traveler tasted the Concord and responded, "If I didn't know this was wine, I could drink a whole bottle." Fruit wines produced at Meier include a Blackberry Wine. The resulting wine has a blackberry nose, sweet blackberry taste and a blackberry aftertaste.
Meier's also produces sherry. The first one we tasted was the Meier Marsala (18% ABV) that had an alcohol and toffee nose. It was light bodied with citrus on the aftertaste. Meier's 44 Cream Sherry had a dark amber color. This cream sherry has been served at the White House. The sherry had a whisky nose and was medium bodied. There was sweet caramel on the taste and sweetness on the aftertaste. The finish was velvety. Our last tasting was the Sparkling Pink Catawba juice. While it had a slight grape nose, the taste and aftertaste was grapy. It was very delicious and kid friendly.
If you are in the area, stop by for a tasting whether a wine tasting or a juice tasting. Prices are very reasonable.
Meier's Wine Cellars, Inc.
6955 Plainfield Road
Cincinnati, Ohio 45236
GPS: N39° 19.511' W084° 40.043'
---
Visit these Ohio wineries and restaurants that partner with Wine Trail Traveler.