Georgetown Vineyards
by
Meghan Sullivan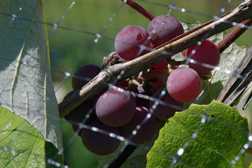 Summary: Georgetown Vineyards is a small family-owned vineyard and winery situated on a picturesque site overlooking the town of Cambridge, Ohio. Visitors to the tasting room use a small plastic cup and may pour whatever wines they wish to taste. This is the only winery in the region and so the local residents are fortunate to have a friendly winery to visit.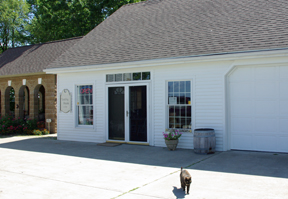 Situated among the rolling hills of southeastern Ohio is Georgetown Vineyards, a small, family-owned winery. Vineyards of Concord and Niagara grapes slope down across the hills that border the road leading to the tasting room. A colorful flower garden, the family dog and cats, and a hand-painted sign welcome visitors to the tasting room. The inside of the room has a homey atmosphere, created by white tables and chairs, wine racks and shelves full of gift baskets, gourmet food, mugs and t-shirts. Paintings and artificial grapevines decorate the walls.
Georgetown Vineyards, founded in 1996, first opened its doors to visitors in May 1999. The family started by making dry wines, then gradually added sweeter wines to their repertoire to meet customer preferences. They now carry red raspberry, red Zinfandel, strawberry, Concord, Niagara, white Zinfandel, Chardonnay, Burgundy, and rhubarb wines. The owners recently decided to balance their dry and sweet wines. The rhubarb and cranberry wines, the winery's most popular sweet wines, will return again next year, in a larger quantity.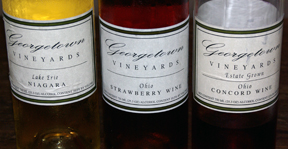 It was a challenge to note a wine's color and nose from a small translucent plastic cup. Georgetown Vineyard's estate Concord is Welch's grape juice for adults. It has a foxy aftertaste, some drying on the finish, and is the winery's top seller. The Concord is the only wine made from grapes grown in Ohio. The strawberry wine possesses a strawberry nose, a strawberry jam taste, and a lingering strawberry aftertaste. Strawberry juice and other fruit juices are purchased from New York. The owners buy other juices from California. Georgetown Vineyards may add an estate Niagara in the future.
The winery, which produces approximately 1,000 cases a year, has plans to expand. A new retail shop, situated in a renovated log cabin, should open in spring 2009. The shop will contain a pizza oven and have a back deck. The owners also plan to plant more grapes on their 50-acre property. This is a good idea since their top selling wine is made from estate grown grapes. Many visitors to tasting rooms like to buy locally and taste wines that are reflective of the terroir of the area.
Wines from Georgetown Vineyards have won several awards in Ohio and other state competitions. The owners enter their wines into the Indiana State Fair, the Florida State Fair, Jerry Meade's New World International Wine Competition, and the Los Angeles County Fair. The wines and the location of the winery have attracted visitors from all over the country.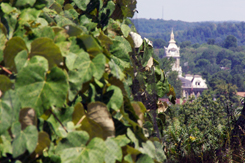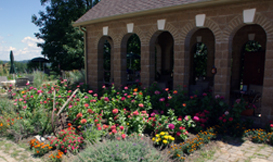 Visitors who wish to picnic on the grounds will find tables and chairs beside the flower garden and on a hill with a breathtaking view of the town of Cambridge. Georgetown Vineyards also offers fundraising opportunities and serves as a lovely wedding venue. When you are in the area, be sure to stop. Look for the new tasting room to open in 2009.
Georgetown Vineyards

62920 Georgetown Road

Cambridge, OH 43725

GPS: N40° 01.335' W081° 59.360'
---
Visit these Ohio wineries and restaurants that partner with Wine Trail Traveler.