Stoney Ridge Winery
by
Kathy and Terry Sullivan

Summary: Stoney Ridge Winery offers a variety of wines produced with mostly hybrid grapes grown in their own onsite vineyards. The owner, Pam Ledyard, hopes that hybrid wines will become a "household name." In addition to the tasting room, Stoney Ridge has a professional kitchen. A room on the upper level is available for private events.
Stoney Ridge Winery, located in Northwestern Ohio, opened in 2002. In the warm, friendly Stoney Ridge Winery tasting room, we met the enthusiastic and passionate Pam Leyard, owner and vineyardist. The tasting room's appearance is rustic with walls of simulated cabin logs. Comfortable seating is available including a leather love seat and wrought iron chairs with tables. A fieldstone fireplace is in one corner of the room. The tasting room offers visitors a cozy experience.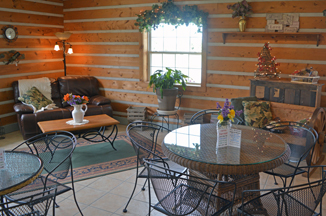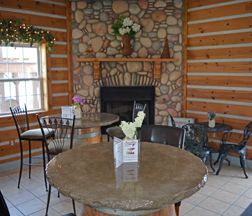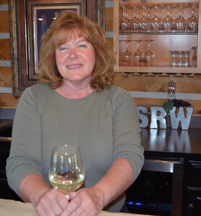 Pam's son Ryan became the winemaker at Stoney Ridge Winery in 2010/2011. Previous to Pam's second career, Pam had been in the real estate sector. After losing her passion for real estate, her journey to the wine business "just happened." She commented that her grandparents had owned a dairy farm and she enjoyed the farm and gardens while growing up.
In the beginning, she owned a five-acre property; eventually she purchased an adjacent piece of land. Pam is the vineyardist and enjoys working outdoors. She also enjoys spending time in the tasting room with the customers.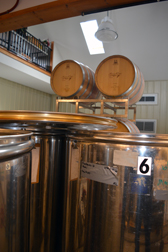 Adjacent to the tasting room building is the winery production area. A combination of gleaming stainless steel tanks and oak barrels cast a warm glow to the area.
Vineyards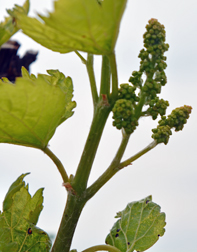 In 2017 the Stoney Ridge vineyards consist of 13 acres. The views of the highly maintained vineyards are enhanced by a large pond. Grape varieties in the vineyard included: La Crosse, Frontenac, Marquette, La Crescent, Brianna, DeChaunac, Marcehal Foch, Aromella, Petite Pearl and Prairie Star. Prairie Star is a low-acid grape developed by Elmer Swenson.
Pam said that the grape varieties are "like children, they all do different things." One of the goals at Stoney Ridge is to make hybrid wines a "household name." Wine enthusiasts will notice that the grapevines are on high cordons. Pam commented that Ohio State University experimented with different cordons and found the best quality grapes for the Marquette grape variety were from vines trained on high cordons. At the time of our May visit, the vineyards had put forth new growth. The berries were near the flowering stage.
Stoney Ridge Wines
In 2017, Stoney Ridge is producing 20,000 gallons (over 8,000 cases). The vast majority of this wine is crafted from the onsite vineyard grapes. We tasted different grape wines, a cider and a fruit wine.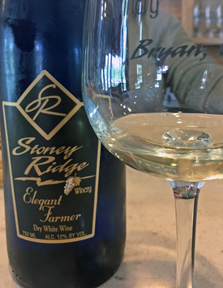 Elegant Farmer is a proprietary blend of La Crescent and La Crosse. This light yellow colored wine had an aroma that offered floral and tropical notes. The taste was reminiscent of pineapple and yellow stone fruit. The finish was crisp with a perceived sweetness. It dried on the aftertaste with a hint of mineral. Vineyard Dew was a blend of Brianna and La Crescent. This light yellow colored wine offered a crisp aroma with tropical fruit notes. The taste included notes of pineapple, peach and citrus. The finish was fruity yielding to mineral.
Marechal Foch was a translucent ruby color. The aroma was of dark fruit. The taste included cherries, and red raspberries. The wine was medium/full-bodied and had medium tannins. The finish was fruity.
Slap Happy Cider with 6.9% alcohol was a gold color. This cider was very appley and refreshing. Country Rhubarb was a yellow color with a gold hue. The aroma and taste were of rhubarb. The mouthfeel was very velvety with a nice blend of tart and sweet.
When asked where she wanted the winery to be in five years, Pam responded that she does not want the winery to get bigger, just better. Pam would like wine enthusiasts to know that the family works hard to have an agricultural environment. The like to spend time in the tasting room with their customers. When in the Northwestern region of Ohio, be sure to stop by Stoney Ridge Winery to discover a delightful wine tasting experience. "Relax, walk through the vineyards and enjoy the setting."
Watch for their upcoming winery events at the winery. Events include Music at the Ridge, Girls Day at the Ridge and a number of food events.
Stoney Ridge Winery
07144 County Road 16
Bryan, Ohio 43506
GPS: 41º 30.9825' W84º 30.6941'
Article written June 2017.
---
Visit these Ohio wineries and restaurants that partner with Wine Trail Traveler.