Klingshirn Winery Inc.
by
K.L. Sullivan
Summary: As a third generation family farm winery, the focus of Klingshirn Winery is on producing quality wines. Grape juice is also available in the fall for other wineries and home winemakers. When you visit, staff will be happy to meet you but do not expect a large tasting room experience with chairs and tables. The tasting area is relatively small but adequate to taste and purchase wines. Wine accessories and private labels are also available for special occasions.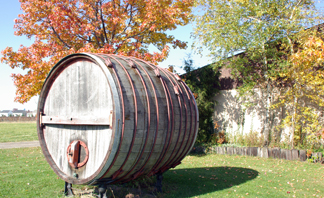 On the front lawn of Klingshirn Winery, a large oak barrel decorates the lawn in front of the tasting room. Fall decorations of pumpkins and a scarecrow welcomes visitors to the winery. Inside, the retail shop was decorated for Thanksgiving with a turkey display.
Klingshirn Winery Inc. has a long history. In 1935, Lee Klingshirn's grandfather had an excess crop of grapes. Using twenty 50-gallon barrels Albert Klingshirn began to produce wine in his cellar. Eventually Albert and his wife, Theresa, built a small winery building. In 1955, Allan Klingshirn purchased the property from his father and expanded the business. In 1978, Allan increased the size of the winery by four times its size. Today as the third generation, Lee Klingshirn is the winemaker continuing the heritage his grandfather began. Lee added to the business and began to produce sparkling wine. He produces three different sparkling wines using the traditional methode champenoise. Now Lee produces Contemporary Blend, White Riesling and Traditional Blend sparkling wine. He also produces 18 still wines.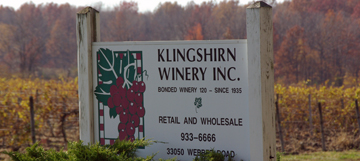 The vineyards consist of 20 acres. Eight of the acres are Concord planted in 1922. Other grapes include Delaware, Vidal, Chambourcin, Riesling, Chardonnay, Cabernet Sauvignon, Pinot Grigio and Cabernet Franc. Currently, the easiest grapes to grow are Concord, Niagara and Catawba. The winery produces between 11,000 and 12,000 gallons (about 5,000 cases). Grape juice is available for a short period during harvest for other wineries and home winemakers to purchase.
One of the unusual attributes of the Klingshirn Winery is the re-use of old winemaking equipment into use at their winery. Not only can this be seen in the winery but also in the room behind the sales and tasting area, a wall displays numerous tools from another time either used on the farm or obtained from other farms. Lee believes in "making best uses of resources." They have installed recycled overhead tanks as a space saving measure. These tanks are used to hold wine in the bottling process.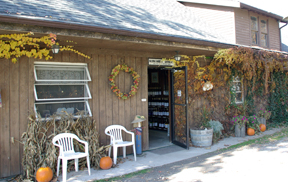 We were fortunate to be able to talk with Lee. It is important to Lee to produce a consistent brand. To do this Lee uses a strategy to hold a certain amount of wine in the event, there is a poor crop of a particular grape in any one year.
Klingshirn Winery produces quality wines as can be seen by the regular visitors who stop by, return traffic and other consumers. Tours are not available during harvest season. Informal tours are only available when time permits. However, the staff is knowledgeable and friendly. If you are not able to take an informal tour, be sure to visit the Klingshirn Winery's website where they have a virtual tour of their wine production.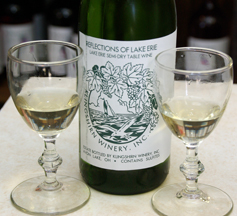 Back in the tasting area, we tasted several wines beginning with the Cabernet Franc. This medium bodied wine offered a taste of raisins and prunes with some earthiness. White Riesling offered a floral aroma and taste with some mineral. It was crisp and dry on the finish. The Vin Rosé was a blend of Concord and Niagara. It was a translucent red/orange. It was sweet in the mouth but dried on the finish. Reflections of Lake Erie is a special series. This wine was a blend of Pinot Grigio, Riesling and a touch of Seyval. The result was an aroma of fruit cocktail and a bit of floral. The taste was of apples, pears and citrus. The finish was crisp and dry.
When you visit you will notice wines are bottled in the traditional 750ml size and larger sizes including gallon sizes for the Catawba. Catawba is one of the wineries best selling wines.
Kingshirn Winery
33030 Webber Road
Avon Lake, Ohio 44012
N 41° 29.313' W 82° 01.953'
---
Visit these Ohio wineries and restaurants that partner with Wine Trail Traveler.