Johlin Century Winery
by
Terry Sullivan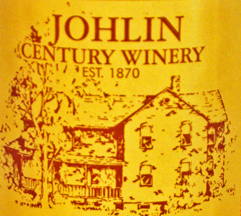 Summary: Just minutes outside the Toledo city limits to the east, wine travelers who like mead, fruit wines and wines made from labrusca grapes may like to visit Johlin Century Winery.
Built in 1870 by Jacob M. Johlin, Johlin Century Winery is one of the oldest wineries in Ohio. Now the fifth generation owns the winery and makes the wine.
Fruit is sourced from throughout the country. Honey and raspberries are sourced locally.
Visitors can locate the winery easily on Corduroy Road just outside the Toledo city limits. The rustic setting has several buildings. Signs indicate which building to enter. There is a small room with wines on a shelf. A few photos show some of the history. Above the cash register an LCD panel shows many pictures of the winery; several are historical. There is no tasting counter. Wine is served in a small frost-colored plastic cup. Noting the color and aroma is challenging.

Wines
The Mead offered a floral taste with honey nuances. The light-bodied mead was sweet but not syrupy. The raspberry wine had a raspberry jam taste and sweet finish. It was made from 100% raspberries. The Haut Santerne was made from labrusca grapes with the typical grape taste with some foxy characters. The wine was sweet. The Vin Rose was a blend of labrusca grapes. It too offered the Native American labrusca grape taste with foxy nuances.
Many of the wines are available in 750 ml, 1/2 galon and one gallon bottles.
Johlin Century Winery
3935 Corduroy Road
Oregon, OH 43616
GPS: N41º 39.594' W83º 27.291'
---
Visit these Ohio wineries and restaurants that partner with Wine Trail Traveler.