Hermes Vineyard
by
Kathy Sullivan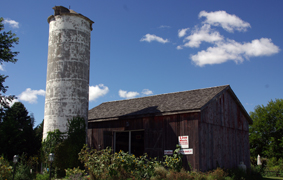 Summary: Hermes Vineyard focuses on producing estate-bottled red vinifera wines. The staff is trained to know about the different grape varietals. With a vineyard within feet of the tasting room, visitors can view the vines as they change with the seasons.
Hermes Vineyard is located in Sandusky, Ohio. A large sign announces that visitors have arrived at the Hermes Vineyard tasting room located in a 19th century barn. The wood door to the tasting room is behind a tall silo.
Vineyards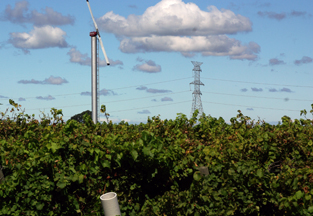 After becoming a psychiatrist in Manhattan, Dr. David Kraus, found himself drawn back into his ancestors' winemaking heritage. In the Moselle Valley of Germany his great, great, great grandfather grew grapes. Today the tradition continues in the Moselle Valley. Dr. Kraus began searching for an area to establish vineyards and a winery. Researching close to New York City on Long Island, he eventually decided to establish this winery enterprise on family property in Ohio. He purchased 15 acres from his mother that had been in his family for seven generations.
Dr. Kraus was determined to grow vinifera grapes and with research strove against popular opinion that the Sandusky area of Ohio should be planted with labrusca or hybrid grapes. Today his two estate vineyards are successfully growing vinifera grapes. Varieties include Riesling, Gewürztraminer, Chardonnay, Sauvignon Blanc, Tempranillo, Grenache, Sangiovese, Syrah, Merlot, Cabernet Franc, Cabernet Sauvignon, Petit Verdot and Touriga Nacional, Malbec, Nebbiola, Aglianico and Barbera. Since 2004 the winery has produced all estate wines. With about 25 acres of vines, the winery has enough grapes for their production needs and sells grapes to other wineries. Today the winery produces 5,000 cases of wine.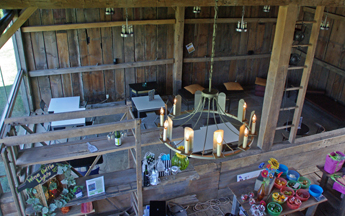 Tasting Room
The tasting room is located in a 150-year-old wheat threshing barn. This tasting room is a combination of old and new. Large plate glass windows allow in light but add a 20th century look to the area. The tasting room has an old wood tasting counter, walls and floor. Small tables and chairs and other seating arrangements are available in an area adjacent to the tasting room and upstairs in a loft that overlooks the tasting room.
While Dr. Kraus continues his practice in New York, he frequently travels to the winery. Millicent Estep is his right hand and takes care of operations including the vineyards and winery. Millicent enjoys wine and the wine industry. Best of all she understands the importance of customer service and makes sure that wine attendants know the wines and are friendly.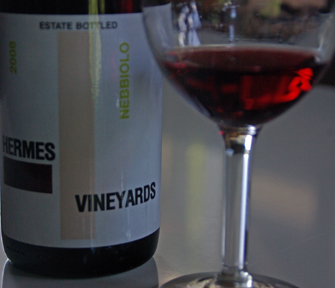 Wines
Chardonnay 2008 was a light yellow. There were apple notes on the aroma and taste. The Aglianico was a dark red with a slight translucence. There were notes of red stone fruit. The wine was light bodied with very mild tannins. Nebbiolo 2008 was a translucent red. There were notes of black cherry on the aroma and taste. The wine was light bodied. There were medium tannins with a long fruity aftertaste. Sangiovese 2008 was a translucent dark red. The aroma and taste had dark cherry nuances with a hint of cedar. The fruity finish had medium tannins. Syrah 2008 was an opaque dark purple. The wine offered smoke and spices including hints of cinnamon, cloves and nutmeg. The taste was red fruit, baking spices and smoke nuances. The finish had medium tannins. Merlot 2008 was a red purple. The aroma offered dark fruit nuances. The wine was light bodied with mild tannins. Tempranillo 2008 was a dark purple to black. There were notes of perfume and dark fruit. The finish had bold tannins.
While we were visiting a large group arrived to taste wines. They appeared to enjoy their visit and tasting the wines. When you have the opportunity enjoy a visit to Hermes Vineyard.
Hermes Vineyard
6413 South Hayes Avenue (Route 4)
Sandusky, Ohio 44870
---
Visit these Ohio wineries and restaurants that partner with Wine Trail Traveler.