M Cellars
by
Kathy Sullivan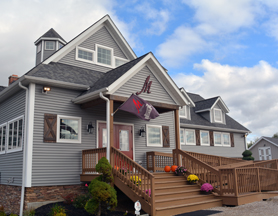 Summary: M Cellars in Geneva, Ohio is producing estate grown vinifera wines. The winery also offers a spacious indoor tasting room with an attached deck overlooking vineyards. During your visit, watch for a Cooper's Hawk flying over the vineyards.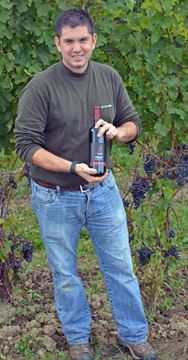 M Cellars is easy to find on South River Road W as the winery and tasting room location is a focal point against vineyards and the Ohio countryside. Located in Geneva, Ohio M Cellars is owned and operated by Matt Meineke and his extended family. Matt's wine journey began at home where he made small quantities of wine. He was inspired to start his own winery by visiting wineries in Canada including PondView, Coyote Run, Stratus, Hidden Bench and Vineland.
The M Cellars tasting room is located in a modern-style building with a comfortable feel. The hickory tasting counter has four sides and tables spread out throughout the room.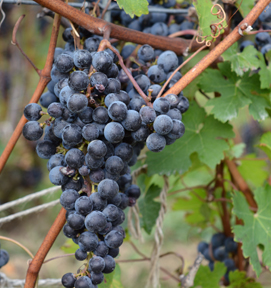 Vineyards
The M Cellars vineyards consist of more than 10 acres that include grape varieties: Riesling, Pinot Noir, Cabernet Sauvignon, Cabernet Franc, Merlot, Petit Verdot, Chardonnay , Grüner Veltliner and Pinot Gris. Matt planted the first vineyards in 2008. Vertical Shoot Position (VSP) trellising is used throughout the vineyard. Grapevines are green harvested to keep the grape load light at harvest time.
The past two winters have been difficult for grapevines in this region of Ohio. In 2014, Matt lost their 2014 grapes. Last year they began burying their vines to protect them from the winter cold. Mounding soil over a graft and over a cordon acts like a blanket keeping the negative air temperatures away from the buried parts. Burying the vines is like an insurance policy. If the winter is not harsh and the part of the vines exposed to the weather is not harmed, the buried cordon can be cut off. On the other hand if the weather does harm the part of the vine exposed, then the part buried can be used to bear fruit.
As we viewed the vineyards and took a photo of the Cabernet Sauvignon that were almost ready for harvesting, we saw a Cooper's Hawk flying over the vines.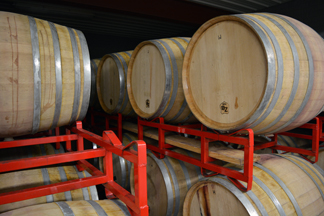 Winery
The winery at M Cellars is equipped with all European equipment. Matt noted that in good years M Cellars is producing 5,000 cases. The barrels are all Hungarian oak.
M Cellars is focused on producing quality and varietally correct wines. In particularly, Matt wants people to know that high-end wines can be made in Ohio. Matt noted that M Cellars is a "A winery for people that enjoy wine."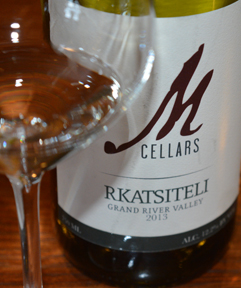 M Cellars' Wines
While tasting wines at M Cellars, consider ordering an appetizer to pair with the wines. M Cellars' appetizers are available daily. The menu includes: Bread and dipping oil, hummus and pita chips and a meat and cheese plate.
Reserve Chardonnay Grand River Valley AVA 2013 was a light yellow color. The aroma was of pear and apple. The taste was soft with green apple notes. The finish was crisp and fruity with a touch of citrus on the aftertaste. Dry Riesling Grand River Valley 2013 was 12.1% alcohol with 0.7% residual sugar. The wine offered notes of citrus, peach and petrol. The finish lingered with fruit and dryness. Rkatsiteli 2013 was a light yellow wine with an aroma of floral and citrus. The taste had citrus notes and the finish was crisp. Cuvée II was a blend of Riesling, Pinot Gris, and Grüner Veltliner. This light yellow colored wine offered a very floral bouquet of sweet flowers. The taste was smooth with roses, honeysuckle, peaches and citrus.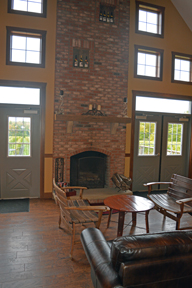 Meritage 2013 was a blend of Cabernet Sauvignon, Cabernet Franc, Merlot and Petit Verdot. The wine was a dark ruby, opaque color. The wine was aged for 11 months in Hungarian oak. It offered black fruit notes with a taste of blackberries, cassis and black plum. It was full-bodied with bold tannins. The finish was crisp and fruity with a hint of leather on the aftertaste. Meritage Reserve 2012 was a blend of Cabernet Sauvignon, Cabernet Franc, Merlot and Petite Verdot. The wine was an opaque, dark ruby color. The aroma had leather, tobacco and dark fruit notes. The taste was smooth with notes of blackberries and cassis. It was full-bodied with bold tannins. The finish was crisp and fruity.
Late Harvest Traminette Finger Lakes 2012 was 13% alcohol. The amber colored wine offered an intense sweet honeysuckle aroma. The taste was like honey. The taste experience reminded me of my favorite dessert - crème brûlée.
Events at M Cellars
The winery offers space for public and private events including wine pairing dinners and occasional weddings. Music events are also offered.
Enjoy a visit to M Cellars where you will discover numerous vinifera wines and a welcoming, friendly atmosphere.
M Cellars
6193 South River Rd W
Geneva , Ohio 44041
GPS: N41º 44.527' W80º 58.564'
Article written October 2015
---
Visit these Ohio wineries and restaurants that partner with Wine Trail Traveler.