Chateau Tebeau Vineyard & Winery
by
Meghan A. Sullivan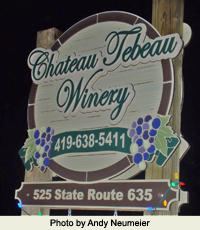 Summary: Chateau Tebeau Vineyard and Winery in Helena, Ohio lures in visitors with excellent wine, good food, a homey atmosphere, a scenic location, and live music. The winery opened in January 2010, and the owners already have plans to expand.
Bob and Mary Tebeau, owners of Chateau Tebeau Vineyard and Winery in Helena, Ohio, have discovered the ingredients for a successful winery: a scenic location, a hospitable atmosphere, live music, tasty food, and above all, excellent wine.
Chateau Tebeau Vineyard and Winery opened its doors on January 9th, 2010. Bob and Mary purchased the 36 acres upon which the winery sits 13 years ago. They eventually decided that they wanted to do more than just hunt on the land. They had been making wine at home since the early 1980's, and they knew that the land's limestone-laced soil would make it a good location for a vineyard. Bob and Mary planted their first vineyard about four years ago. The property now holds two vineyards, a winery and tasting room, a patio, a gazebo, a pond, numerous hiking trails, and a wind turbine. Chateau Tebeau is the first winery in Ohio with a wind turbine. Bob and Mary try to be as green as possible in the vineyards and the winery.
The two vineyards total about one and a half acres. Four French hybrids and two French varietals, and Niagara, Frontenac, and Noiret, grow in the vineyards. Bob and Mary make their wine with grapes from their vineyards and with juice from Ohio and New York. They have plans to expand the vineyards and the winery, which now produces about 5,000 gallons of wine a year.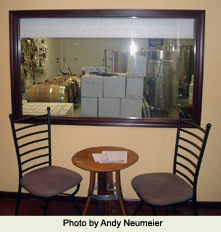 Chateau Tebeau's Harvey Schwartz wine, a sweet Concord that is smooth and has hints of oak, is most popular among visitors. This wine is named after a friend of Bob and Mary's who planned to help with their vineyards before passing away in a tragic plane crash. The Traminette sweet, a light wine with hints of grapefruit, is also a favorite. Bob and Mary's Frontenac, Traminette dry, and Peach wines have earned awards at the Finger Lakes International Wine Competition and the Ohio Wine Competition. The Frontenac is blended with 25% Merlot and has an acidic taste with cherry notes in it. The Peach wine has an authentic peach taste to it. Bob and Mary make several other wines, including a Pinot Gris, a Cabernet Franc, a Merlot, a Strawberry wine, and a Pear wine. Bob, the winemaker, uses special enzymes to extract flavor from the fruits he uses for his fruit wines.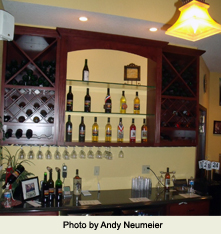 Chateau Tebeau's tasting room, with its bright walls, dark wood, stone chimney, and artwork, is a warm and inviting place. The tasting room is often standing room only. In addition to a tasting bar, the tasting room includes a stage area for live music, tables and chairs, and shelves stocked with wine-related gadgets and gifts. Visitors can sample a flight of six wines for $4 and can take home a keepsake glass for an additional $3. Individual tastes cost 75 cents. Bob and Mary also serve cheese and sausage plates, baked brie, Ciabatta bread, pizza, panini sandwiches, salad, soup, and cheesecake.
In addition to offering food and wine, Chateau Tebeau hosts small weddings, an Audubon Society bird watching event, and pet days. When asked about the secrets of their success, Bob and Mary noted their good wine, good food, and hospitality. "We wanted a place that looked homey," Mary said, adding that customers often say that they feel as though they are going to a neighbor's house when they visit the winery. "We offer a lot more than a place to have a glass of wine. We offer a whole experience."

Chateau Tebeau Vineyard & Winery
525 State Route 635
Helena, OH 43435
N 41° 19.690' W 083° 16.319'
---
Visit these Ohio wineries and restaurants that partner with Wine Trail Traveler.