Grand River Cellars
by
Kathy Sullivan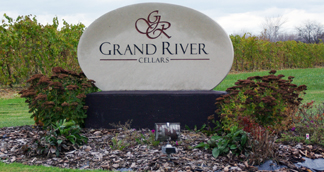 Summary: Grand River Cellars offers visitors a tasting counter and restaurant with tasteful decorating. The ambiance is delightful. Detailed landscaping enhances the entrance. Consider purchasing Austin's Red. For every bottle purchased, one dollar goes to benefit the Northeast Ohio Autism Group.
Approaching Grand River Cellars, the tasting room is located on a very long driveway between vineyards. The landscaping includes grapevines, chrysanthemums, daisies and ornamental grass. Located in a wooded area, Grand River Cellars has a sense of calmness. Large windows allow the outdoors in.

We met Cindy Lindberg, President of Grand River Cellars, who has a passion for the winery and restaurant. She says, "Come, enjoy and celebrate life." She is excited about the future of the winery and restaurant. An artist friend of Cindy's decorated the pleasantly styled restaurant and tasting bar. The result is a comfortable room with unusual attributes. On one wall, old shutters are attached to the wall giving the effect of a window.
The u-shaped tasting bar and padded stools make it a delightful place to taste wine with friends. A large fireplace surrounded with brown leather seating makes comfortable seating for guests, especially on a cold winter day.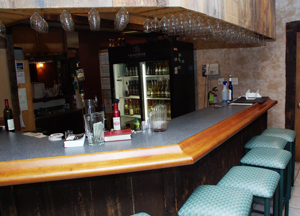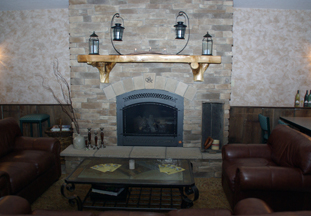 Bill and Carol Worthy established the winery in 1976 as the Grand River Wine Company. Eventually the property changed hands and in 2005, Madison Wine Cellars, Inc. purchased the property and changed the name to Grand River Cellars. The winery has four acres of Vidal Blanc and leases vineyards from Debonné Vineyards. Currently they are producing 10,000 cases.
Guests can choose between a wine tasting at the counter or at a table. As we tasted wines, we talked with Cindy. A second label is the Stonewood Vineyard label. These wines include estate blends and sweeter wines. The restaurant has its own name: The Tipsy Grape Grille. Guests may choose from an array of items on the menu including: appetizers, sandwiches, grilled flatbreads & salads, entrees and desserts.
Cindy took us on a tour of the facility. Another room can be used for events or extra seating if the restaurant is full. Some events can be held in the room that holds stainless steel tanks and barrels aging wine. The area was set up for an event and provides a quiet old world charm.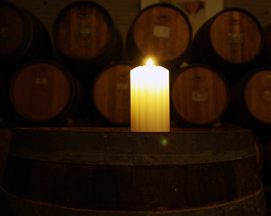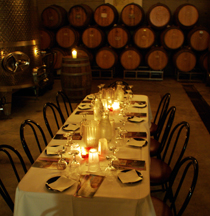 2015 Update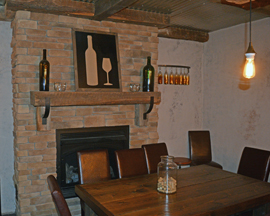 We returned for a second visit to Grand River Cellars after learning of their new event room that they refer to as a wine cave. The cave is on the lower level of the winery/restaurant. The cave is a renovated room featuring a back wall with a three-dimensional painting of a barrel room, a fireplace and several dark wood tables with leather seating. Additionally, large wood ceiling beams and hanging lights add to the ambiance. The wine cellar seats 18 people. The room is used for small corporate events, wine tastings and special events.
After viewing the wine cellar, we returned to the tasting room to talk with Cindy and taste several of their more recent wines. We asked Cindy about her wine journey. Cindy's wine journey began early on. While in college she babysat for Beth and Tony Debevc, owners of Debonné Vineyards. After graduating from college she worked in schools but continued to work at Debonné Vineyards in the tasting room, as an event coordinator and worked on marketing.
Prior to the creation of Grand River Cellars, the property was seized by the government and became vacant. In 2005 Tony Debevc approached Cindy Lindberg and asked if she wanted to participate in a partnership and create Grand River Cellars. Currently three couples are Grand River Cellars partners. They include Beth and Tony Debevc, Cindy and Jeff Lindberg and Ed and Gina Trebets. Ed is also the winemaker.
Support for Autistic Children
The winery produces a special wine for supporting autistic children. Cindy spent several years as a school psychologist. She wanted to do something to support children with autism. Sales from Austin's Red go to support children. For every bottle sold, one dollar is donated to the Northeast Ohio Autism Group.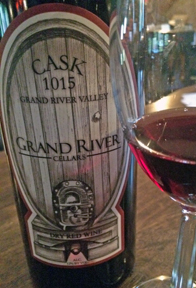 Wines
Cabernet Franc 2013 Rose was a light salmon color. The aroma was of red berry fruits and the taste reminded one of strawberries and raspberries. The finish was crisp and fruity. Cask 1015 Wine was a blend of Cabernet Sauvignon, Cabernet Franc and Merlot all from the onsite vineyards. The wine was fermented in 100% Hungarian oak. The Cask 1015 was a translucent ruby colored wine. The wine offered notes of blackberries, blueberries, leather and spice. The wine was full-bodied with medium tannins. The finish was fruity and spicy. The Cask wine is a project by five area wineries, each making a red wine blend showcasing Grand River Valley red grapes.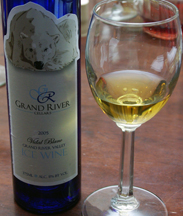 Vidal Blanc Ice Wine 2013 had a honey gold color. The aroma and taste was apricot and honeysuckle. There was acid on the finish and the aftertaste had a long lingering fruit taste. Cindy noted that the grapes were picked when the temperature was seven degrees. Concord Dessert Wine (port-style) was a Concord fortified wine. This translucent red colored wine offered a port aroma. The taste was of cooked, jammy fruit. The finish was crisp with no alcoholic heat. Simply put this dessert wine was sweet and delicious.
When you have the opportunity, be sure to visit Grand River Cellars and discover their wines. Plan to stay awhile and enjoy the ambiance whether at the tasting counter or at the tables.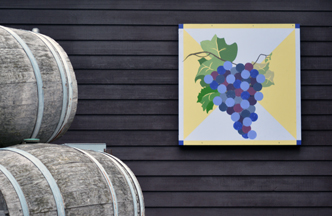 Ashtabula Quilt Trail
Grand River Cellars is a member of the Ashtabula Quilt Trail. Be sure to observe the quilt block of a freehand image of a grape cluster. The quilt block is on the outside of the tasting room/restaurant.
Grand River Cellars
5750 South Madison Rd. (Route 528)
Madison, Ohio 44057
GPS: N41° 42.996' W81° 03.312'
Article updated November 2015
---
Visit these Ohio wineries and restaurants that partner with Wine Trail Traveler.