South River Vineyard
by
K.L. Sullivan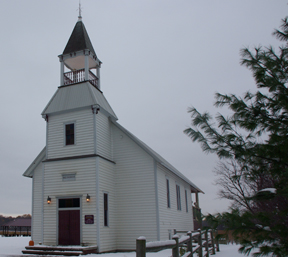 Summary: South River Vineyard winery tasting room is located in a renovated church building. Heather and Gene Sigel, owners, moved the building to its current location from Shalersville, Ohio in 2000. The tasting room opened in 2002. This is a boutique winery making small batches of wine.
South River Vineyard offers visitors an unusual experience. We enjoyed talking with Renee Evans, the tasting room consultant. The Shalersville Methodist/Episcopal Church was built in 1892 and the Sigels successfully had it moved to its present location in 2000. The white church with steeple stands out amid the vineyards and maintains a church architecture.
Frequently visitors believe it is a functioning church. People constantly ask when are the services? Visitors will be pleasantly surprised that the tasting room has kept its "church" feel. Pews are available to sit in while tasting wines. The kneeling rail adds to the church atmosphere. In 2006, the Sigels added a deck to the back of the building and it is available for anyone who wishes to enjoy a glass of wine.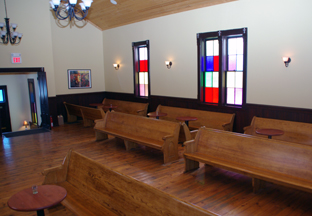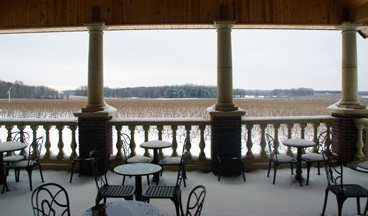 Outside the tasting room, a pavilion with a permanent cover is available for birthdays, anniversaries or other small events. Visitors are encouraged to bring a small picnic basket and enjoy the pavilion with a glass of South River Vineyard wine.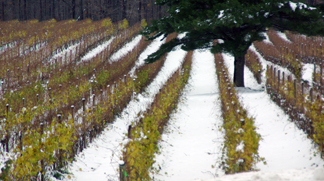 The vineyards were here for years before the winery and filled with Concord grapes. The Sigels pulled out the Concord grapes and planted vinifera. Currently the vineyards consist of 35 acres with Chardonnay, Riesling, Pinot Grigio, Cabernet Franc, Merlot, Cabernet Sauvignon and Pinot Noir. The winery produces 2,500 to 3,000 cases of wine. South River sells extra harvested grapes to other area wineries after the best grapes are set aside for producing wine at South River.
The most popular red wines are Trinity and Karma. The most popular white wine is White Riesling Reserve. Be sure to observe the unusual and creative wine bottle labels. Heather and her brother created these wine labels. Some of the labels are silk-screened.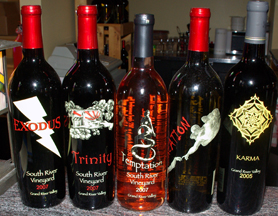 White Wines
Riesling 2006 had a floral aroma with a peach and citrus taste. The crisp wine finished with honeysuckle and citrus. Creation 2006 was 50 percent Chardonnay and 50 percent Pinot Grigio. The wine had a fresh aroma with a smooth and crisp taste. The finish lingered and had slight oak nuances. Riesling Reserve 2005 had a floral aroma and the taste was sweet and medium bodied.
Red Wines
Karma 2005 was a blend of Cabernet Sauvignon, Cabernet Franc and Merlot. The aroma and taste were black fruit. The finish was crisp and the aftertaste moved from fruity to pepper. Exodus 2007 was 100 percent Merlot. Exodus offered a plum aroma with a dark fruit taste. The label has a sense of humor and reads in part "Moses' 40-year road trip through the desert searching for the Promised Land (Why won't men ask for directions?)" The finish was crisp with a long fruit aftertaste and mild tannins. Trinity 2007 was a blend of Cabernet Franc, Pinot Noir and Chambourcin. It offered an aroma and taste of black fruit, and finished crisp and fruity with tannins.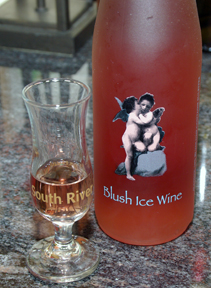 Special Wines
Temptation, a rose wine, was a blend of 50 percent Cabernet Franc and 50 percent Riesling. It had a residual sugar of 2.5 percent. The aroma offered floral and strawberry nuances and the taste was sweet. Concord Ice Wine had a traditional aroma and taste of Concord. The finish was crisp with a long Concord taste. The grapes were harvested in 2004 and picked December 24 and 26 at night when the temperatures reached almost 0 degrees. They harvested Vidal and Chambourcin for the Blush Ice Wine at 13 degrees at Thanksgiving 2005. The resulting ice wine was heavenly sweet with strawberry and rhubarb aroma and taste. The finish lingered.
When you visit South River Vineyard, you may want to bring your camera. The unusual tasting room setting will be one you will want to remember.
South River Vineyard
6062 S. River Road
Geneva, OH 44041
GPS: N 41° 44.473' W80° 58.233'
---
Visit these Ohio wineries and restaurants that partner with Wine Trail Traveler.