Meranda-Nixon Winery
by
K. L. Sullivan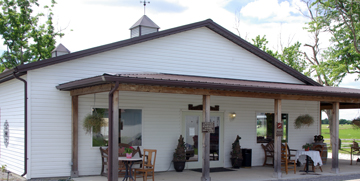 Summary: Meranda-Nixon Winery, located in Ripley, Ohio is a family-run winery and vineyard with immediate family and extended family working together. Enjoy tasting wines or stopping by on Fridays for pulled pork or Saturdays for grilled steak or salmon. Wines available include Cabernet Sauvignon, Traminette, Catawba and Chardonnay.
The Meranda-Nixon Winery opened in 2007. It is located in an area of the Ohio Valley that was one of the largest grape growing regions in the country in the 1800's. Seth Meranda and his wife, Tina Nixon Meranda, own and operate the winery and vineyard. Their two sons when not in school contribute their help. In addition, extended family offers a helping hand when needed.
The tasting room is located in a one-story building that has a covered patio on two sides available for enjoying a glass of wine within sight of the prolific vineyards. Inside the tasting room, visitors will discover an old working victrola by Victor. Walls are painted with fresco and leave an impression of an Italian café. Inside, the tasting room has several tables available for visitors to sit and taste wine. Enjoy the ambiance along with a wine tasting.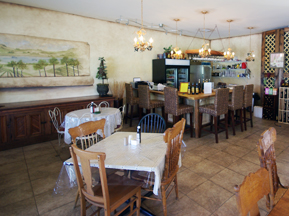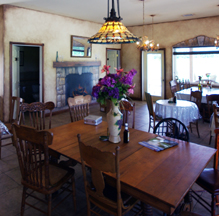 The Vineyards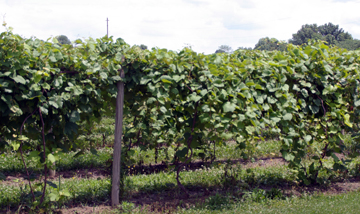 Meranda-Nixon Winery and vineyards are on the family owned farm that has been in the family since Seth Meranda's great grandfather lived there growing tobacco and grains. Seth and his wife, Tina, decided to add the vineyards and winery when the tobacco industry began to die out.
Today in 2010, the 11.5 acres of vineyards consist of Traminette, Cabernet Franc, Cabernet Sauvignon, Chardonnay, Norton and Catawba. They planted the Catawba for its historical significance and use it to make a sweet wine. Budbreak usually takes place in April and May. Harvest ends in mid to late October. Everything from pruning to harvesting in the vineyard is completed by hand.
In the winery, they try to use the grapes from their own vineyards however they will source grapes from other states when needed. The winery produces 1,500 to 2,000 cases and would like to continue to grow.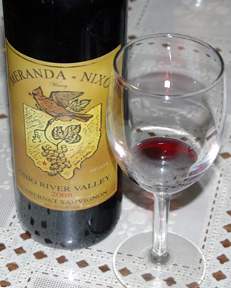 Wines
We had the opportunity to taste several wines with Tina. John Ruthven, a local resident and a wildlife artist, created the labels for the wine bottles.
The Ohio River Valley Cabernet Sauvignon 2008 was a ruby red with 13.5 percent alcohol. The wine was barrel fermented sur lees. The aroma and taste had blackberry notes. The finish was crisp with blackberry nuances. Traminette Ohio River Valley offered floral and honeysuckle nuances. The taste had citrus and some tropical fruit notes. The finish was crisp with a fruity aftertaste. This wine had 1.8 residual sugar that dried on the aftertaste. The Catawba 2009, Ohio River Valley was a pink-orange color. This is a good summertime drink. The taste is fruity and smooth. The finish was fruity, crisp, and dried on the end.
The tasting room is open Thursday, Friday and Saturday. Pulled pork sandwiches are available on Fridays. Special dinners are available on Saturdays and reservations are suggested. What better way to enjoy wine than with food?
Meranda-Nixon Winery
6517 Laycock Road
Ripley, OH 45167
GPS: N38º 48.999' W83º 49.195'
---
Visit these Ohio wineries and restaurants that partner with Wine Trail Traveler.