Emerine Estates Winery
by
K.L. Sullivan
Summary: A visit to Emerine Estates Winery gives visitors the opportunity to taste 100 percent hand crafted wines that have no artificial preservatives, coloring, grains, malts or cane sugars. The wine portfolio consists of 11 sweet wines and 3 dry wines. The fruit wines are 100 percent fruit.
Visitors reach Emerine Estates by traveling for a short distance on a gravel road past acres of cornfields. Set back from the road the chalet style winery has a lovely pond directly in front of it. At the back, a large deck is ideal for enjoying a glass of wine or for summertime events.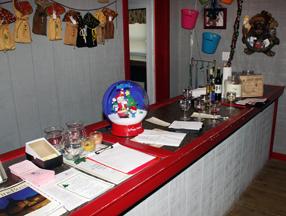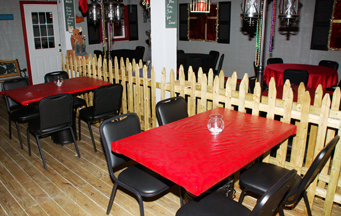 We met Jason Emerine and quickly realized that he is passionate about wine. Jason commented, he "eats it, lives it, drinks it and sleeps it." He is determined to take his time producing wine. Jason does not use fining or equipment. With a nursing background, Jason easily understands the chemistry involved in winemaking and the reactions that take place.
Jason believes that yeast reacts to cane sugar, and that as a winemaker he will get more flavor in his wines by not using cane sugar. To increase the amount of sugar in his wines, he uses evaporation even for his fruit wine. This extends the length of the winemaking production. Jason's wines take about four years to produce.
Jason learned much of his winemaking skill from his grandfather and many of the things he learned holds true today. His grandfather, Bernard Hovanic, a Slovakian immigrant, made Merlot, Muscadine, Cabernet Sauvignon, Cabernet Franc and Chardonnay. Jason's grandfather allowed no one into the fermentation room and today Jason strictly follows that rule. He believes that by allowing one person into the production area, it adds yeasts and other microscopic organisms into the winemaking process that have the potential of damaging the wine. In addition, Jason sterilizes his equipment three times. Jason blends juices before adding yeast.
The winery produces 2,000 gallons (between 500 and 600 cases.) of wine. We tasted several wines at the tasting counter. Behind the tasting counter are a number unusual handcrafted wine bottle bags. They are double sided and reminded one of a garment that wraps the bottle. These are reasonably priced at $6.
We tasted several wines. The wines are served in clear plastic wine glasses. We tasted several wines.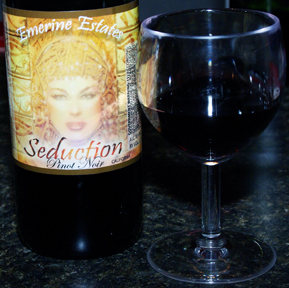 White Wines
Teardrops, a Chardonnay from California, offered an oak aroma with a taste of apple, pear and butterscotch. The finish was crisp with fruit and caramel.
Red Wines
Country Concord offered a dry Concord taste and it finished dry but the aftertaste lingered. Seduction produced from California Pinot Noir and infused with coffee offerd a coffee aroma with a very strong coffee taste. The finish was crisp and the aftertaste went from coffee leading to fruit. If you like coffee this is a wine to try, if you don't like coffee then you may want to pass this one. Dejavu, a blend of Cabernet Sauvignon and Cabernet Franc, had a black fruit aroma. The taste was of black fruit and pepper. The finish was crisp and the fruit aftertaste yielded to pepper. There was a touch of cedar. Pinot Noir 2004 was a very dark purple color. It was very fruity with about 16 percent alcohol but well balanced.
Fruit Wines
Razzle Dazzle Raspberry, one of the winery's most popular wines, offered a raspberry aroma, taste and finish. Caramel Apple offered a caramel aroma with a sweet taste. The caramel lingered on the finish. Hunters Cranberry had a cranberry aroma with a fresh cranberry taste. The cranberry lingered on the finish.
The facility has some events including a Holiday Open House in December and a New Year Eve event. A wedding reception was recently held here and Jason remarked that they did not charge for the room rental only for the wines.
If you are looking for handcrafted wines produced without added cane sugar, artificial preservatives or coloring, check out the wines at Emerine Estates Winery.
Emerine Estates
5689 Loveland Road,
Jefferson, Ohio  44047
GPS: N 41° 35.735' W 80° 41.248'
---
Visit these Ohio wineries and restaurants that partner with Wine Trail Traveler.