Virant Family Winery
by
Kathy Sullivan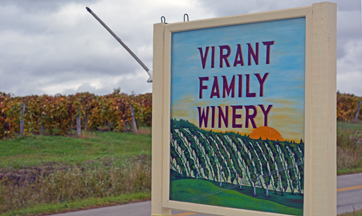 Summary: Virant Family Winery was started by Charlie Virant whose grandfather and father were bootleggers. The winery, opened in 1998 and offers a variety of wines including fruit wines and a low-key, relaxing atmosphere.
Virant Family Winery is located in a one-story brick building, close to the vineyards and winery building. Inside numerous tables are available where visitors can enjoy a glass of wine and conversation with friends and family.
The tasting room is spacious with a brick fireplace to enjoy during the cooler months. The decor is abstract with many items to observe and likely to add to conversations. Be sure to observe the large wall hanging depicting many of Ohio's covered bridges. A red snowmobile hangs from one corner of the ceiling. Over the fireplace mantel a deer mount decorates the wall.
Wine Journey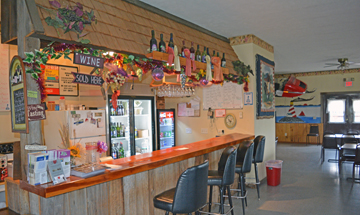 Charlie Virant has stories to tell visitors when they arrive at Virant Family Winery's tasting room. In fact, Charlie remembers making wine when he was 16 years old. He follows this up with noting that his father and grandfather were bootleggers. Back in the old days, Charlie's grandfather and father made wine for their own home use.
It was the year 1998 when Charlie started the winery. The first wine made was a Concord grape wine that had a medium sweet wine taste. Today it is still produced and called Red Velvet.
Travelers to Virant winery tasting room are likely to find a wine they enjoy. For Charlie it is important that they produce wines for a variety of visitors. Charlie enjoys watching the expressions on peoples' faces when they taste and enjoy his wines. With a smile he said, "It makes my heart pitter-patter."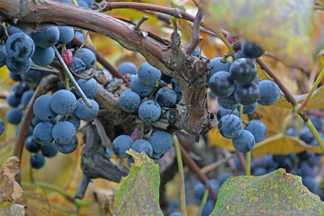 Today, Frank, Charlie's son is the primary winemaker. Charlie enjoys making wine but also caring for the 23 acres of vineyards. The vineyard grape varieties include Concord, Catawba and Chambourcin.
Charlie noted with pleasure that people in the area enjoy coming to the winery tasting room to enjoy the relaxing atmosphere.
The Wines of Virant Family Winery
In 2015 the winery is producing about 8,000 cases of wine. When producing wine Charlie and Frank want to "Do the grape justice." They do not like to use oak barrels but will use oak chips for their red wines. Charlie believes he has more control of the oak flavors by using oak chips.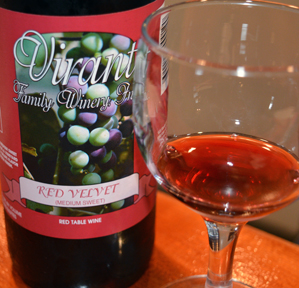 The Red Velvet is the number one selling wine at the Virant tasting room. The wine is a translucent red color and has 10% alcohol. The aroma and taste are crisp and reminiscent of Concord grapes. The aftertaste is very "Concordie" or as some would say foxy. The wine has a crispness to it that makes it good as an aperitif or paired with food. Mya's Majesty was named for Mya, a Black Lab. This wine was a blend of Cabernet and Chambourcin. The wine was a translucent red color. Red berry fruit notes were on the aroma. The taste offered a touch of leather and red raspberry notes. The wine was light-bodied with mild tannins. The finish was crisp and fruity. Cabernet Franc was a translucent red color. The wine offered an aroma of earthiness and pepper. The taste reminded one of earth, mushrooms and potatoes.
Blazzin' Blackberry was a translucent red color. The aroma and taste were of blackberries. The finish was crisp and very fruity. Sonny's Strawberry Patch offered an aroma of strawberries. The taste was reminiscent of strawberry, similar to liquid strawberry jello and, of course, the finish was of strawberries. When visiting Virant be sure to ask about Charlie's dessert recipe that uses this wine with hot water, shaved Oreo cookies or chocolate, then coated with whipped topping. Rippling Raspberry offered intense notes of raspberries throughout the taste and lingered on the aftertaste.

Events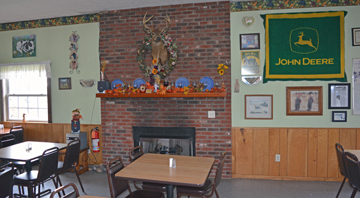 Virant Family Winery is available for private events including weddings, anniversaries, birthdays and showers. Public events include grilled dinners Friday and Saturday, all year long, when visitors will find steaks, ribs, chicken and prime rib entrees. Charlie commented, "When it come to food we don't BS."
Most telling about the winery is the way Charlie talked about the winery, "Not fancy." and "You like the wine or you don't." Charlie follows this up with noting that the winery is busy and that people repeatedly return. Charlie wants people to know that Virant is a family friendly winery. "We welcome people when they come in and say goodbye when they leave. People feel like they are at home in their kitchen when visiting Virant Family Winery.
If you are looking for a relaxing time to enjoy a glass of wine with no pretensions, consider visiting Virant Family Winery soon.
Virant Family Winery
541 Atkins Road
Geneva, Ohio 44041
GPS: 41º 44.285' W80º 59.417'
Article written October 2015
---
Visit these Ohio wineries and restaurants that partner with Wine Trail Traveler.