The Winery at Versailles
by
K.L. Sullivan
Summary: The Winery at Versailles is a delightful winery to visit. Be sure to watch for their events especially the Steak and Fry Event offered throughout the summer. Enjoy a friendly hello as soon as you cross the threshold. Customer service and education are very important to the owners. The owners, Carol and Mike Williams emphasize, "We make our wine for our customers."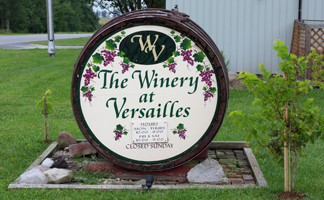 The Winery at Versailles is a small friendly, family winery with an emphasis on being customer friendly and informative. Carol and Mike Williams are the owners. Mike is also the winemaker. For Mike winemaking began as a hobby that he pursued in Pennsylvania eventually establishing the Winery at Wilcox. Their son, Jamie, now runs this Pennsylvanian winery. Later Carol and Mike decided to move to Ohio and found the perfect location for starting another winery.
They are knowledgeable and able to share their knowledge with the novice and the connoisseur. The winery seeks to "take away the intimidation factor." There is no sense of pushing someone to drink a wine they "know" they don't like and a variety of wines are available that will help visitors find a wine they truly enjoy. According to Carol, "Americans like sugar." The Winery at Versailles offers several sweet wines along with dry wines.
The winery is located in a restored tobacco barn. Next to the tasting room is a home where Annie Oakley visited for some time. Behind the tasting room is a covered patio and large lawn area where events take place. Just beyond are two acres of grapes. The vineyard includes Norton, Steuben, Chambourcin and Traminette. Today the winery sources grapes from Ohio, Pennsylvania, Ontario and New York. Local farmers are interested in establishing vineyards, thus providing grapes from the immediate area. Approximately 20,000 gallons (about 8400 cases) are produced yearly.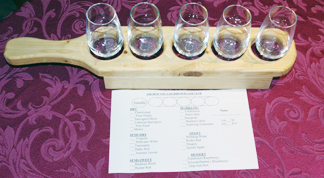 Visitors to the winery can choose to taste either as wine samples or flights. Mike and Carol designed a wood-paddle flight board. Five pieces of stemware fit into the paddle and allow one to carry the flight to a table where they can compare and contrast the wines in the flight. The wines are arranged from dry at the handle to sweet at the end. A paper allows visitors to record their impressions.
The biggest selling wine is Rodeo Red with eight percent sugar. It is a blend of Concord and Niagara. Twenty-eight percent of the sales at the winery are from Rodeo Red. "This is how you get people to start drinking wine," Carol pointed out. Rodeo Red is so popular in the community that people ask for it in the local restaurants.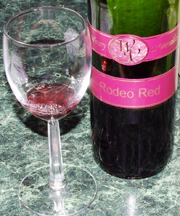 Carol guided us through a tasting while she continued her conversation. Pinot Grigio offered a citrus nose, grapefruit and citrus taste with an aftertaste that was slightly sweet and fruity. The nose of Traminette was floral, like roses. The taste was sweet and fruity with licorice. The aftertaste was fruity with some drying. Cabernet Sauvignon had a red fruit nose, black cherry and blackberry taste with a long fruit aftertaste. The Merlot offered a slight red fruit aroma and fruit taste. The aftertaste was mellow with a hint of oak. Darke Red, a blend of Chambourcin and Chancellor was an easy to drink red. This is a nice red wine for white wine drinkers. Stillwater had a slight citrus nose and was semi-sweet and drying on the finish. Autumn Leaves, a blend of dry reds and Concord offered a foxy nose and grape taste. It was slightly sweet and dry on the finish. Wedding White, the best selling white, was produced from the Catawba grape. The nose was grassy and the taste fruity and sweet. Rodeo Red was very sweet and a great wine for beer lovers. Sparkling Traminette had a nose and fruit taste with a crisp finish. Peach Mist is for peach lovers. It had a peach nose, flavor and finish. Tasters will notice it is medium bodied and has a cleansing finish. The Blueberry Mist was similar with a cleansing, crisp finish and a blueberry nose and taste. Framboise was made from 100% raspberries and the result was a raspberry nose, taste and aftertaste. Schwartzbeeren, a blackberry wine offered a blackberry nose, taste and aftertaste. It comes with a recommendation of serving over ice cream.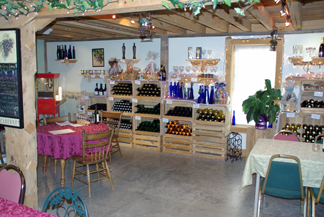 The tasting room has two levels. Cranberry colored cloth tablecloths cover the tables, adding warmth to the room. Gifts available to purchase include candles and gift baskets.
The Winery at Versailles has ten events a year. A repeated event during the year is the Steak and Fry. When people arrive, they are seated and served a salad. After the salad, they choose a steak or chicken to grill. After they grill their own meat, other prepared side dishes are nearby. The event is very well organized and a great experience. Reservations are required.
We believe you will enjoy your experience at The Winery at Versailles. They are a winery that is eager to please their customers. They know wine and they understand that customer service is key to the industry. Enjoy the experience.
Winery at Versailles
6572 St Rt 47
Versailles, OH 45380

GPS N 40° 22.423' W084° 56.604'
---
Visit these Ohio wineries and restaurants that partner with Wine Trail Traveler.