Kelleys Island Winery
by
Meghan A. Sullivan
Photos by Andy Neumeier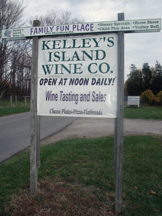 Summary: Kelleys Island Winery is the only winery located on Kelleys Island in northwestern Ohio. Wines are made onsite with grapes from the island. The tasting room's warm colors and low lighting create a relaxing atmosphere, and the large lawn affords space for outdoor activities. Visitors can count on finding a fun place to hang out at Kelleys Island Winery.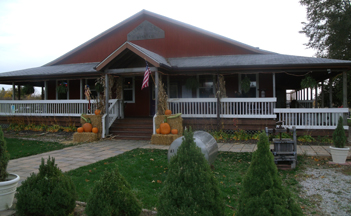 It is only right that an account of the history of Kelleys Island Winery begin with a history of the island itself. Long before Kelleys Island was known by its current name, it was home to at least two Native American villages. Eventually, ownership of the island was passed on to the Connecticut Land Company. In 1833, two brothers named Datus Kelley and Irad Kelley began purchasing parcels of the island from the Connecticut Land Company. The brothers soon owned the island itself. Members of the Kelley family still live on the island today.
The history of Kelleys Island Winery begins with a man named Nicholas Smith, who immigrated to Ohio from Bavaria in 1858. Smith and his wife bought the historic house that is now home to Kelleys Island Winery from a member of the Kelley family. Smith was a stonemason and likely built parts of the historic home. When he was about 80 years old, he began growing grapes. Kelleys Island Wine Company began producing and bottling wines from grapes grown on the island in 1982.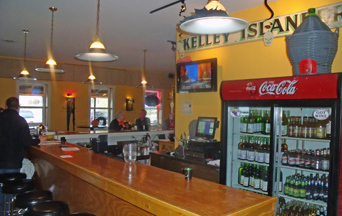 Kelleys Island Winery caters to visitors with a sweet tooth. The winery's best-loved wines are the Sunset Pink and the Coyote White. The Sunset Pink is a blush wine that is coral in color and sweet and grapey in scent and flavor. The Coyote White is light yellow in color, smells like a grape plucked straight from the grapevine, and is sweet and rich in flavor. The Inscription White is a dry wine with a white-yellow color and a hint of spice in its flavor. The Glacial White is also white-yellow in color but is slightly sweeter and fruitier in taste than the Inscription White. Kelleys Island Winery also produces red wines, such as the Long Sweet Red.
The tasting room at Kelleys Island Winery features a long tasting bar with plenty of seating. The warm colors, artwork, and low lighting create a relaxing atmosphere where visitors can be sure to have a good time. Kelleys Island Winery is also home to a gift shop and a restaurant that sells cheese platters, pizza, salad, and sandwiches. Visitors can take advantage of the winery viewing area by stepping out onto the wrap-around porch. They can also relax at outdoor picnic tables or play a game of horseshoes or volleyball.
Kelleys Island Wine Co.
420 Woodford Road
Kelleys Island, Ohio 43438
---
Visit these Ohio wineries and restaurants that partner with Wine Trail Traveler.