Heineman's Winery
by
Meghan A. Sullivan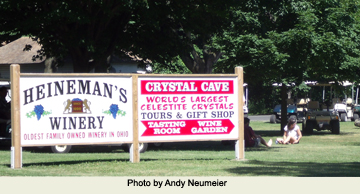 Summary: Heineman's Winery does tourism at its best. Offering an engaging winery tour, a cave tour, wine tastings, and numerous places to socialize and enjoy good wine, Heineman's has something to offer everyone.
Heineman's Winery, located in Put-in-Bay on Lake Erie in northern Ohio, excels at catering to tourists. On any given day during Put-in-Bay's tourist season, numerous golf carts can be seen lining the lawn in front of the winery. Diverse crowds gather around the tasting bar and socialize at tables in the tasting room and the wine garden. Behind its fame as a tourist hotspot on the island, however, lies a winery rich in history and skilled in producing sweet wines.

History
Heineman's Winery was founded in 1888 by Gustav Heineman, a German immigrant who was attracted to the Lake Erie region because of its excellent soil and long growing season for grapes. After working at another winery in Put-in-Bay, Gustav returned to Germany and then came back to Put-in-Bay to found Heineman's Winery. Although Prohibition soon devastated the wine industry in Put-in-Bay, Heineman's Winery survived by producing grape juice and providing tours of Crystal Cave. Discovered in 1897 by winery workmen who were digging a well, Crystal Cave is the world's largest geode.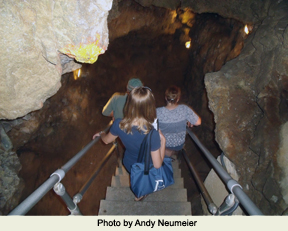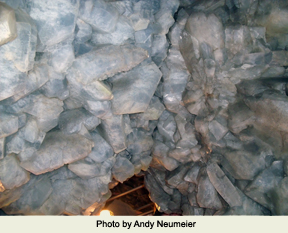 Heineman's Winery, Ohio's oldest family owned winery, is still run by the Heineman family today. Louis Heineman, Gustav's grandson, once served as the director of the Ohio Wine Producers Association and was the winemaker at Heineman's until he handed the job over to his son, Edward. Third, fourth, and fifth generations of the Heineman family, as well as friends and neighbors, contribute to making the winery a success. During bottling season, islanders lend a hand to help with bottling. Visitors may also join in the fun.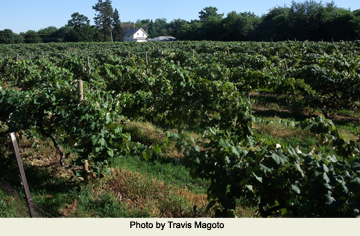 Vineyards
Put-in-Bay is home to 50 acres of vineyards today. Heineman's Winery owns approximately 20 of those acres. They grow Concord, Catawba, Niagara, and Delaware varieties, all of which are native to the region. Heineman's also buys grapes from North Bass Island and other Ohio vineyards and occasionally purchases grapes from out of state. When asked what he wanted visitors to know about Heineman's vineyards, Louis answered, "They make good wine."

Wines
Since its early days, Heineman's Winery has excelled in producing sweet wines that delight the taste buds of Ohio residents. Pink Catawba is the winery's bestseller. Other sweet, medium sweet, and medium wines include: Sweet Belle, a Concord and Catawba blend; Sweet Concord; Sweet Catawba; Pink Catawba; Niagara; Riesling; Island Blush, similar to a White Zinfandel; and Island Chablis. Heineman's Niagara is a delicate, sweet wine with a smooth finish. Island Blush, the color of pink grapefruit, is also light and delicate and slightly less sweet than the Niagara.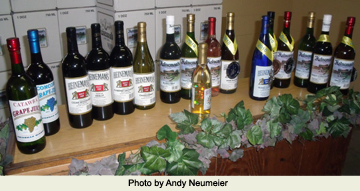 Ten years ago, Heineman's Winery tried its hand at making dry wines. Today, the winery produces several medium dry and dry wines, including Sauterne, a blend of island grapes; Burgundy, a blend of Native American grapes; Chardonnay; Merlot; Cabernet Sauvignon; and Cedar Woods Red, made from the French-American hybrid Chambourcin. The Merlot is ruby in color; has a medium dry, smooth taste; and has a dry, crisp finish. Heineman's also makes Champagne, Iced Vidal Blanc wine, and two types of grape juice: Concord Grape Juice and Catawba Grape Juice. Heineman's sells about 35,000 gallons (over 14,500 cases) of wine a year. In 2010, all seven of the wines that Heineman's entered in out of state wine competitions won awards.

Visitors to Heineman's Winery can participate in an engaging and informative tour of the winery and cave, sample wines at the tasting bar, peruse the gift shop, and purchase wines and cheese plates to enjoy in the tasting room or wine garden. With many diverse things to taste and do, Heineman's Winery offers something for everyone.
Heineman Winery
978 Catawba Avenue
Put in Bay, Ohio 43456
GPS: N 41° 38.805' W 082° 49.622'
---
Visit these Ohio wineries and restaurants that partner with Wine Trail Traveler.