Sarah's Vineyard
by
K.L. Sullivan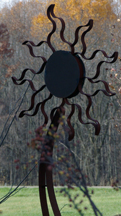 Summary: Sarah's Vineyard, a winery and vineyard and art gallery new on the scene, offers a delightful destination. The tasting room, winery and vineyard are located in the Cuyahoga Valley National Park. The tasting room/gallery is filled with a myriad of arts created by owner Margaret Lytz and other area artists.
We met Mike Lytz. Mike and his wife opened Sarah's Vineyard in 2007. Mike was a teacher for Akron Public Schools for many years. He was also a home winemaker and always had a dream. Mike and Margaret chose to name the winery after Margaret's daughter, Sarah, who died in a traffic accident in 1998.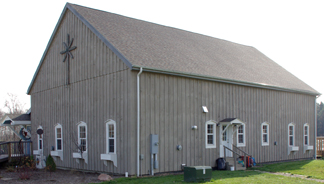 Visitors to the winery will discover a barn from the 1800's set back from the road. The pre-Civil war post and beam structure barn was built in 1854 and some timbers date back to 1820. Outside of the tasting room, an area has been artistically designed and planted by Margaret. The area features an educational butterfly garden and an outdoor pizza oven. The National Park Service needed to approve the plants before Margaret planted the garden. Tall iron sculptures add to the delightful exterior.
Inside, the tasting room offers a bright atmosphere with tables, wines, food and art. Varieties of art pieces available include ceramics, jewelry, stained glass and paintings. The tasting counter was handcrafted. Overhead a large Spanish chandelier provides ambiance.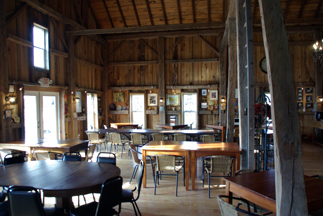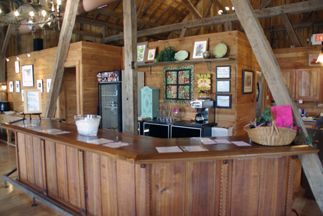 Sarah's Vineyard is the only vineyard and winery established on National Park land. One of the charters of the Cuyahoga Valley National Park was to preserve the rural character of the area. The Countryside Initiative was to bring farmers back into the area to farm sustainably. Mike and Margaret have a 60-year lease on the property. As such, the National Park Service encourages them to use sustainable farming techniques. Mike uses only natural fertilizers in the vineyard. No herbicides are used and fungicides are low level. Chemicals need to be approved by the National Park Service prior to use.
After teaching for 30 years in the public school system, Mike decided to make the change from a home winemaker to a commercial winemaker. At about the same time, the government realized that it had too much land to take care of in the area and began the search for those who would lease back the property and take care of it. Mike and Margaret decided to take advantage of this beginning in 2000. However, it was a long seven years before Sarah's Vineyard opened. Approval was granted in 2001 and they planted the grapes in 2003. Mike noted that an archeological group needed to dig small test spots searching for artifacts before they planted the vines.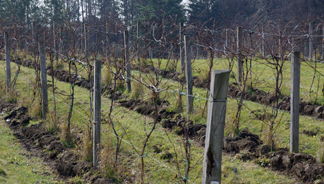 Currently the vineyards cover three and a half acres and include Seyval, Cayuga, Vidal, Cabernet Franc, Frontenac, Niagara, Chambourcin, Traminette and Rubiana. Mike also sources grapes from the North Erie appellation of Ohio and California. Mike produces 7,000 gallons (about 3,000 cases) of wine and would like to grow more grapes and produce more wine. Currently his production is doubling and tripling each year.
We tasted several wines at the tasting counter. Mike commented this is "not a place for just the serious wine drinker." The best selling wine is the Golden Solstice that Mike produces with Niagara grapes from Ohio close to Lake Erie.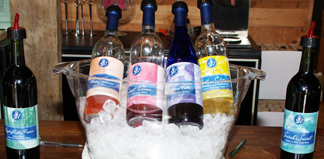 White Wines
Golden Solstice offered a sweet Niagara aroma and taste with a dry finish. The wine had a residual sugar of four percent. Hampton Hills Chardonnay was a delightful non-oaked Chardonnay.
Red Wines
Miserabile was a blend of Merlot, Sangiovese and Rubiana. The Merlot and Sangiovese were from California and the Rubiana was from Ohio. The aroma and taste were of red cherry. The wine was crisp with good tannins, fruity and had a perceived sweetness. Cuyahoga Valley Reserve was Zinfandel from California and aged in Kentucky oak for one year. It was a translucent red color. It offered red berries aroma and taste and had mild tannins. Sweet Elisa was a blend of Niagara and Concord. The color sparkled and gleamed in the glass. The aroma was sweet cherry and the taste was cherry and very refreshing. Sarah's Secret 2007 was a blend of Chambourcin, Merlot and Frontenac. The resulting color was a translucent red. The aroma was of red fruit and the taste offered layers of fruit flavors. The finish was crisp with mild tannins.
Specialty Wines
Brandywine Falls Blueberry was produced with 100 percent Michigan blueberries. With a residual sugar of two percent, the wine offered a very blueberry aroma. The wine was light bodied with a blueberry taste. It was dry on the finish. Blue Heron Blush was an estate wine produced from Cayuga, Traminette, Vidal, Seyval and Rubiana. The result was a wine with a delicate aroma. The taste was citrus and crisp, and the aftertaste was fruity.
Food is an important part of the tasting room. Visitors have the opportunity to choose from cheese trays, soup, sandwiches, salad and bread.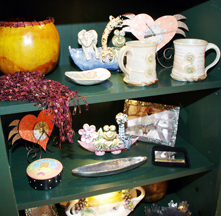 Mike summarized the winery by calling the winery "unstuffy." It has a relaxed atmosphere and no pretense. He likes to have wine for all tastes. He added the winery does not have a lot of rules.
When you visit Sarah's Vineyard, be sure to have enough time to enjoy tasting the wines and viewing the art gallery. Perhaps you will want to plan to have lunch. Located across the street from a well-known music venue, people frequently stop by Blossom Music Center, Home of the Cleveland Orchestra after an event.
Sarah's Vineyard
1204 W. Steels Corners Road
Cuyahoga Falls, Ohio 44223
GPS: N 41° 10.756' W 81° 33.159'
---
Visit these Ohio wineries and restaurants that partner with Wine Trail Traveler.