Debonné Vineyards
by
K.L. Sullivan
Summary: Debonné is one of Ohio's largest estate wineries. It offers an enjoyable experience for visitors. In addition, Debonné has obtained a license for producing beer. One of their mottos speaks eloquently about the winery, "We Bottle Perfect Days."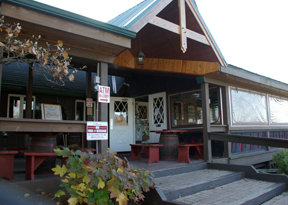 Arriving at Debonné Vineyards, we discovered a large facility with seating indoors and outdoors. The architecture of the building has had numerous additions and alongside the tasting counter small separate areas are filled with wine accessories and unusual giftware. Several tables are available for tasting wines. Visitors can taste wine individually or in flights. Three different flights are available consisting of eight one-ounce servings. The wine is served in small plastic cups but two wine glasses are provided for using in the tasting.
We met and toured the Debonné winery facility with Beth Debevc. She has a passion for the winery that has been a part of her husband's family since the early 1970's.
Debonné Vineyards consists of 127 acres of vineyards and produces 100,000 gallons (about 42,000 cases) of wine. In addition, they sell juice and grapes to other wineries and home winemakers. This year they have processed 800 tons of grapes. All wines are estate grown and bottled with the exception of Merlot.
This successful winery is not set in its ways and continually looks toward the future whether it is in renovations, additions or providing a brewery facility. Events are an important part of the winery. A wonderful event room is perfect for bacholorette parties. Tables in the tasting room provide ample room to sit and enjoy the wine tasting. A rather new addition to the events list is the Progressive dinner. This begins with an appetizer and soup at Grand River Cellars. The main course is at Debonné Vineyards followed by dessert at South River. Look for other special seasonal events as well as summertime Jazz Fests.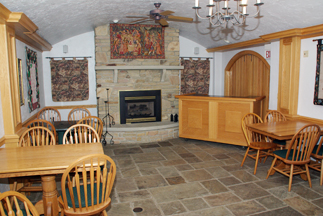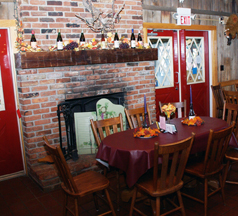 Popular wines include Pinot Gris, Chardonnay and Chambourcin. Jazz White a blend of Chardonnay, Pinot Grigio and Riesling is also very popular.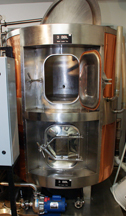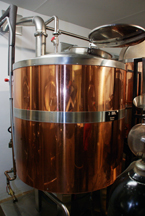 Cellar Rats Brewery is the concept of Beth's son, Tony. Currently they are producing Rat Trap Lager, Field Rat Wheat Beer, Rat Tail Ale and InFESTation. The brewery offers an alternative for visitors who may prefer beer to wine. The brewery makes small batches of beer using a new three-chamber unit. Barley grains are placed in one chamber while water in another chamber boils to provide the barley a bath. The third chamber boils the liquid and hops are added. The mixture is then transferred to fermenters to ferment. The process is interesting to observe and contrast with the wine making process. The brewer is as passionate about his beers as we have seen winemakers passionate about their wines.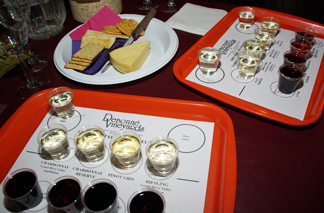 We tried several wines from two flights. Each wine is in a small plastic cup. Two wine glasses and water are provided. We poured the wine from the plastic cup into a wine glass to observe the color and aroma, and then tasted the wine. A tray of local cheese and crackers was also provided.
The dry Chardonnays had a long aftertaste. Vintner's Selection Chardonnay was aged in Minnesota oak. The aroma was very oaky with nuances of butterscotch. The taste was very smooth with butterscotch, vanilla and oak. Chardonnay Grand River Valley Appellation offered a light oak aroma with a taste of apple, citrus and oak. The finish was crisp with citrus and oak. The aroma, taste and finish of the Chardonnay Reserve were butterscotch. There was a slight oak taste and there was vanilla on the finish. Pinot Gris offered apple and floral aromas with a smooth apple taste. The finish was crisp and spicy. Riesling had a floral aroma with a smooth peach taste and peach finish. Classic Red had red fruit aromas particularly raspberries. The taste was smooth with raspberries. The finish was crisp, light and fruity.
We did have an opportunity to sample a dry Niagara. It offered the typical Niagara nose. It was smooth with a Niagara taste. One may preceive a sweetness from the fruit, although the wine finished dry. People who like the Niagara aroma and taste but prefer a dry wine should try this dry Niagara.
Events are offered frequently at the winery. Examples include the Ice Wine Festival in March, Friday Night Concert Series, clambakes, harvest dinners and many more events. Throughout the summer gourmet sandwiches and appetizers are available. If you have not heard of the Turkey Trot at some of the winegrowers of the Grand River Valley, be sure to check it out. For a small fee, visitors can visit several wineries for suggested pairings for Thanksgiving and holiday desserts. The event includes wine samples, food pairings and recipes. At Debonné, the feature will be wines paired with turkey.
With good wines, beer and friendly staff members, we believe you will enjoy a visit to Debonné Vineyards.
Debonné Vineyards
7743 Doty Road
Madison, OH 44057
GPS: N 41° 44.380' W 81° 00.367'
---
Visit these Ohio wineries and restaurants that partner with Wine Trail Traveler.