Thorncreek Winery and Gardens
by
Kathy. Sullivan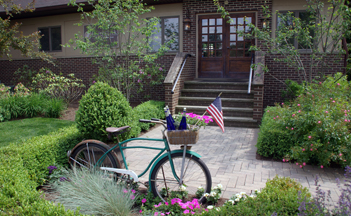 Summary: Thorncreek Winery & Gardens in Aurora, Ohio is a winery with a focus on events especially weddings. David Thorn, owner, and a professional landscape designer, has used his creative skills to create a winery with beautiful, enticing gardens.
Today David calls Thorncreek the "the Starbucks of wineries." Thorncreek attracts a diverse group of people who enjoy wine, gardens and those in need of an event arena. He wants Thorncreek to be known as a great experience with atmosphere including the gardens, wine, and food. While visiting Thorncreek visitors have said, "It feels like we are somewhere else."
In 2005, David Thorn offered a bid on the available Dankorona Winery and much to his surprise his offer was accepted. He quickly became the owner of a winery and property and needed to learn about wine production. He traveled to California to become more informed about wine. David completely remodeled the winery using his many creative skills. Today the landscape business (DTR) is on one side of the property and the winery on the other.
Visitors to the Thorncreek facility can enjoy the many varieties of colorful plants as they approach the entrance. Maintenance of the gardens is by Thorn's DTR business. Anyone looking for a weed will have a difficult time finding one as landscaping and maintenance is meticulous.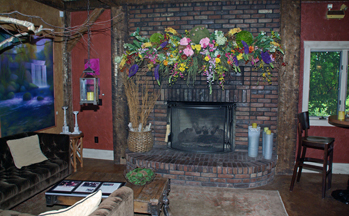 Tasting Room at Thorncreek
Located immediately inside the tasting room is a granite counter with bar stools. Behind the tasting counter a large wood bookcase houses the wines, beers and stemware. Nearby are numerous tables and chairs. Each table is labeled with the name of a flower. Tables outside are labeled with bird names. A small area with a fireplace and sofa is a wonderful conversation spot.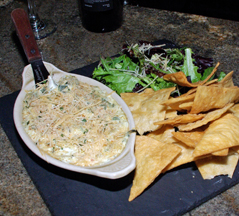 A limited menu is available in the tasting room. Look for Artichoke and Spinach Dip (pictured), Tuscan Pizza Wedges, Jarlsberg Chicken Dip, Vegetarian Stuffed Mushrooms, and Thorncreek Cheese Steak Dip. Wine flights are also available.
Artwork by Lisa Eastman, a local artist, adds to the decor throughout the winery. Her artwork is also used for the bottle labels. Eastman creates large and small oil paintings. Her artwork is available for purchase.
In the Thorncreek wine cellar, David created an expansive area for visitors to relax and enjoy. With subdued lighting, it provides a nice place to relax and enjoy a glass of wine. This area includes tables made with historic trunks that David raised on large legs, a unique and creative idea. During the winter months, the music events are down in the cellar. Those who are looking for a quiet spot can stay on the main floor.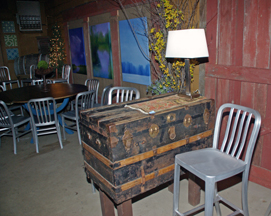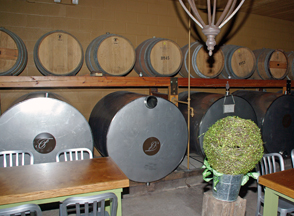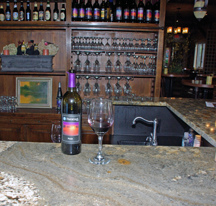 Thorncreek Wines
Thorncreek Winery & Gardens sources grape juice from several states including the West Coast, Ohio, Pennsylvania, Michigan and New York. Cabernet Sauvignon 2009 Private Reserve was produced with juice from California. The wine had a dark ruby color. It offered blackberry notes with a hint of plum. The fruity finish had bold tannins. Merlot 2010 was produced from juice sourced from California. The dark purple wine had black cherry nuances with a hint of oak. Tannins were on the fruit forward finish. Pinot Grigio Washington Columbia Valley 2008 was a pale yellow. With its dry finish this wine was appropriate for enjoying by itself or with food.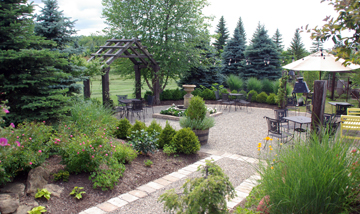 Thorncreek Events
Thorncreek Winery has four areas for events including the tasting room, wine cellar, upper terrace and outdoor gardens.
David Thorn is involved in the local community. As such Thorncreek frequently has charity events. The tasting room has a limited menu so for special events caterers are used. Numerous private events take place at Thorncreek including rehearsal dinners, bridal showers, anniversaries, and corporate events.
Many weddings take place at Thorncreek. When using tents, weddings can have 350 guests. A large wedding lawn with an arch provides a lovely area for a wedding ceremony. An enclosed area is a culinary garden. The meticulously kept gardens are delightful for visitors to wander through.
Stop by Thorncreek Winery & Gardens to relax with a glass of wine inside or while meandering among the beautiful gardens.
May 2012
Thorncreek Winery and Gardens
155 Treat Road 

Aurora, Ohio 44202
GPS: N41º 20.447' W81º 21.029'
---
Visit these Ohio wineries and restaurants that partner with Wine Trail Traveler.