Mon Ami Restaurant and Historic Winery
by
Meghan A. Sullivan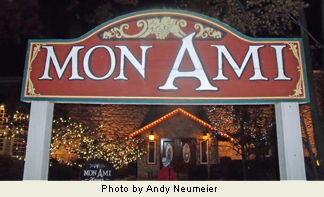 Summary: Mon Ami Restaurant and Historic Winery is a charming restaurant and winery. Visitors are sure to leave with their taste buds satisfied.
Mon Ami Restaurant and Historic Winery is rich in flavor, ambience, and history. The current winery building was once home to the Catawba Island Wine Company, a co-op of grape growers, which included the Ellithorpe, Neal, and Laudy families, original settlers of the region. Construction for the original building began in the 1850's and came to a halt during the Civil War, at which point the building became a prison for the Confederates. Construction was finished in the 1870's – by then, the building was worth $200,000, a large sum at that time.
The winery survived Prohibition largely by making and selling altar wine. In 1937, the Mon Ami Champagne Company purchased the company and changed the name of the winery. The Mon Ami Champagne Company was at one point in our nation's history the largest producer of champagne in North America.
The Mon Ami restaurant came into fruition in 1945 after a fire destroyed the upper floors of the winery. At that point, the winery owners decided to turn the upper floors into a restaurant. Today, the facility includes a large restaurant, a wine shop, and halls used for wedding receptions, dances, class reunions, and meetings. The original wine cellar is displayed during receptions and the Wine Cellar dinner series. Today, Mon Ami ages its wine at the Mon Ami Historic Winery.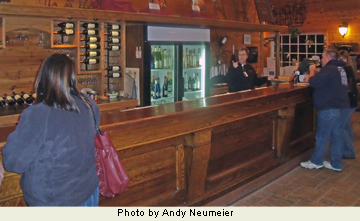 Most of the grapes used in Mon Ami wines are grown at the Mon Ami Historic Winery, nearby Firelands Winery, and on North Bass Island. Mon Ami produces approximately 40,000 – 50,000 gallons of wine a year. Their most popular wines, which vary according to the season and region, are Riesling, Chardonnay, Pinot Grigio, Pink Catawba, White Catawba, and Concord. The Riesling is light and not as sweet as some might assume. The Chardonnay is dry, smooth, and rich in its oak taste. The Pink Catawba is sweet and has remained a consistent favorite over the years. The White Catawba and the Concord are also sweet. Overall, Mon Ami produces a balance between dry and sweet wines.
Visitors to Mon Ami Historic Winery are sure to have their hands full of things to do. In addition to exploring the flavors of food at the restaurant, visitors can taste wine in the tasting room and peruse the extensive gift shop.
Mon Ami Historic Winery & Restaurant
9845 East Wine Cellar Road
Port Clinton, OH 43452
---
Visit these Ohio wineries and restaurants that partner with Wine Trail Traveler.