Candlelight Winery
by
Kathy Sullivan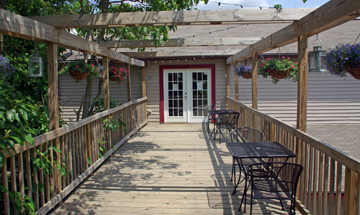 Summary: Candlelight Winery, located in Garrettsville, Ohio is a boutique family winery with a comfortable family atmosphere. The winery offers wines, a light food menu and unique garden light shows.
Arriving at the entrance to Candlelight Winery, a family owned and operated Ohio winery, visitors will traverse a long stone driveway that runs past grapevines. Upon reaching the Candlelight tasting room parking area visitors will be drawn to the bridge that spans over a large ditch from the parking area to the double doors of the winery. Summer flowering hanging baskets add a welcoming sign to the winery.
Off to the left from the bridge an L-shaped wood ramp leads to the outdoor event area with tables and chairs but more importantly a light garden. Chris Conkol has more than 50,000 lights decorating an area surrounding a lily pond. On Friday and Saturday nights lights synchronized with music are displayed. The light show is a big attraction.
Visitors will see the beige-sided winery facility with several shapes including two short towers. Chris and Amanda Conkol like towers so they were added to the structure of this eclectic-style building.
History of Candlelight Winery
Chris discovered wine while studying architecture for a semester in Florence, Italy. He noted that he had never had a glass of wine before visiting Italy. On his return to Kent State University he visited a couple of wineries and learned to make wine. After finishing his degree, he decided he was more interested in being a winemaker. As a hobby it began to take over their living areas and the hobby became too much. The Conkols began looking for property to build a winery. Currently Chris is working with his three acres of vineyards and making the wine in the lower level of the tasting room/winery facility.
The winery, built by Chris and Amanda over a period of three years, opened in 2004. As they were building the winery they lit some candles and had a bottle of wine. Chris commented that the atmosphere and candlelights seemed to make the wine more enjoyable. Chris and Amanda decided to name the winery Candlelight. Today Chris is producing about 1,000 cases.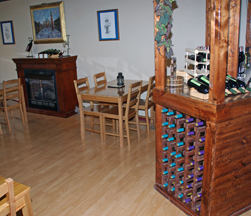 Upon entering the tasting room, wine enthusiasts will observe a delightfully warm, friendly room. This area is filled with tables and chairs. A counter is available for tasting and purchasing wines. A second room is adjacent to the main room and somewhat rustic and more like a porch. This area has tables with special candle centerpieces.
In addition to dry and sweet wines, a light menu is provided. Available are a variety of flatbreads and Smores.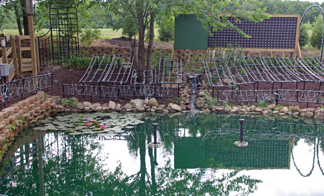 Events at Candlelight Winery
Chris and Amanda have created a family friendly winery with numerous events. Fridays are Family Fridays with a special menu for kids. Families can enjoy the light show and Smores. On the lawn toys for kids are set up. On Saturdays, live music is followed by a light show. A special Christmas light show with holiday music takes place between Thanksgiving and the New Year. Other special events include Valentine's Dinner, New Years Eve Dinner and the Annual Pug Day.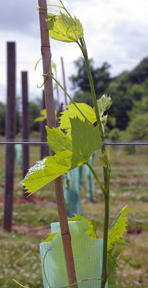 Vineyards
Chris and Amanda have a small vineyard onsite and maintain a vineyard at each of their parents' houses. Total vineyards are three acres. These vines include Marechal Foch, Chambourcin, and Vidal. Chris also sources fruit from Northeast Ohio.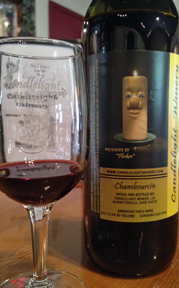 Wines
Most of the wines are crafted with grapes that have been sourced from other areas. Chris noted that Chambourcin wine has mostly his own grapes. Chambourcin 2009 was a ruby color. The aroma and taste offered notes of cherry and blackberry with a hint of raspberry. The wine had mild tannins and a fruity, crisp finish. This wine was produced with half of Chris' grapes and half sourced from Northeast Ohio.
The Candlelight Dry Rose was a very light pink with an aroma and taste reminding one of sweet red fruit. The finish was dry and crisp. The Dry Rose would be a good summer time sipper. Candlelight White was a Vidal wine with a straw color. The wine was floral with yellow stone fruit. The finish was crisp and fruity. Illumination was produced with Niagara grapes. The wine had the expected/typical Niagara aroma and taste. The finish was crisp.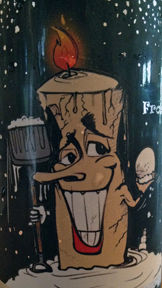 Fruit Wine
Cranberry Wine made with 100 percent cranberries was a red-orange color. The wine was tart with cranberry notes. The crisp finish had a long lasting cranberry aftertaste. The finish was crisp and tart.
Dessert Wine
Frostbite, an ice-style wine was a pale yellow produced with Vidal grapes.There were melon aromas. The taste was smooth and the finish sweet with a hint of crispness. The wine would pair well with food.

Plan your visit to Candlelight Winery to include a garden light show.
May 2012
Candlelight Winery
11325 Center Rd. 

Garrettsville, Ohio 44231
GPS: N41º 18.199' W81º 03.468'
---
Visit these Ohio wineries and restaurants that partner with Wine Trail Traveler.