Kinkead Ridge Vineyard and Estate Winery
by
Kathy Sullivan
Summary: After successfully working at Erath and owning a vineyard in Oregon, Ron Barrett and Nancy Bentley moved to Ohio to start a winery and pursue reviving the Ohio wine industry. The result is Kinkead Ridge Vineyard and Estate Winery with five acres of vineyards that produces 1,500 cases of wine.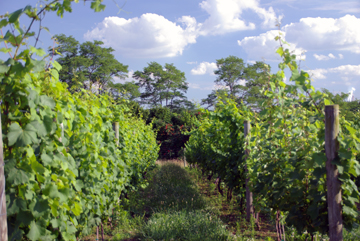 Ron Barrett and Nancy Bentley are partners in the Kinkead Ridge Vineyard and Estate Winery located in Ripley, Ohio. Ron Barrett refers to himself as the winegrower and Nancy is the managing partner. Ron believes that growing grapes is the hardest part of producing wine. As vineyardist, he spends untold hours each day working among the vines in the vineyard.
History

Ron and Nancy moved from Oregon to Ohio in 1998. In Oregon, Ron had been in charge of operations at Erath Winery. He also owned Chehalem Valley Vineyard near Yamhill, Oregon, where he grew Pinot Noir. Ron decided to move to the eastern region of the United States and began looking at New York and Ohio. Ron and Nancy ultimately decided that Ohio had soil similar to that in St. Emilon, France and would be ideal for growing vinifera varieties. This southern Ohio area near the Ohio River has some of the best soil in the world. The area is at the outer rim of the bluegrass, an ancient lakebed over limestone.
Ron and Nancy chose to come to Ohio 1 )to show that fine wine can be produced in Ohio 2) to mentor new winegrowers and winemakers and 3) to revitalize the southern Ohio wine industry. They purchased a 126-acre farm. Today they have planted five acres of grapes with a small number of experimental vines.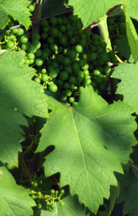 The Vineyards
The vineyards, planted in 1999, are located close enough to benefit from the flow of Eagle Creek, which moderates the temperature. Ron and Nancy are determined to emphasize the vinifera grapes in Ohio. The grapes in the vineyards include Riesling, Roussanne, Semillon, Viognier, Cabernet Franc, Cabernet Sauvignon, Petit Verdot and Syrah. Ron is also experimenting with several varieties to see how they will do. These include: Merlot, Gamay Noir, Dolcetto and Sangiovese. The glacier that once covered much of Ohio did not reach Kinkead Ridge and thus the soil is unglaciated. Vinifera grapes do well in this soil.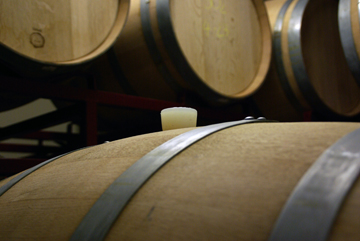 Winemaking
Ron shared some of his winemaking techniques. He likes a clean wine that is cold stabilized and doesn't use trendy enzymes and winemaking products. Whites are all aged in stainless steel and he prefers not to barrel ferment whites. Ron does not like high ph wines. As far as filtering, he does one coarse filtration with red wines. Ron and Nancy were able to produce their first vintage in 2001 and by 2002 they had built their own winery and produced their own vintage at their winery.

Wines
After visiting the vineyards, we went to the winery located in Ripley, where the wine tastings take place. This small facility fits in well near the middle of town and looks almost like a residential house but was built to be a winery. It is a convenient location for the owners as well as local residents.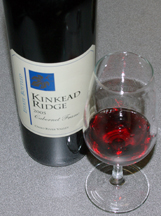 We sampled three wines. The first wine was the 2008 Viognier Roussanne blend that offered a floral aroma with peach notes on the taste. The finish was crisp with fruit and a hint of minerality. This dry wine would pair nicely with fish or chicken. Cabernet Franc 2005 offered an aroma of dark fruit with pepper and spice nuances. The taste had notes of spice, black cherries and black raspberries. The finish had tannins and was crisp. This wine would go with beef dishes. Cabernet Sauvignon 2007 offered black fruit aromas with a taste of blackberries, black cherries and black currants with spice nuances. The finish was crisp with tannins and black fruit notes. Beef dishes and wild game would pair nicely with this wine.
Enjoy a visit to Kinkead Ridge Vineyard and Estate Winery where you will meet the owners, Nancy Bentley and Ron Barrett. Nancy and Ron have a great deal of information about grape growing and winemaking that they are happy to share with anyone who is interested. Their wines showcase the potential that vineyards can produce along the Ohio River.
Kinkead Ridge Vineyard and Estate Winery
904 Hamburg Street
Ripley, Ohio 45167
---
Visit these Ohio wineries and restaurants that partner with Wine Trail Traveler.