John Christ Winery
by
K. L. Sullivan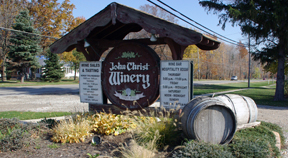 Summary: John Christ Winery is laidback, has a comfortable feel and is concerned with producing quality wines. As Carl Vunderink, a staff member, put it "We're not like the other wineries. If you want sophistication, you are in the wrong place." However, John Christ Winery is a good winery to experience and taste wines. If you are planning an event, contact the winery.
John Christ Winery is located in Avon Lake, Ohio just outside of Cleveland. less than two miles from the south shore of Lake Erie, the winery is now located in an area that is mostly residential. Few grapevines remain and a golfcourse borders one side. Originally, the winery was founded by John Christ in 1946. Years later when John passed away his son, Alex, took over the winery. Eventually the winery changed hands.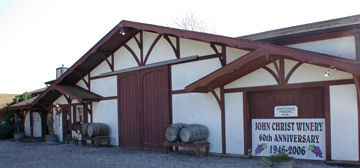 John Christ purchased the farm in 1944 after working for two years on a grape vineyard for Welch's. It was noted that John planted the red maple tree just outside of the tasting room door. Today the winery and tasting room are located in the midst of modern homes and a golf course. The low-key building has an interesting interior. A room is set up off the tank room where sales of wine accessories and bottles of wine are sold.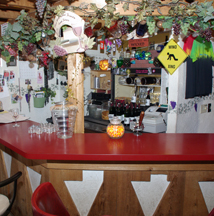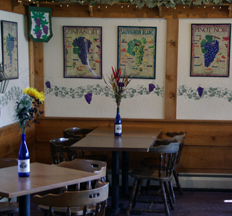 A short stairway leads to the tasting room and the tasting bar has several seats available for consumers. The rest of the room has tables available for those who would like to purchase wine and enjoy it on the premises. A selection of appetizers to enjoy with the wine is available. The selections include different plates. Choose between cheese and crackers, brie, fruit, bread and crackers and guacamole, Mango salsa and tortilla chips.
An enclosed porch, added to the tasting room, offers additional seating. On the day of our visit, it was a delightfully warm, sunny room. A picnic area with tables is available for fall clambakes and summertime activities.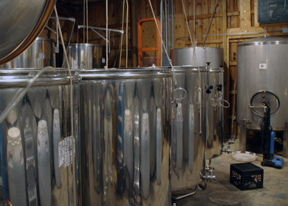 Today the winery produces 12,000 gallons (5.000 cases) of wine per year using mostly Ohio grapes from the Lake Erie area. Currently they produce 19 different wines including red, white and rosés. The winery sells 99 percent of the wine from the tasting room.
We met Carl Vunderink who is very involved at the winery. Carl is also passionate about wine and known as the winery's "official taster." Carl believes that about 70 percent of the winery visitors prefer sweet wines. He added that people who only drink vinifera wines are "missing the boat." There is a whole rainbow spectrum of wines.
The most popular wine at John Christ is the Special Blend originally called Half and Half. It is a blend of Niagara and Concord. Riesling is the number two seller.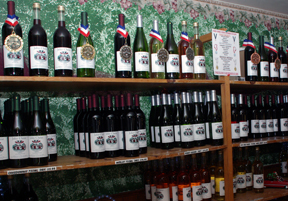 Before leaving for our next stop, we tasted several wines. Vignoles is a "breakfast wine," according to Carl. There is a crisp aroma with grapefruit and floral. The taste is slightly sweet with flavors of citrus. Pinot Grigio had a citrus aroma with a grapefruit taste. The finish was crisp. It finished very fruity with perceived sweetness. Johannisberg Riesling had a fruit salad aroma. The taste was fruity with a smooth finish. The Merlot aroma was dark fruit. The taste was fruity with blackberry and the finish was crisp. Claret was blended from local grapes. The aroma was sweet cherry with a sense of jam. The taste and finish were cherry. It was dry. The Special Blend, a blend of Niagara and Concord, offered an aroma and taste of Welch's grape juice. There was a Niagara foxiness on the taste.
If you live in the Cleveland area or will be visiting, consider a visit to John Christ Winery.
John Christ Winery
32421 Walker Road
Avon Lake, OH 44012
GPS: N 41° 29.552' W 82° 00.343'
---
Visit these Ohio wineries and restaurants that partner with Wine Trail Traveler.