Harmony Hill Vineyards
by
Kathy Sullivan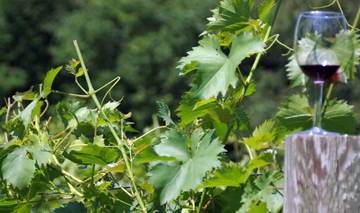 Summary: Harmony Hill Vineyards is a delightful winery to visit outside Bethel, Ohio. Wine lovers, music lovers and families will enjoy a visit to this friendly winery. The winery with many music events is open Fridays, Saturdays and holidays. Bill and Patti Skvarla, owners, are also musicians.
The vineyards and tasting room are located on a 70-acre farm that has been designated a Nationally Certified Wildlife Refuge farm. The tasting room is located in a barn-style building that also houses the winery. A specially created underground barrel room is one of only four of its kind in the United States.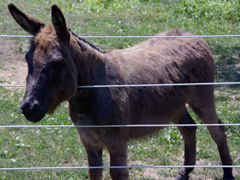 Harmony Hill Vineyards is located in southwest Ohio. It is a delightfully welcoming winery with many family-friendly reasons to visit. Enjoy touring the property and viewing the prolific vineyards. Landscaping outside of the tasting room and around the music stage and underground barrel room is lovely. Be sure to stop and pet the pleasantly friendly donkeys. Tables with colorful umbrellas add color to the area.
The Vineyards
Originally Bill and Patti Skvarla, owners, created a ten-acre medicinal herb farm using organic farming methods. In the late 1990's they needed to decide to expand the herb farm or grow grapes to keep the farm in agriculture. They started planting grapes in 2001. The 3 ½ acre vineyard has plantings of Seyval Blanc, Traminette, Vidal Blanc, Cabernet Franc, Chambourcin and Marquette. The Marquette is a cold hardy red grape that was developed by the University of Minnesota.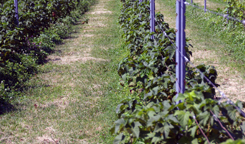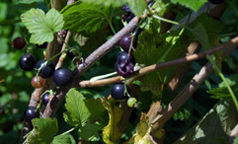 Many wine enthusiasts will be familiar with the wine description "cassis." However, the term may not be familiar to some who enjoy wine. It refers to a fresh currant berry. Some wines have this nuance. Harmony Hills grows currant bushes (pictured). Bill gave us opportunity to taste a fresh currant berry, even though it wasn't ripe. The berries resemble grapes.

Wines
In 2010 the winery expects to produce 1,000 cases of wine. Visitors will be offered the opportunity to taste with petite plastic wine glasses that have small stems or purchase a souvenir wine glass for a small fee. The wine names are chosen from music-associated words.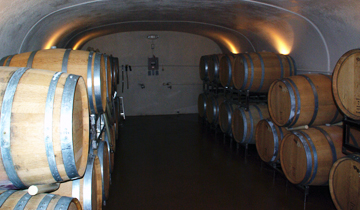 Woodwind 2009 was made from Seyval Blanc and barrel-aged/fermented. There were nuances of citrus and some tropical fruit. There was a hint of oak on the aftertaste. Refrain 2007 was a blend of Cabernet Sauvignon and Cabernet Franc. These grapes were sourced from California. On the back label an explanation is provided as to why the grapes were sourced from California in 2007. Every wine is clearly marked for consumers if it is not estate bottled. This wine had blackberries and spice notes. The crisp finish offered tannins and was fruity. Rubato 2008, produced with the Chambourcin grape, was a dark purple. There were notes of dark fruit and mild tannins. Chamber Suite was a blend of Chambourcin and Marcehal Foch. The color was purple. The aroma had floral hints. This wine was slightly sweet with mild tannins. Aria was a blend of Seyval Blanc and Cayuga. It was pink with an orange tint. This was a sweet wine. Ovation, a blend of Traminette and Cayuga offered an aroma of spice and floral especially roses. The taste was smooth and sweet with hints of rose petals. The crisp finish also had rose petal nuances. Concerto was produced with Vidal Blanc. The aroma had citrus notes while the taste had nuances of citrus especially grapefruit and tropical fruit. The finish was lightly sweet and dried on the end.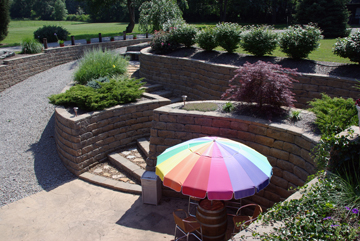 Harmony Hill Vineyards is a destination site where visitors can enjoy a trip to the country, taste wine, visit vineyards, listen to music and pet donkeys. When you plan your visit to Harmony Hill, pack a picnic lunch and stay a while. Bill and Patti are excellent hosts and happy to have visitors come and stay awhile to enjoy wine, music and country life.
Harmony Hill Vineyards
2534 Swings Corner Point Isabel Road
Bethel, Ohio 45106
GPS: N38º 57.321' W84º 06.882'
---
Visit these Ohio wineries and restaurants that partner with Wine Trail Traveler.