St. Joseph Vineyard
by
Kathy Sullivan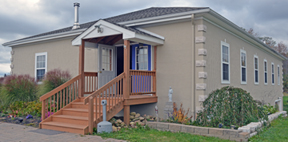 Summary: We met the enthusiastic owners, Art and Doreen Pietrzyk, in St. Joseph Vineyard's sophisticated tasting room that sits amid acres of extensively developed vineyards. The flagship wines at St. Joseph are Pinot Noirs.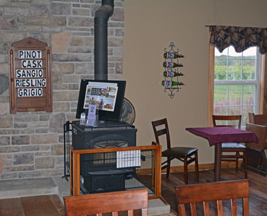 Arriving late in the day at St. Joseph's tasting room, at the entrance we saw a sculpture of St. Joseph on a pedestal. After passing numerous vineyards we arrived at the tasting room located in a two-story beige Tuscan inspired building. Inside the simplistic decor adds a sense of sophisticated ambiance with simple but effective decorations including a functioning wood burning stove and wood tables and chairs.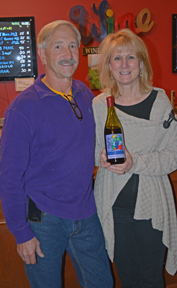 Background of St. Joseph Vineyard
The history behind St. Joseph Vineyard goes back to the 1970s and 1980s when the extended family joined together to make wine. Art added that he learned a great deal about winemaking at nearby Grand River Winery.
Art and Doreen Pietrzyk, the owners of St. Joseph Vineyard, named the winery for St. Joseph as a tribute for personal reasons. Art related how in the 1970s his father had become ill with cancer. Art's mother made the family sayt a novena to St. Joseph and later his father went into remission. According to Art, "The name St. Joseph is coined. After returning home Dad picks the grapes and a blend is made. The blend called St. Joseph Noir is entered in competition and wins best red and best of show."
Today Art emphasizes that he is particularly interested in growing and producing Pinot Noir. His goal is to produce the best Pinot Noir in Ohio. Early on Art was told by a professor from a state university that you cannot grow Pinot Noir in Ohio. Art took this as a challenge. Art felt a bit like Don Quixote chasing windmills. Check out the artwork near the tasting counter depicting Don Quixote. As he traveled around the world Art saw vinifera grapes growing in colder climates and eventually decided to plant Pinot Noir in Ohio.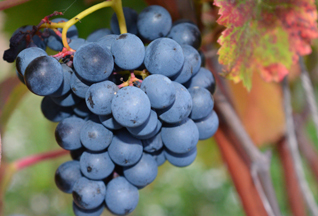 Vineyards
The vineyards were planted in the early 1980s. Today the vineyard consists of 25 acres planted with Barbera, Pinot Noir, Cabernet Franc, Cabernet Sauvignon, Petite Sirah, Shiraz, Nebbiolo, Corvino, Sangiovese, Saperavi (pictured), Vidal, Gewürztraminer, Sémillon and Pinot Gris.
With regard to planting Pinot Noir, Art is focused on planting Pinot Noir vines grafted to as many as 30 different clones.
St. Joseph Vineyard's Wines
Be sure to notice the colorful stained glass-style labels used on many of the wine bottles. This is a very appropriate wine label for a winery with the religious name of St. Joseph.
Sauvignon Blanc 2012 was a straw colored wine. The wine offered lemon grass notes while the taste had lemon and tropical fruit notes. The finish was crisp with lemon notes. Fume Sauvignon Blanc 2013 was a yellow colored wine. The aroma offered notes of tropical fruits. The taste also had tropical fruit notes with citrus. The finish was crisp and fruity. Sémillon Grand River Valley 2013 was a yellow colored wine. The aroma and taste offered notes of minerality. The taste was dry. The wine had a long finish.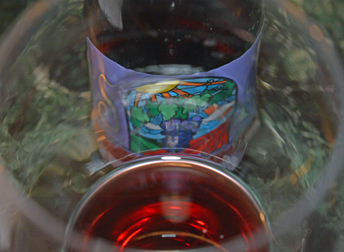 Pinot Noir Grand River Valley 2013 was a translucent red color. The aroma and taste offered notes of raspberries. The mouthfeel was smooth and medium-full bodied with bold tannins. The finish was crisp and fruity. Pinot Noir Reserve Grand River Valley 2012 was a translucent red colored wine. The aroma was of raspberries and leather. The taste was smooth with raspberries, leather and bold tannins. The mouthfeel was full-bodied. The finish was crisp and fruity.
Cabernet Franc 2013 was a dark ruby color. The aroma and taste included notes of plums and blackberries. The finish was crisp and fruity. Shiraz 2013 Grand River Valley was a dark ruby colored wine. The aroma was of black fruit and spice. The taste offered notes of blackberries and plums with bold tannins. The wine was full-bodied. The finish had notes of pepper.
Cask wine is a marketing opportunity for wineries in Grand River Valley that features red grape varieties of the Grand River Valley. Participating wineries include Debonne Vineyards, Ferrante Winery, Grand River Cellars, Laurello Vineyards, and St. Joseph Vineyards. Each winery makes wines in a special cask ranging in size from 135 gallons to 520 gallons. The winemaker at each winery decides on the blend of Grand River Valley AVA grapes to go into the cask. This is a multi-vintage wine. In the name CASK 1015 the 10 represents the year, 2010, for the first harvest vintage of grapes to make CASK wines and 15 represents the most recent wine vintage, 2015. CASK 1015 was the fourth vintage bottled. At St. Joseph, the wine was aged in oak barrels made with American and French staves. The St Joseph CASK 1015 was made with Shiraz, Petite Sirah and Pinot Noir. The CASK wine is similar to the solera-style wines where the cask is never quite emptied from year to year. The Saint Joseph CASK 1015 offered an aroma of dark fruit notes. The taste included blackberries, pepper and clove notes. The wine was full-bodied with medium tannins. The finish was fruity.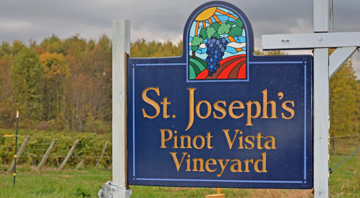 Enjoy visiting St. Joseph Vineyard's tasting room where you will discover wines produced with an emphasis on quality. Spend some extra time enjoying the tasting room and views of the prolific vineyards.
St. Joseph Vineyard
The Pinot Vista Tasting Room
7800 Warner Rd.
Madison Ohio
GPS: N41º 45.457' W81º 00.379'
Article written October 2015
---
Visit these Ohio wineries and restaurants that partner with Wine Trail Traveler.