Valley Vineyards Winery
by
Meghan A. Sullivan
Photos by Andy Neumeier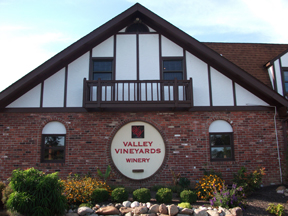 Summary: Visiting Valley Vineyards is as enjoyable an experience as drinking a glass of Valley Vineyards wine. Nestled in rural Ohio between Dayton and Cincinnati, Valley Vineyards was once a farm belonging to the Schuchter family. In 1970, Ken Schuchter planted grapevines and turned the farm into a vineyard and winery. Today, Valley Vineyards is home to an impressive variety of grapevines and wines and is owned and operated by three generations of the Schuchter family.
When Ken Schuchter planted grapevines on the old family farm in Morrow, Ohio, in 1970, he thought that he was planting enough vines to cover 10 acres. In reality, he planted enough for 60 – 70 acres of vineyards. What was a novice's oversight turned into an ingenious business plan – Ken Schuchter decided to capitalize on the mistake by making wine.

Today, 75-85 acres of vineyards make up the Schuchter family establishment. The vineyards contain an impressive array of varietals, including Cabernet Franc, Cabernet Sauvignon, Merlot, Concord, Chardonnay, Niagara, Catawba, DeChaunac, Vidal Blanc, Traminette, Marechal Foch, Blue Eye, Chelois, and Chambourcin. The grapevines are pruned by hand, and the grapes are handpicked.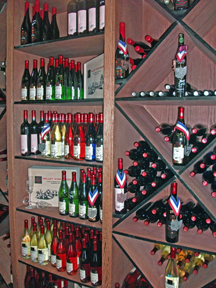 Valley Vineyard's wines are made exclusively from the grapes on the property. The winery produces between 25,000 and 45,000 gallons of wine a year. Some of Valley Vineyard's most popular wines include Vidal Blanc, Pink Catawba, Red Reflections, Cabernet Franc, and ice wine. The Vidal Blanc is pale in color, has a sweet and earthy nose, and is light and semi-dry in taste. The Pink Catawba is pale pink, smells like the grape, and is very sweet with a noticeably high sugar content. The Red Reflections wine is a blend of mainly DeChaunac and Niagara. It is ruby-red with a buttery scent and a light, semi-dry taste. Valley Vineyard's Vidal Blanc ice wine, which was the first ice wine produced in Ohio, is pale yellow, smells very sweet, and is full of flavor. Valley Vineyards also produces Chardonnay, Niagara, and Mead. The Chardonnay is made in a steel barrel; it is almost clear, smells sweet, and has a light, dry flavor. The Niagara is similar to the Chardonnay in color and nose but is moderately sweet. The Mead is pale yellow in color and has an earthy and honey scent and a spicy honey flavor. In 2011, Valley Vineyard's White Reflections blend, Vidal Blanc, and Cabernet Sauvignon wines received awards at the Ohio Wine Competition.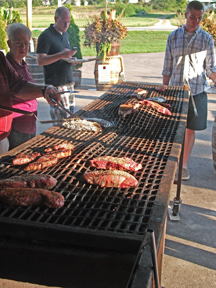 The tasting room at Valley Vineyards, which was once an old barn on the family property, contains a tasting bar and wine and gift displays. Wine and fruit jams, t-shirts, coasters, bottle openers, and cutting boards are among the gifts sold there. Two dining rooms were eventually attached to the renovated barn.

Valley Vineyard's dining rooms buzz with guests during the establishment's famous Friday and Saturday night cookouts. The price for the cookout includes wine, a buffet, and steak or salmon that guests grill themselves. Other events include a wine festival in early June and wine tastings at area locations, including the Ohio Renaissance Festival.
Valley Vineyards
2276 East US 22 & 3
Morrow, OH 45152
---
Visit these Ohio wineries and restaurants that partner with Wine Trail Traveler.