Swiss Heritage Winery
by
Terry Sullivan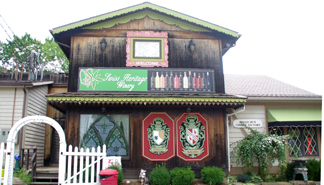 Summary: What more can wine enthusiasts ask for: wine, cheese and lace? Swiss Heritage Winery brings all three together. The winemaker is also a cheesemaker. If you like to shop, you'll enjoy a visit.
"Wine without cheese is like a hug without a squeeze," explained Nancy Schindler as she confessed that she prefers the wine side of Swiss Heritage Winery more than the cheese side of the family business. The winery is a recent addition that began in 2002. Swiss Heritage Winery began selling wines in 2003. They now produce about 3,000 cases of wine. Compare that to producing one million pounds of cheese. The cheese side of the business is known as Broad Run Cheese House. It began making cheese in 1933.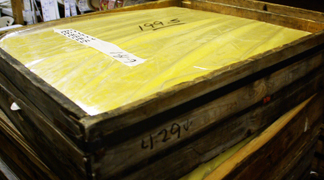 The connection between cheese and wine isn't recent. As early as the 14th and 15th centuries, European cheesemakers also made wine. When villagers came to purchase cheese they would also drink the cheesemaker's wine. This tradition is carried on today at Broad Run Cheese House where visitors may also sample cheese and taste the wines. Nancy's son, Chad Schindler, is cheesemaker and winemaker.
Wine tasters can taste several wines. Four cheeses were available to pair with the wines. Rather then telling guests what cheese to pair with what wine, Nancy likes to allow people to make their own decisions. Occasionally, Nancy will make suggestions. Adjacent to the wine tasting counter, an area has wine and wine accessories for sale.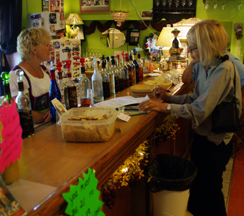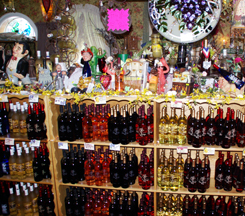 Beyond the wine tasting area, customers may purchase cheese. If you enjoy lace, an adjacent room is filled with lace items, many suggesting a long ago era. Between the wine, cheese and lace, visitors will find Swiss Heritage Winery a great place to shop. Stop by windows that overlook the cheese making area. You may experience the odor of the cheese making area. It is quite different than the odor associated with winemaking.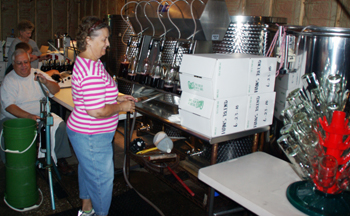 Wines
Although there are a few dry wines, most are sweet and semi-sweet. Many visitors to Swiss Heritage Winery enjoy sweet wines.
Cheesemaker's Red was made with Cabernet Franc. It offered a red fruit aroma and taste. This dry wine pairs well with pizza. Hans Favorite Blend was a cherry and cranberry blend It was the founder's favorite wine. It offered a cranberry and cherry aroma and taste. A group was bottling this wine in the winery on the day of our visit.
The Chardonnay offered citrus notes and was dry. Sweet Thunder was a semi-sweet Riesling. The wine is a tribute to the veterans. The photo on the label is Jane (Zurcher) Fankhauser from Dundee, Ohio. Jane was chosen as the sweetheart of the 53rd Field Artillery Battalion. This Riesling can be enjoyed by anyone who likes sweet wines. Victorian Lace is a blend of Niagara and Catawba. It had the typical Niagara aroma and taste. The wine paired well with Swiss cheese. The cheese helped cut the wine's sweetness.
Swiss Heritage Winery wants people to know that they are making quality wines and want visitors to enjoy the wine experience. Wine enthusiasts have a great opportunity to pair wine and cheese.
Swiss Heritage Winery
6011 Old Route 39 NW
Dover, Ohio 44622
GPS: N40º 30.656' W81º 34.410'
---
Visit these Ohio wineries and restaurants that partner with Wine Trail Traveler.