Firelands Winery
by
Kathy Sullivan

Summary: Firelands Winery is one of the largest producing wineries in Ohio. Large tanks outside of the winery give an impression of the size of Firelands Winery. The wines are very good values. Travelers will enjoy the ambiance of the tasting room and the winery tours. In addition to being a partner and winemaker at Firelands Winery, Claudio Salvador imports Italian wines.
Claudio Salvador, winery partner, winemaker and wine importer, was born in Italy and moved to Barboursville, Virginia where he was the winemaker for Barbourville Winery.
In 1984 he moved to Ohio to produce wine with vinifera grapes. Eventually he purchased Firelands Winery. This is one of the oldest wineries in Ohio. In addition to being a partner and winemaker of Firelands Winery, he is also an importer of Italian wines. Claudio has close ties with winemakers in Italy. He imports wines from his brother's Italian winery and his wife's Italian winery.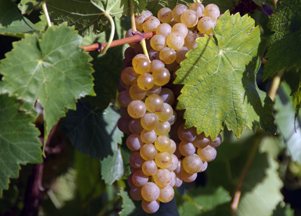 Vineyards
Today the Firelands Winery has 40 acres of vineyards on Bass Island. Vinifera varieties include Pinot Grigio, Gewürztraminer, Riesling, Cabernet Sauvignon, Pinot Noir, Chardonnay, Merlot, Dolcetto, Malbec and Vidal Blanc. In addition there is Black Pearl, a labrusca variety. Grapes grown on Bass Island are in the Isle St. George AVA. About half the land on this island is covered with grapevines. Since Lake Erie is warmer than the other Great Lakes, the temperatures on Bass Island are often warmer than on the mainland. This creates an ideal grape growing area. A small demonstration vineyard is planted on the winery site. Current production at the winery is 80,000 cases.
Claudio wants travelers to visit the Firelands tasting room and experience a winery. Tours are available. Firelands is a full working winery including pressing, aging, wine filtering and bottling.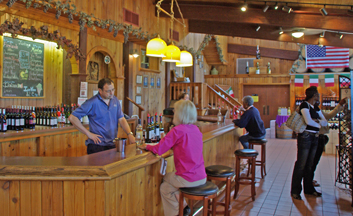 Tasting Room

The tasting room is warm and friendly. Pine wood walls add ambiance to the room that is filled with wine and wine accessories. Padded stools are available for seating at the tasting counter. Italian flags throughout the retail area mark the Italian wines that Claudio's company, Speciality Wine Co., import. These wines focus on artisan wines that showcase the diversity of Italian grapes. Claudio added a large addition to the tasting room. Visitors are welcome to come and enjoy a glass of wine in a corner area of the tasting room where there are several small tables and chairs. Tours are available in the older section of the building where visitors can observe the mechanics of a winery.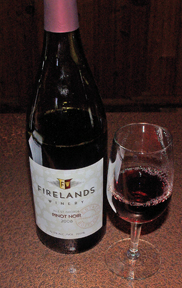 White Wines
Pinot Grigio 2008 Isle St. George offered citrus on the aroma with a taste of citrus, tropical fruits and peach nuances. The finish was crisp with notes of citrus and peach. Gewürztraminer 2009 had a very floral aroma with tropical nuances on the taste. The taste had a velvety mouthfeel. The finish was crisp and sweet with 3 percent residual sugar.
Red Wines
Pinot Noir 2008 Isle St. George was a translucent dark red. The aroma and taste were of red fruit. The mouthfeel was velvety. The crisp finish was fruity with tannins. Dolcetto 2008 Lake Erie was a dark red. There were bold tannins and the mouthfeel was smooth. Merlot 2007 Isle St. George was an opaque dark red/purple. The aroma and taste offered dark red fruit notes. The crisp finish was fruity with tannins. Cabernet Sauvignon 2006 Isle St. George was a dark red. The aroma had notes of black berry fruit. There were black berry nuances on the taste. The wine was light bodied. The finish was crisp and fruity with tannins.
In addition to this line of wines, wine enthusiasts will discover other lines of wine including: Mon Ami, Lonz, Mantey and Dover wines in the tasting room.

Enjoy a visit to Firelands Winery where you will discover Fireland wines and other numerous wines including Italian.
Read about the Specialty Wine Co.
Firelands Winery
917 Bardshar Road
Sandusky, Ohio 44870
GPS: N41º 26.152' W82º 46.378'
---
Visit these Ohio wineries and restaurants that partner with Wine Trail Traveler.