D&D Smith Winery
by
Meghan A. Sullivan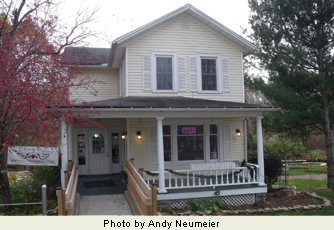 Summary: D&D Smith Winery is a small, personable, family-owned winery. Founded in 2008 and opened in November 2009, the winery caters to all and strongly supports the local community.
At D&D Smith Winery in Norwalk, Ohio, local is best. Whether it's making wine from local farmers' crops, participating in the town's holiday home tour, working with local restaurants, or hosting benefits for local organizations, Denny and Danielle Smith's hearts are in serving their community.
"We wanted to create a place for people to relax and have fun," Danielle said, explaining why she and her husband Denny founded the winery. The wine-manufacturing team has been making wine from home for about 16 years. Together, Denny and Danielle founded the winery business in February 2008. Between March and November of the following year, Denny, Danielle, their two sons, and several friends and relatives remodeled a house from the 1870's, which now functions as a tasting room, eatery, gathering space, and gift shop.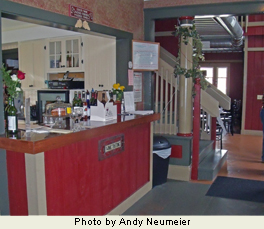 Denny and Danielle own 60 plants of Frontenac Gris, a peachy-white grape, and they hope to add an acre of vineyards. Their grape supply for 11 out of their 13 wines comes from Ohio, and they grow the strawberries and blueberries for their popular strawberry and blueberry wines in their backyard. If they do not have enough grapes in a season, then they use other local fruits, such as pumpkins, to make wine. Denny and Danielle feel strongly about supporting local farmers. In fact, they even make a wine called "The Locals" from grapes from four different families in the region.
Wines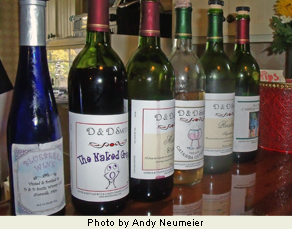 D&D Smith Winery produces about 600 cases of wine a year. In addition to "The Locals," D&D Smith's most popular wines are strawberry wine, blueberry wine, and the "Naked Grape." Their strawberry wine is light pink-orange in color and tastes like liquid strawberries. Their blueberry wine, which is ruby in color and rich in sweetness, is a popular choice for wedding receptions. The "Naked Grape" is a Concord wine, which is diabetic, light, and dry. "The Locals" is like grape juice for adults. Denny and Danielle make an equal amount of dry and sweet wines.
D&D Smith excels in providing events for local citizens and visitors. In addition to hosting benefits, they hold wedding showers and receptions, baby showers, a weekly Ladies' Night, and All You Can Eat Spaghetti Fridays. Denny and Danielle also recently began offering home winemaking classes. During these 6-8 week sessions, local residents learn the tricks of the winemaking trade.
Whether guests are locals or are visiting from afar, Denny and Danielle have a way of making them feel welcome. Denny and Danielle's personable manner, good wine, and fun events are sure to lure visitors who want to come back for seconds.
D & D Smith Winery, LLC
401 W Main Street
Norwalk, OH 44857
---
Visit these Ohio wineries and restaurants that partner with Wine Trail Traveler.