8 Chains North Winery
by
Kathy Sullivan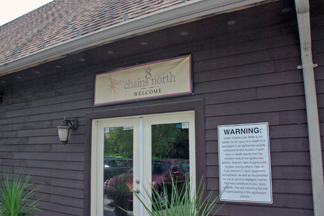 Summary: Located in the countryside of Waterford, Virginia, 8 Chains North Winery and vineyards offers a lovely wine tasting experience. Ben and Connie Renshaw own the winery. Ben, also the winemaker, focuses on providing a taste of Virginia and small batch winemaking.
The 8 Chains North Winery in Waterford, Virginia is located in a long, renovated barn. Any sense of a barn is gone upon stepping inside the winery; the facility offers a sophisticated feel. The building includes the winery, tasting room and a recently opened event room. The first bottling for 8 Chains North was in 2007.
The name 8 Chains North is from the measurement term "chain" that was used for surveying tracts of land.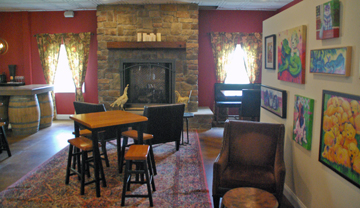 Tasting Room
The 8 Chains North tasting room has four tasting counters and at the time of our visit three of the counters were in use. The smaller tasting counters can accommodate up to eight people, while fifteen people can stand at the larger tasting counter. Large group tastings are done in the Compass Rose Room. A stone fireplace, leather seating, tables and chairs all add to the ambiance of the tasting room.
Walls are decorated with an array of artwork. Every two months a different local artist is featured. During our visit the featured artist was a display of Linda Hendrickson's paintings.
The back of the tasting room with large windows and deck faces the onsite vineyards. The back deck with tables and chairs offers views of the vineyards and a place to enjoy a glass of wine. On the day we were visiting a guitarist was strumming and singing to the evident pleasure of winery visitors as they sipped wine.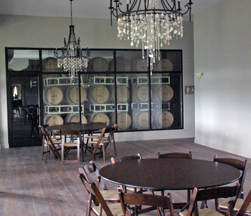 Event Room
The event room, called the Compass Rose Room, at 8 Chains North is available for weddings and other special events. Round tables for seating eight are available. The room has space for 100 plus guests. One side of the room is a wall of windows with views of the deck and vineyards. The back wall is also a wall of windows with views of stacked oak barrels. Chandeliers filled with hanging seashells add to the elegance of the space.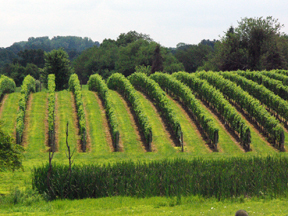 Vineyards
Ben Renshaw and his father began planting the first vineyard at his sister's farm north of Leesburg, Virginia in 2006. Today they have approximately 40 acres including 30 acres in Purcellville, six acres in Waterford, and four acres on the original site called Furnace Mountain Vineyard north of Leesburg. The Waterford vineyard has plantings of Sauvignon Blanc, Albariño, Malbec and Viognier. A new vineyard in Purcellville planted in 2014 consists of Cabernet Sauvignon, Petit Verdot, Chardonnay, Sauvignon Blanc and Viognier.
Wine Tastings
Special tastings can include delightful handmade, bite-size pieces of chocolate. The chocolates are handcrafted locally in Leesburg by Abby Rose Confections. Anyone feeling a bit hungry while visiting the winery can also purchase from a Lite Fare Menu that includes: Chickpea Chili, Warm Festive Olives, a Charcuterie Plate and Baked Brie in French Puff Pastry.
White Wine
Chardonnay 2013 was produced with grapes sourced from the Trump Vineyards in Charlottesville. The light yellow wine was aged in new and neutral oak for seven months. The wine offered an aroma of butterscotch with a taste of pear, apple and butterscotch. The crisp finish had butterscotch notes. LoCo Vino 2011 was a blend of Traminette and Vidal Blanc. This dry wine offered notes of minerality and fruit including apple and pear. LoCo Vino 2012 was slightly more intense than the 2011. This dry wine had notes of fresh white fruit and the body was slightly heavier than the 2011. The finish was dry and lingered.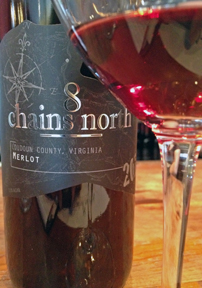 Red Wines
Merlot 2011 with a translucent, light red color was produced with a bit of Petit Verdot added. The aroma and taste were of pepper and dark fruit including black berries and black cherries. The wine had medium tannins and the finish was fruity. Gouguenheim Syrah 2013 was a wine from Argentina. This wine is a placeholder for a Syrah that Ben is making. The wine was a translucent dark ruby. The aroma and taste were of blackberries with a touch of cedar. The wine had mild tannins and a crisp, fruit finish. Furnace Mountain Red, a dark ruby almost opaque color, was a blend of Merlot, Cabernet Franc and Cabernet Sauvignon with a touch of Malbec and Tannat. The wine with medium tannins had leather and dark fruit notes. Fruit notes were on the finsih. Petit Verdot 2012 was a small production wine. The wine was aged in oak for 15 months. The wine was a dark ruby, barely translucent color. The wine offered notes of blackberries and a hint of leather with medium to bold tannins. The finish was crisp with fruit yielding to spice.
Three2One Cellars
Three winemakers, two grapes, one vineyard (Three2One) is a collaboration between winemakers at three wineries. The three wineries are 8 Chains North, Tarara Winery and Hiddencroft Vineyards. The three winemakers work together to craft this wine from a vineyard on Tranquility Road in Purcellville. Tranquility 2010 was a blend of Cabernet Sauvignon and Tannat. The wine was a dark ruby opaque color, and offered notes of blackberries and leather. The tannins were bold and chewy. The finish was crisp and fruity.
Plan an extended stay at 8 Chains North and enjoy a glass of wine on the deck overlooking the vineyards.


8 Chains North Winery
38593 Daymont Lane
Waterford, Virginia 20197
GPS: N39º 10.785' W77º 40.017'
Article written July 2014
---
Visit these Virginia wineries and wine tour groups that partner with Wine Trail Traveler.