Village Winery
by
Kathy Sullivan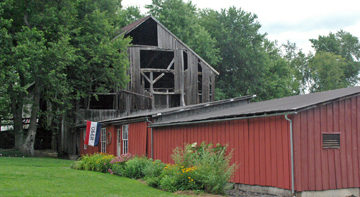 Summary: Village Winery in the Virginia historic town of Waterford offers a variety of products for visitors to taste. Look for elderberry and aronia (chokeberry) teas as well as several traditional wines. An emphasis is also on the wine/beverage packaging.
Village Winery is located in the tiny town of Waterford in Virginia. Waterford is a National Historic Landmark. Visitors will travel on a main road through this old town at a very slow pace. There is a sense of no rush and there is a laidback atmosphere. This may be inspired by the old homes lining the street and the low speed limits through the town. Arriving at Village Winery, visitors discover the tasting room is located in a one-story red, barn-like building that is adjacent to an old bank barn. A seating area just outside the door is available for visitors who want to linger and enjoy the beverages including wines and other fruit drinks. Seating is also provided inside the rustic tasting room. The tasting counter is at one end of the room and boxes of wines are on racks at the other end. French oak barrels add character to the room.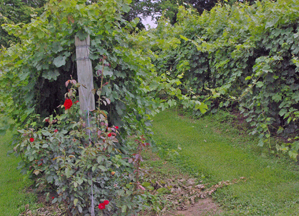 Vineyards
Across the driveway is a vineyard planted with Cabernet Franc. In 2001 owner and winemaker Kent Mars has planted 10 acres of grapes including Cabernet Franc, Merlot and Petit Verdot. Kent also has three acres of elderberries that he plans to expand.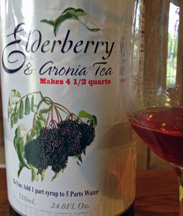 Wines and Fruit Beverages
While talking with Kent and tasting the wines and beverages he noted, "We make the wine in the old world way." In the winery, Kent uses French oak barrels. The Village Winery slogan is "Bringing together Old World Winemaking and 21st Century Wine Packaging Experience Both in every Glass." Visitors will not find wines packaged in glass bottles. Rather, Kent puts wine into plastic bags within boxes. The beverages are kept safe from oxygen and Kent noted that the wines bottled in plastic last for a long time once opened. He said that the savings resulting from using plastic and boxes is passed on to the customer. Currently Kent is producing 2,500 boxes of wines.
Having grown up on a farm, Kent has had an interested in farming for a long time. He asks himself, "What can we grow on the soil? It is all about agriculture. It's about growing a product and making a new use for it."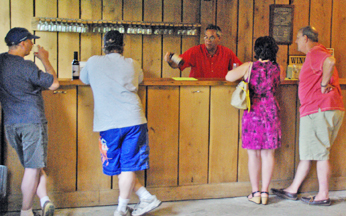 Fruit Beverages
Elderberry Aronia Tea syrup is made to have water added. The syrup is mixed with water by a one to five ratio. The result is a red color with a pink tint. The aroma and taste were of elderberry and herbs. Aronia is a member of the chokeberry family. Kent likes to talk about the health benefits of aronia fruit.

Village Winery Wines
In addition to his focus on elderberry products, visitors to the winery will discover a Raspberry-Apple wine. This blend was aged in French oak and offered predominantly raspberry notes. Visitors to Village Winery will also find the beverage "Triple Threat" a wine blend of apple, raspberry and elderberry.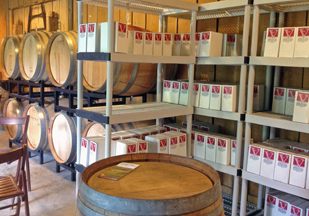 Petit Verdot, a dark ruby color, offered a taste of cedar and blackberries with bold tannins. The fruit yielded to oak influences. A Petit Verdot and Cabernet Franc blend was a ruby translucent color. The aroma and taste were of fruit and cedar. The wine had mild tannins. The finish was fruity yielding to cedar and leather. Merlot, a light red, offered aromas and tastes of cherry and leather. The wine had medium chewy tannins. The finish was crisp with fruit yielding to spice. Cabernet Franc 2011 was a light red color with an orange tint. The aroma and taste offered dark fruit and spice notes. The wine, with medium tannins, had a crisp finish
Kent also produces a syrup for topping ice cream.
When visiting Village Winery ask Kent about the nutritional aspects of elderberries and chokeberries.
Village Winery
40405 Browns Lane
Waterford, Virginia 20197
GPS: N39º 11.195' W77º 36.217'
Article written July 2014
---
Visit these Virginia wineries and wine tour groups that partner with Wine Trail Traveler.