Chrysalis Vineyards
by
K. L. Sullivan
February 2009 update:
Chrysalis Vineyards currently produces 9,000 cases. The last addition to the vineyards was in 2007 when they planted four acres of Albarino. Chrysalis Vineyards is open year-round, seven days a week. Tastings during the cold winter months are inside the tasting room. When the weather is warmer, tents serve as tasting stations and visitors can enjoy the wines and the beautiful views that include Bull Run Mountains. According to Hump Astorga, Director of Hospitality & Culinary Operations, "Our staff is focused on providing a wine tasting experience that is beyond simply tasting wines, rather providing the ultimate level of hospitality to all of our visitors that is fun, as well as, educational."
---
Jennifer McCloud, Proprietor of Chrysalis Vineyards, arrived in the tasting room like a whirlwind. Greeting us, she immediately asked if we would like to tour the vineyard and winery. Quickly agreeing we enthusiastically went on a wonderful tour with Jennifer and Hump Astorga, the Director of Hospitality and Culinary Operations.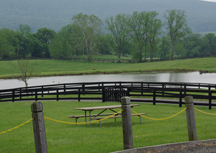 Stepping outside the door, Jennifer stopped for a moment and sighed as she gazed over Locksley Estate and said this is a "piece of Paradise." Stretching out in the distance, we saw acres and acres of grapevines and farmland. The property of Chrysalis contains 209 acres and Jennifer said, this is the "most beautiful vista in Virginia." Grapevines cover sixty-seven acres with more to come.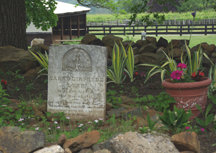 Just outside of the patio is a stand of trees where a grave is located. Sarah Gertrude Lynn buried at this spot at the tender age of 16, died from tuberculosis in 1855. Sarah's parents were property owners of this site. The nearby patio is named Sarah's Patio and two wines are named in Sarah's honor. Sarah's Patio Red is 100% Norton and Sarah's Patio White is a delicate white blend with a Riesling style. We applaud Jennifer's love of the land and honoring the past.
What we did not realize when we left the tasting room with Jennifer was that we would be on one amazing ride in her SUV. We felt privileged to have this very special tour with Jennifer and Hump. Jennifer frequently stopped and voiced her love of what she does as vineyard and winery owner of Chrysalis.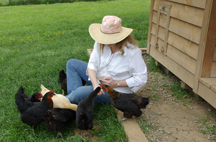 We saw acres and acres of grapes including Jennifer's favorite Norton. In addition we stopped at a chicken coop where we walked amongst a good dozen chickens while Jennifer had them eating out of her hand. Next Jennifer showed us four American Milking Devon cows that were seeking shelter in a shed. Only 600 of these original American cows currently exist worldwide. Jennifer has nine of these highly prized cows of which she is justifiably proud. The cows will be a source of cheese for the winery and future restaurant.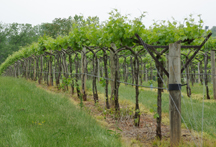 We continued on our ride throughout the vineyard, and stopped at a large section of vines, where Jennifer talked about her love of the Norton grape. Jennifer espoused her belief in the Norton grape that produces great wine for all occasions, concluding that Norton is very versatile and makes a great red wine. Norton is a native Virginia grape that disappeared during Prohibition. It has slowly made a comeback in recent years. Jennifer is enthralled with the Norton grape and has trademarked, "Norton, The Real American Grape!®"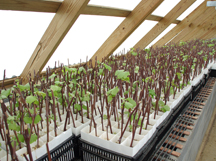 Despite the fact that Norton is difficult to propagate, there are many reasons to grow Norton grapes in Virginia. Norton buds out two weeks later than Chardonnay thus making it more adaptable to late spring frosts in Virginia. Norton is one of the most disease resistant varieties grown in the world. Several years ago lightning struck a row of Norton vines and they were thought to be dead. However, new vines sprung from the rootstock the following spring. Currently Chrysalis has the largest Norton acreage in the world and the only Norton nursery in Virginia. Jennifer said, "We want to be a source of Norton." We visited the greenhouse specifically built for propagating grape stock. Subtle cables bring forth slight heat to the bottom of the canes, and allow the roots to grow while the buds stay dormant. While not every grape cutting survives, enough do to allow Chrysalis to be a source of the Norton grape for other wineries.
Jennifer purchased the farm in 1998 and began with planting 44 acres of grapes in 1998 and 1999. Visiting Portugal and Spain in 1996, 1997 and 1998, she learned the advantages of growing Spanish grapes. Several of these varieties tend to have thick skins and loose clusters and are therefore ideal for this high humid climate. Jennifer is responsible for introducing the Spanish and several Portuguese varietals to Virginia.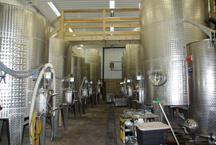 Jennifer learned a great deal about the complex issues of winemaking and vineyards before starting Chrysalis. Frequently historical facts about wine came into our conversations with Jennifer. Knowledge about various grape varieties also was pertinent to our discussions. As owner of Chrysalis, she designed all the irrigation systems and vineyards. Jennifer was very involved with designing the winery. Before building the winery, she spoke with other winery owners and based on their experiences knew that room is always a problem and thus insisted upon a large press pad.
In terms of the environment, Jennifer is reluctant to spray insecticides because it causes disruption in nature's cycle. Spraying is infrequent. When spraying needs to be done, the workers spray the perimeter of the vineyards.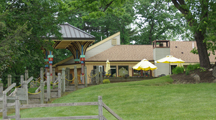 After our tour with Jennifer, we went inside to the winery's tasting bar and sampled several wines with Hump. A great experience is the focus of the tastings. During busy times, several tables are set up outside the tasting room and winery. This enhances the tasting experience for visitors. Enough time is allotted for the tastings to ensure that visitors have the time to fully enjoy the tasting and enjoy the ambience of the winery and vineyards. Hump willingly shared his knowledge of the wines and Chrysalis while we tasted several wines. Hump skillfully guided our tastings between knowledge, enjoyment, experience and friendliness.
We tasted several of the wines including the 2005 Viognier, a 2004 Chardonnay and the 2004 Papillion a blend of several red grapes. We tasted three wines made from the Norton grape. The 2006 Sarah's Patio Red had 2% residual sugar. This wine is a favorite of many visitors. The 2005 Norton Barrel Select was made of 100% Norton grapes and had good fruit and acid balance and low tannins. For a more tannic wine the 2003 Norton Locksley Reserve was blended with Tannat and Petit Verdot. Tastings at Chrysalis involve the experience of tasting and hospitality for guests.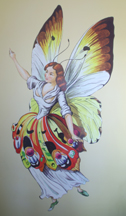 Jennifer realizes what she has as owner of Chrysalis Vineyard, and she cares about its well-being. She believes in the importance of living off the land. Every worker at Chrysalis lives off the land. The owner is energetic, knowledgeable, caring and enjoys nature to its fullest.
Chrysalis Vineyards
Middleburg, Virginia


GPS: N38°57.503' W077°40.419'
---
Visit these Virginia wineries and wine tour groups that partner with Wine Trail Traveler.