Sassafras Shade Vineyard
by
Kathy Sullivan

Summary: Enjoy a relaxing day on the porch at Sassafras Shade Vineyard, a small boutique family owned and operated winery. The tasting room is set in the midst of trees where there is an emphasis on the numerous sassafras trees on the property.
Ann and Gary Dudley named the winery Sassafras Shade because of the abundance of sassafras trees on their property. The tasting room was built with several types of wood from the property. Plan to enjoy the front porch with its rocking chairs while enjoying a glass of Sassafras Shade wine.
We quickly learned that Sassafras Shade is concentrating on producing small quantities of wine with grapes from vineyards that Gary and Ann began planting a few rows of grapevines in 2000 and continued planting through 2014. In the vineyard, Gary does as much work as possible himself. He is meticulous where the vineyards are concerned, commenting, "Nobody can do it like I can."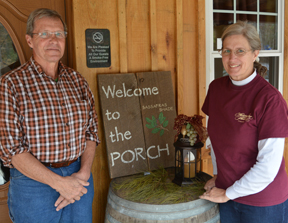 In addition to traditional wines, Gary is also producing apple wines as well as experimenting with other fruit wines. The couple is focused on producing dry wines although they have a couple of wines that although dry, offer a perceived sense of sweetness that would be enjoyed by those who favor sweet wines.
The Dudleys trace their interest in wine back to 30 years ago while they were dating. They enjoyed visiting wineries and tasting the wines. Gary commented "I lost my mind." However he also talked about how he likes farming and never lost the "bug." Gary had worked on a dairy farm for years. Eighteen years ago the couple moved from Richmond, Virginia to this property. Gary noted that where the vineyards currently are located was ideal farm property for growing crops such as corn.
The owners mentioned that the "Passion is there but we went slow and steady." They are quick to give credit to family and friends who helped the couple build their dream.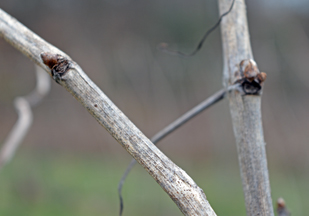 Sassafras Shade Vineyard has five acres of vines planted with Vidal Blanc, Cabernet Franc, Cayuga, Chambourcin and Niagara. All grape wines are produced with their estate grown fruit. They also source apples from within Virginia for their apples wines. One of their future goals is to experiment with other fruit wines especially peach.
During our late February visit, the buds were just starting to swell.
Current production is 400 cases of wine, although they have a capacity for 1,000 cases.
The front porch spans the front of the tasting room building. Several rocking chairs provide a sense of tranquility for wine enthusiasts. Ann commented, "Visitors get personal attention. This is a go to spot without a bar scene."
Sassafras Shade Wines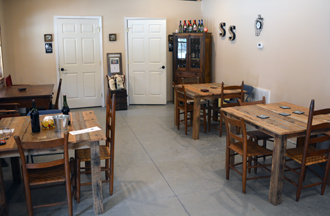 The tasting room has a tasting counter on one side and tables and chairs on the other side. We sat at a table with Gary and Ann.
Chardonnay 2015 was a non-oaked chardonnay. The straw color wine had apple and citrus notes. The mouthfeel was smooth and the taste included notes of apple and citrus. The finish was crisp and fruity.
Vidal Blanc 2016 was a straw color. The aroma had floral notes. The velvety taste included floral and yellow stone fruit notes.
Caroline White 2016 was a blend of Niagara and Vidal Blanc. The wine was a straw color. The aroma was floral and it reminded one of grandmother's yard. The mouthfeel was silky. The taste was reminiscent of fresh Niagara grapes. The finish was crisp with notes of Niagara grapes.

Old Fashioned Apple 2016 wine was produced with a blend of apple varieties including Winesap, Stayman, Golden Delicious and Granny Smith. The wine was a light yellow color. The aroma was of apple. The mouthfeel was satiny. The taste included apple and cinnamon notes. The finish was crisp and apple-like.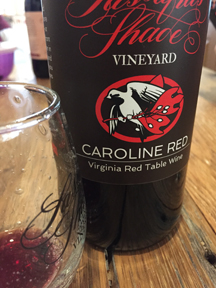 Granny Smith 2016 was a straw color. There was an aroma of apple.The mouthfeel was velvety and the taste was very apple-like
Caroline Red 2015 was a blend of Chambourcin and Cabernet Franc. Some of the Cabernet Franc was aged in a whiskey barrel. The wine was a translucent ruby color. The aroma offered notes of spice and cherry. The mouthfeel was smooth. The wine had notes of cherry and bell pepper. The wine was medium- bodied. There were mild tannins. The finish had fruit notes yielding to spice.
Chambourcin 2016 was a translucent ruby color with a red hue. The aroma was of spice and cherries. The smooth taste had cherry notes. The wine was medium-bodied with mild tannins. Try this with a piece of chocolate and it is reminiscent of a chocolate-covered cherry.
Sassafras Shade Vineyard offers a relaxing and tranquil place to visit in Virginia's countryside.
Sassafras Shade Vineyard
4492 Ladysmith Rd.
Ruther Glen, VA 22546
Article written March 2018
---
Visit these Virginia wineries and wine tour groups that partner with Wine Trail Traveler.